Overview
Cables used in automation applications can be subjected to severe mechanical stress such as continuous flexing, high-speed motion, high tensile loads, flying chips and sparks, and other challenging environmental conditions. GORE® High Flex Round Cables have a robust construction that provides reliable mechanical and environmental protection in these complex environments. Gore's cables deliver reliable signal integrity with lower attenuation and capacitance for high-speed data transmission over longer distances.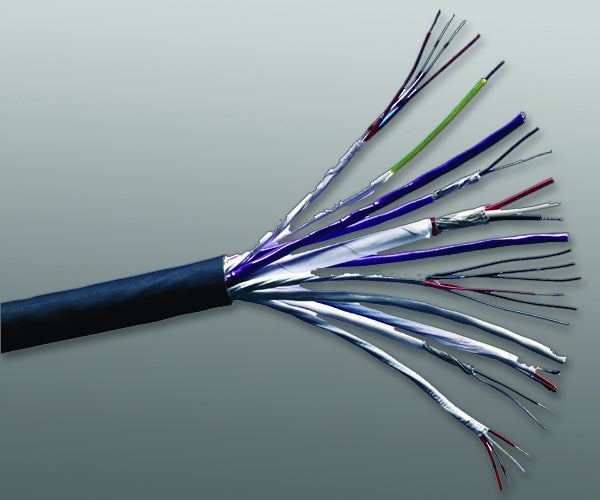 GORE® High Flex Round Cables deliver excellent signal integrity and high flex life in a small, lightweight package.
With a prove flex life, our cables deliver long service life compared to traditional round cables commonly used in the industry. They're easy to install too because of the small, lightweight construction with greater flexibility and tight bend radius.  The result — reduced downtime, maintenance and total costs over the equipment lifecycle.
Applications
GORE High Flex Round Cables are engineered to perform reliably in a variety of automation applications, including:
handheld industrial tools
material handling/cranes
nuclear power and waste processing
office automation
pick and place/linear motion
rail transportation
robots
storage and warehousing
vision inspection
wafer manufacturing/handling
If you have any questions or to discuss your specific application needs, please contact a
Features & Benefits
We have engineered features for GORE High Flex Round Cables that make them more durable in demanding environments. Features include:
proven flex life
robust construction in a small, lightweight package
low-friction, chemically inert, flame-retardant, radiation-tolerant and non-particulating insulation materials
standard and custom configurations available
GORE High Flex Round Cables provide manufacturers with many benefits that improve electrical and mechanical performance such as:
reliable signal integrity for high-speed data transmission over longer distances
excellent impedance control with low attenuation and capacitance
durable mechanical protection in challenging environmental conditions
easy installation due to lightweight, flexible cables with a tight bend radius
less maintenance, downtime and total costs over equipment lifecycle from proven flex life
For more information about the features and benefits of our cables, please contact a Gore representative.
Resources