Overview
The NewSpace industry is evolving to help us better monitor the earth and connect us globally via mini satellites in orbit. Cables play an important role in transmitting high-speed data and keeping critical satellite systems running smoothly while meeting the latest protocols, like Ethernet. They must also be low-profile to help reduce mass in these smaller satellites and launch vehicles.
At Gore, we combine extensive materials expertise with decades of proven traditional spaceflight heritage to offer a reliable, cost-effective high data rate solution for NewSpace applications.
EXCELLENT SIGNAL INTEGRITY IN SMALLER SIZE
GORE Ethernet Cables exceed Cat6a protocol requirements and are proven to deliver excellent signal integrity with sufficient margin for high-speed data transfer up to 10 Gb/s. Our unique 4-pair design performs reliably and consistently with lower signal attenuation, reduced crosstalk, and improved shielding effectiveness in digital video systems, telecommand remote systems, and more.
With a high-density construction, our Cat6a version is proven to endure the most demanding conditions commonly found in low earth orbit (LEO) and medium earth orbit (MEO) altitudes. For example, extreme temperature changes as the earth revolves around the sun, shock and vibration as vehicles are launched into space, and radiation exposure while satellites are in orbit.
But even though they're high density, we design our cables with lightweight materials that make them significantly smaller in size — an ideal compact solution to help meet challenging mass budgets.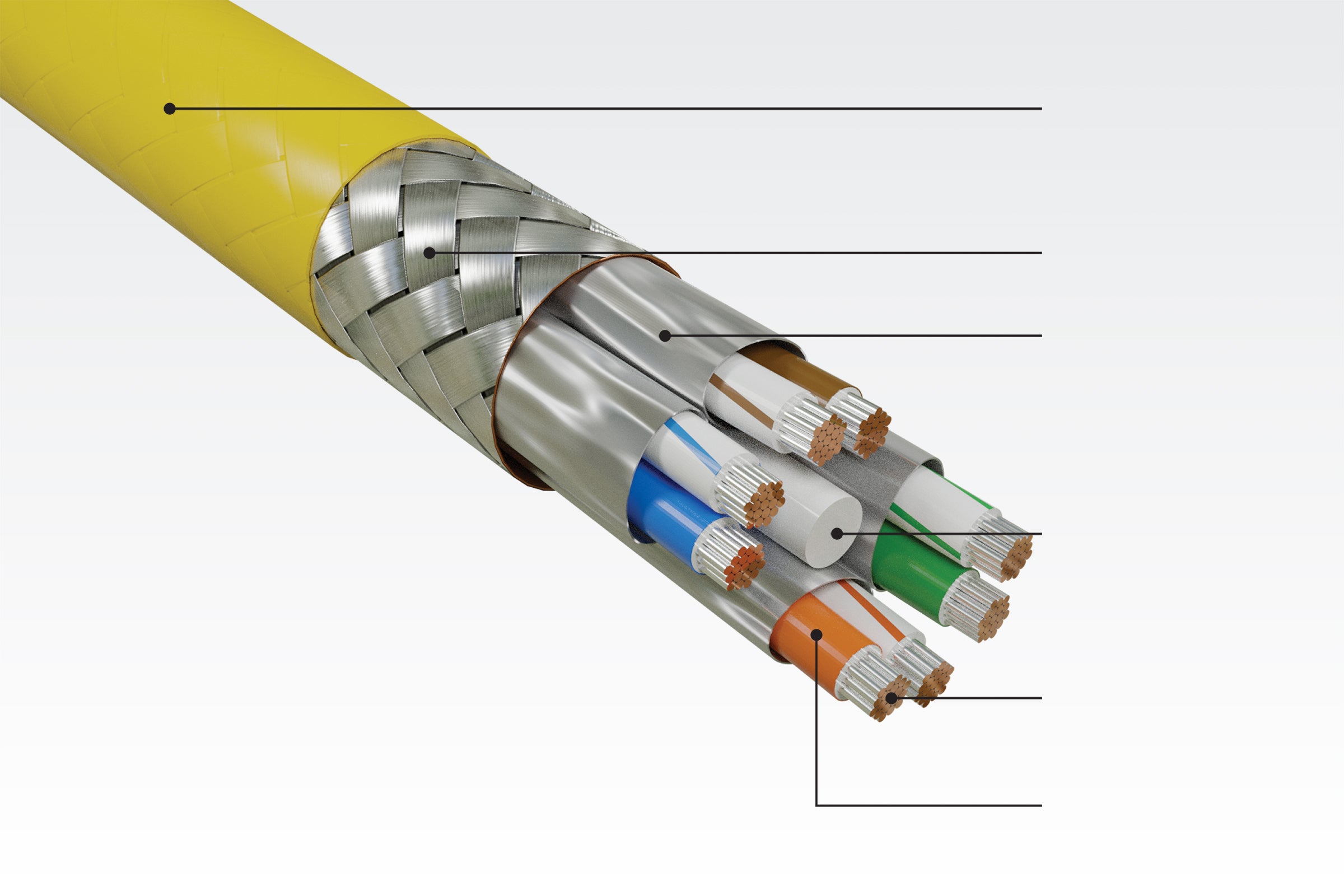 High-density, compact construction of GORE Ethernet Cables, Cat6a version
Applications
GORE Ethernet Cables are engineered to perform reliably in a variety of NewSpace applications, including:
digital video systems
Ethernet backbone
sensor data collection and processing
telecommand remote systems
If you have any questions or to discuss your specific application needs, please contact a Gore representative.
Benefits
GORE Ethernet Cables provide system architects and engineers with many benefits that improve electrical and mechanical performance such as:
excellent signal integrity with sufficient margin for high-speed data transfer up to 10 Gbps
high resistance to extreme temperatures, chemicals, radiation, shock, vibration, more
proven to exceed electrical requirements for Cat6a standardized protocol
small, lightweight materials help meet challenging mass budgets
cost-effective solution ideal for NewSpace private sector companies
leverage proven performance with 100% failure-free flight record in hundreds of traditional spaceflight programs
For more information about the benefits of our cables, please contact a Gore representative.
Properties
These values demonstrate the electrical, mechanical and environmental performance of GORE Ethernet Cables.
Electrical Property
Value
Data Rate Gbps
Up to 10
Standard Impedance Ohms
100 +/- 10
Typical Operating Voltage Veff
< 50
Nominal Time Delay ns/m (ns/ft)
4.10 (1.25)
Capacitance pF/m (pF/ft)
42.6 (13.0)
Minimum Near-End Crosstalk (NEXT) dB
10 MHz
100 MHz
500 MHz

59.2
52.3
42.2
Shielding Effectiveness dB
> 55
Dielectric Withstanding Voltage Vrms
Conductor-to-Conductor
Conductor-to-Shield

1500
1000
Mechanical / Environmental Property
Value
Jacket Material
Engineered Fluoropolymer
Jacket Color
Yellow
Conductor
Silver-Plated Copper or SPC Alloy
Conductor Color-Coding
Solid Blue & White/Blue Stripe,
Solid Brown & White/Brown Stripe
Solid Green & White/Green Stripe,
Solid Orange & White/Orange Stripe
Dielectric Material
ePTFE/PTFE
Temperature Range °C
-200 to +180
Radiation Resistance MRad
10+
Vacuum Stability % (ASTM 595; ECSS-Q-70-02)
Volatile Condensable Mass (VCM)
Total Mass Loss (TML)

< 0.1
< 1.0
Resources
Recent News