Failure-Free Protection & Performance
Ensuring Mission Performance & Aircrew Protection for FARA, FLRAA & Enduring Fleet
Led by the U.S. Army, the Future Vertical Lift Program is replacing aging rotary-wing aircraft with next-generation versions. Potentially, these new rotorcraft may be used across the Department of Defense (DoD) services and with U.S. Allies.
At Gore, we continue to innovate for the future and look forward to collaborating with Future Vertical Lift stakeholders to solve operational challenges for today's enduring fleet and tomorrow's advanced rotorcraft. Our products are proven to ensure failure-free protection, performance, and survivability so our troops can complete their missions successfully and come home safely to their families.
For decades, we've been a trusted partner to the armed forces who continue to rely on our products because failure isn't an option.
Reliable Products over Rotorcraft Lifespan
Our aerospace and defense capabilities are proven to deliver long-term, installed performance in a variety of avionics and airframe applications. Products like GORE® Ethernet Cables, GORE® Fiber Optic Cables and GORE-FLIGHT® Microwave Assemblies enable aircrew to succeed in the full range of missions required in current and future rotorcraft.
These wires and cables enable reliable, multi-domain operations by:
providing reliable, safe high-voltage power
delivering extremely high-speed, high-volume data/video
maintaining exceptional RF signal performance
saving weight and enhancing payload options
lowering total operating costs
facilitating quick, trouble-free routing
ensuring precise, repeatable test measurements
GORE® SKYFLEX® Aerospace Materials are dry tapes and gaskets that have been proven over the years on aircraft structures. They're easy to install while providing reliable, repeatable sealing and surface protection from corrosion and other operating challenges. And we continue to develop innovative capabilities and solutions to support future aircrew needs.
Free Webinars
Listen to Gore experts share their industry knowledge and materials expertise while using real-world examples. We'll show you the importance of selecting and installing the right cables and assemblies in critical systems to ensure operational readiness and success.
Industry Awards
We continue to combine industry expertise with advanced technical capabilities to develop leading-edge solutions for the aerospace and defense sector. We're proud to be recognized over the years for our outstanding use of fluoropolymers and delivering product and system-level innovations.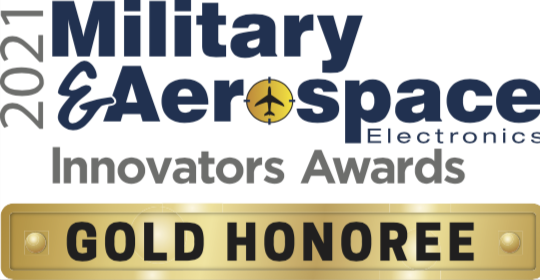 GORE® High Performance Aerospace Wires were recognized for providing EWIS reliability, increase operational readiness, improve safety and reduce total lifecycle costs for next gen aircraft.