GORE® HDMI Cables for Defense Aircraft
These 1.4 Cat2 and 2.0 protocol versions transmit critical data and video instantly while supporting 4K resolution for crystal-clear viewing on aircraft displays during missions. They meet higher data rate demands on avionics digital networks in a low-weight, flexible cable bundle that performs for life in demanding environments.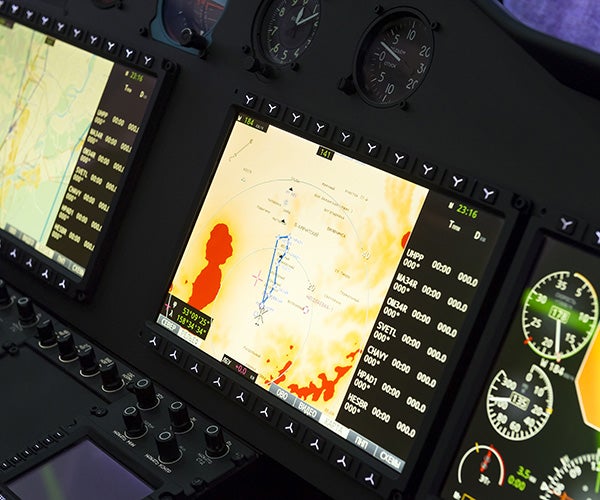 AIRCREW CAN VIEW VIDEO DISPLAYS WITH 4K CLARITY.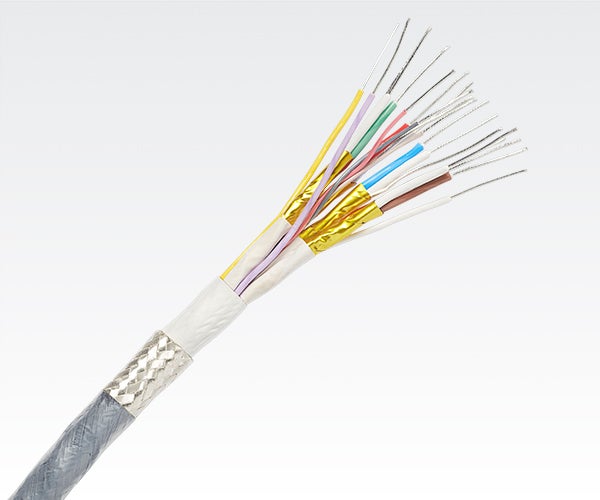 Cables & Cable Assemblies
High-definition video is essential for avionics and vectronics, from critical displays in cockpits and combat vehicles to cabin displays for entertainment. These low-weight cable bundles from W. L. Gore & Associates reliably support 4K video interfaces for a richer viewing experience.
English (U.S.)
All Resources For GORE® HDMI Cables for Defense Aircraft
Overview
CRYSTAL CLEAR, HIGH-DEFINITION DISPLAYS
It's essential for aircrews to view critical video instantly and as clearly as possible in cockpits and workstations to avoid potential disasters. So aviation cables must be rugged, support high-resolution displays and transmit fast, reliable signals. Cables must also be small enough to fit in limited spaces and light enough to help save weight on aircraft.
Offering versions for 1.4 Cat2 and 2.0 protocols, GORE HDMI Cables support 4K video resolution for a rich, clear, defined viewing experience on aircraft displays. They're proven to transmit outstanding signals at high data rates up to 18 Gb so that aircrews can receive and view critical Intel instantaneously in high definition.
LOW-WEIGHT, FLEXIBLE CONSTRUCTION
Size and flexibility matter when it comes to routing cables in military aircraft to avoid frequent failures, reduce replacement costs and keep aircraft weight down. We construct our HDMI cable bundles with unique, low-weight materials that produce smaller diameters and tighter bend radii for optimal flexibility during installation. When space is at a premium, maintainers will appreciate how quick and easy it is to bend and route our cable bundles.
But, that doesn't mean durability is compromised. Though low weight, these cable bundles can easily sustain the demands of their environment, providing lifetime performance for military personnel and cost savings for original equipment manufacturers (OEMs).
When you want a product that involves less complicated routing and delivers unfailing high data rate performance for life, connect GORE HDMI Cables to your aircraft displays and portable devices.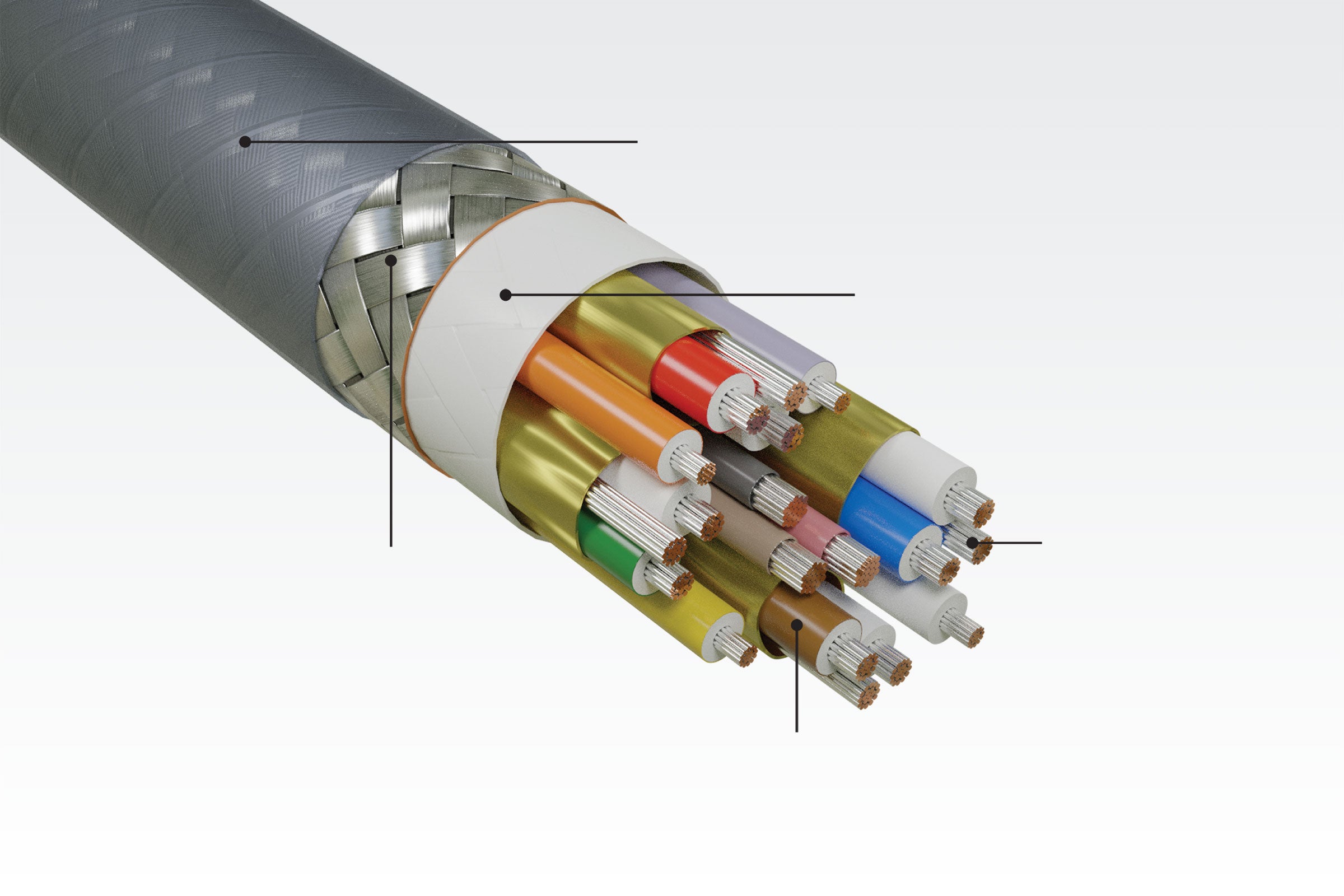 Low-weight materials of GORE HDMI Cables
Applications
GORE HDMI Cables promise reliable high data rate transmission and optimal viewing experience in a variety of airborne applications, like:
digital video systems
electronic flight bag (EFB)
flight management systems
glass cockpits
portable electronic devices
weather mapping
Our cables can also be terminated with a variety of leading high-speed aerospace connector systems and backshells, like ARINC and MIL-STD-38999 with size 8 contacts. If you have any questions or to discuss your specific application needs, contact a Gore representative today.
Features & Benefits
GORE HDMI Cables are engineered with unique features that make them more durable against challenging environmental factors and aircraft conditions, including:
chemically inert, temperature- and abrasion-resistant materials
low-weight, flexible cable bundle design with reduced diameters
Our cable bundles provide aircraft system architects and engineers with many benefits that improve electrical, mechanical and environmental performance such as:
1.4 Cat 2 and 2.0 versions to meet protocol requirements
outstanding signals for high speed data transmission up to 18 Gb
support 4K video resolution for a rich, clear, defined viewing experience
robust construction provides uncompromising durability in difficult conditions
weight savings in aircraft from low weight cable design
simplified routing from smaller diameters, more flexibility and tighter bend radii
lifetime product performance yields less failures and replacement costs
compatible with a variety of high-speed connector systems and backshells
selected pre-qualified samples with short lead times for prototyping and evaluation
low risk based on validated product performance in real-world conditions
For more information about the features and benefits of our cable bundles, contact a Gore representative today.
Properties
These values demonstrate the electrical, mechanical and environmental performance of GORE HDMI Cables for defense aircraft.
Electrical Property
Value
Transmission Speed Gb
Up to 18
Standard Impedance Ohms
100 ± 10
Typical Operating Voltage V
< 15
Nominal Velocity of Propagation %
80
Nominal Time Delay ns/m (ns/ft)
4.10 (1.25)
Capacitance pF/m (pF/ft)
230.0 (70.0)
Maximum Skew Within Pair ps/m (ps/ft)
15.0 (4.6)
Dielectric Withstanding Voltage Vrms
Conductor-to-Conductor
Conductor-to-Shield

1500
1000
Environmental / Mechanical Property
Value
Jacket Material
Engineered Fluoropolymer
Jacket Color
Gray
Conductor
Silver-Plated Copper / SPC alloy
Conductor Color-Coding
High-Speed Pairs: Blue/White, Brown/White, Green/White, Red/White
SIngles: Orange, Violet, White, Yellow
Triad: Gray, Pink, Tan
Dielectric Material
Expanded PTFE/PTFE
Temperature Range °C
-65 to +200
Part Number & Drawing
We invite you to download our drawing to view cable characteristics, like diameter size, weight, minimum bend radius and insertion loss values.
Part Number
AWG Size (Stranding)
RCN9121
Data/Drains/Discrete Pairs: 26 (19/38)
Capacitance-Controlled Singles: 28 (19/40)
Qualifications
GORE HDMI Cables for Defense Aircraft have undergone substantial qualification testing to ensure they meet the most current industry standards and our customers' requirements.
ABD0031 (AITM 2.0005); BSS7230; FAR Part 25, Appendix F, Part I: Flammability
ABD0031 (AITM 3.0005); BSS7239: Toxicity
ABD0031 (AITM 3.0008B); BSS7238; FAR Part 25, Appendix F, Part V: Smoke Density
ANSI/NEMA WC 27500: Environmental Testing, Jacket and Marking
SAE AS4373™: Test Methods for Insulated Electric Wire (Contact Gore for available data)
For more information about the qualifications of our cable bundles, contact a Gore representative today.
More Information
LEARN MORE ABOUT GORE HDMI CABLES OR ORDER NOW
Our versions for 1.4 Cat2 and 2.0 protocols provide the highest quality data transfer and video resolution required for aircraft displays. To learn more about our HDMI cables and other high speed data solutions for defense aircraft, view our sample inventory. Our tested, prequalified, complimentary samples are available in 48 hours. If you're ready to place an order now, get in touch with an authorized distributor or contact a Gore representative today.
Resources
Recent News
FOR INDUSTRIAL USE ONLY
Not for use in food, drug, cosmetic or medical device manufacturing, processing, or packaging operations.