At Gore, we understand microwave 5G cables, and performance is more than a catchword to us. It's a promise to our customers to deliver the very best because you can't trust the product performance if you can't trust the results. We do this through unrelenting engineering excellence and materials control.
5G Test & Measurement Products
Eliminate Common 5G Test System Issues
Electrical performance, durability and stability are key factors that can significantly affect the reliability of mmWave test cable assemblies. Constant handling and moving microwave cables can cause a cascade of problems. Kinking, pinching and crushing them or accidentally stepping on and rolling over them with a chair can damage an assembly that's not made with durable materials and construction. Connecting and disconnecting assemblies from 5G test equipment can also wear them out.
These issues can cause unstable electrical performance and doubts about measurement accuracy. Any test cable that performs poorly can cause production delays, yield loss, increased troubleshooting and maintenance, signal integrity degradation, re-testing, re-calibration, higher total cost of ownership, and reduced test throughput.
Gore offers proven high-performance microwave/RF test assemblies that provide many advantages over low-cost alternatives to meet critical test system requirements and improve test outcomes. Our 5G microwave cables feature more durability, greater flexibility, and stable electrical performance in mmWave components and massive MIMO test (multiple input/multiple output) to eliminate many of these common issues.
Gore's Microwave 5G Cables in Action
We have a long heritage and proven track record working closely with leading global test equipment manufacturers across several markets, including 5G wireless testing, 5G network testing and RF semiconductor manufacturers for 5G test systems. Our broad portfolio of microwave cables proves valuable and reliable in test and measurement applications for communication, semiconductor, and aerospace and defense, including:
ELECTRONIC TEST & MEASUREMENT EQUIPMENT
Gore's microwave/RF assemblies meet or exceed 5G test system performance requirements for measurement accuracy, stability, reproducibility, repeatability, handling and operation. They've been successfully used in the following electronic test and measurement equipment across several industries:
Network analyzers
Signal generators
Signal analyzers
One-box testers
BERT
High-speed oscilloscopes
When it comes to vector network analyzers, we're proud that our GORE VNA Microwave/RF Test assemblies have set the industry standard by offering the highest stability up to 70 GHz in high-end R&D and metrology-grade test applications.
5G COMMUNICATION TEST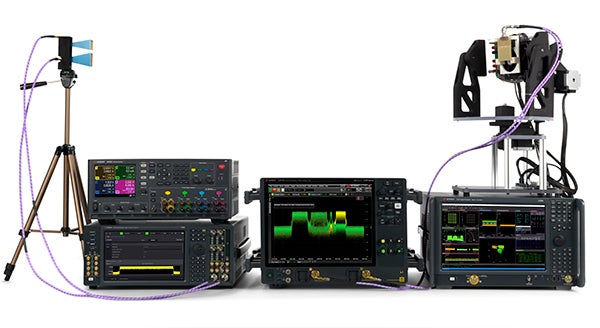 GORE PHASEFLEX Microwave/RF Test Assemblies connected to Keysight Multi-Channel 5G Test Bed for NR FR1 and FR2.
Image courtesy of Keysight Technologies, Inc.
For testing 5G communication systems, it's critical to ensure measurement accuracy and reproducibility. Our microwave/RF assemblies offer precise, repeatable measurements from DC through 110 GHz with proven phase and amplitude stability, low insertion loss and excellent VSWR.
Featuring proven high flex life and low spring back, our solutions are perfect for the following 5G test areas:
Base stations
Antennas
RF components & modules
For example, GORE PHASEFLEX Microwave/RF Test Assemblies are the only internally ruggedized, flexible solution on the market proven to survive extensive flexing while maintaining reliable electrical performance.
5G SEMICONDUCTOR RF TEST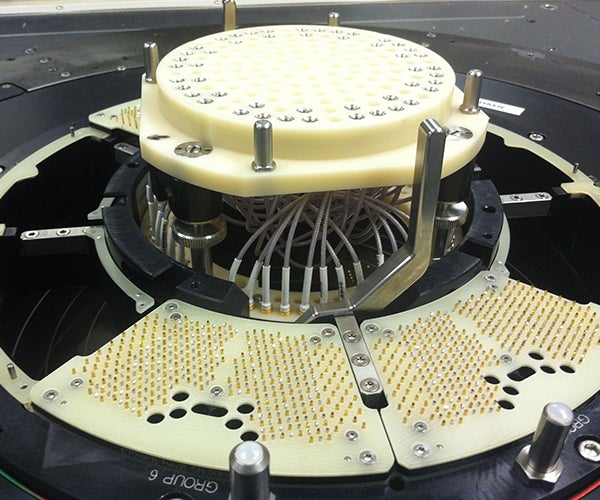 GORE Microwave/RF Assemblies, General Purpose connected to a semiconductor wafer test load board.
To ensure high throughput and yield for 5G RF semiconductors manufacturers, our products deliver highly consistent and repeatable measurements in wafer testing and packaging testing (final test).
For instance, GORE Microwave/RF Assemblies, General Purpose Test & Interconnect feature smaller diameters, high flexibility, and durable constructions that simplify the routing process and guarantee reliable performance long after installation — like board-to-board and inside-the-box applications in 5G test and measurement equipment.
Setting the Industry Benchmark
With more than 40 years of design expertise, Gore has set the industry benchmark for microwave/RF cable assemblies delivering proven reliability over time. That's why leading manufacturers choose our products because of the improved performance they see in their test equipment. We offer a broad portfolio of solutions for test and measurement, spaceflight, and aerospace and defense applications.
Unlike other suppliers, we manufacture our own dielectric materials and precision flat wire outer conductors for our assemblies. We also design and manufacture a selection of connector options to optimize the performance of our assemblies. Throughout the entire manufacturing process, we ensure consistent performance and quality control of all our products.
Get Started Today with Gore's Microwave 5G Cables
Eliminate common test system issues and improve test outcomes by connecting your equipment to reliable microwave 5G RF cables from W. L. Gore & Associates. To learn more and speak with us about your specific application needs and requirements, contact a Gore representative today.
We also invite you to visit our online RF Cable Builder, where you can design a test assembly that's right for your application and get a quote. You can also calculate insertion loss, VSWR and other parameters of our test assemblies using our online RF Calculator.
Contact Us
United States
+1 800 356 4622
Germany
+49 9144 6010
+49 9144 6816 (fax)
UK
+44 1382 56 1511
+44 1382 56 1007 (fax)
Italy
+39 045 6209 209
+39 045 6209 165 (fax)
France
+33 1 5695 6565
+33 1 5695 6401 (fax)
Spain
+34 93 480 6900
+34 93 373 7850 (fax)
Sweden
+46 31 7067800
+46 31 864226 (fax)
China (Beijing)
+86 10 5707 4999
+86 10 5707 4900 (fax)
China (Shanghai)
+86 21 5172 8299
+86 21 6247 9199 (fax)
China (Shenzhen)
+86 755 8359 8262
+86 755 8359 1654 (fax)
South Korea
+82 2 393 3411
+82 2 393 1285 (fax)
Japan
+81 3 6746 2582
+81 3 6746 2571 (fax)