Microwave/RF Cable Assembly Calculator
Tools, English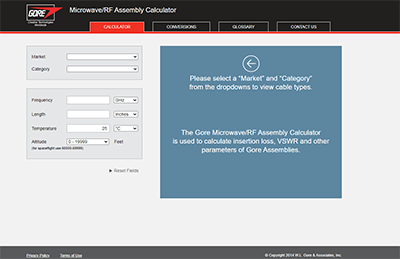 Since 1976, W. L. Gore & Associates has provided trusted cable assemblies that are customizable to a host of test and measurement and avionic needs within, aerospace, civil and defense applications. To help RF engineers and program managers select the right cable assembly for their application, Gore offers helpful information through our Microwave/RF Assembly Calculator, which computes various parameters of our solutions.
---
About the Microwave/RF Assembly Calculator
Aside from rigorously testing and qualifying our products, Gore also provides a lot of detail about them to ensure you make the best decision for your application. Aside from our Microwave/RF Assembly Builder tool, the Microwave/RF Assembly Calculator allows you to explore the parameters of the following:
Defense Aircraft
Civil Aircraft
Spaceflight
Military Land Systems
Test & Measurement
Semiconductor & Microelectronics
Using the GORE® Microwave/RF Assembly Calculator
You can navigate the calculator through its tabs as follows:
You'll be greeted with two drop-down menus, where you'll input the following information to reveal suitable cable types:
Market
Category
Frequency (GHz or MHz)
Length
Temperature
Altitude
Under this tab, you'll find several calculators to help you compute conversions of the following:
Distance
Frequency
Power
Temperature
Time
VSWR
Weight
The tool's glossary contains clear definitions of words and terms used by Gore to describe our solutions. These include:
Armored
Center conductor
Connectors
Insertion loss
Network analyzer
Ruggedized and phase stability
If you need assistance or more information, the last tab in the calculator provides contact information for Gore's locations in North America, the United Kingdom and Germany, as well as our sales offices across Europe and Asia. You can also fill out a short form to be contacted by a Gore representative.
Learn More by Contacting Gore Today
Gore's cable assemblies offer proven performance confirmed by our testing and prequalification processes, which enable us to ensure their electrical and mechanical integrity over the life of your system. To learn more about our solutions or to discuss the parameters of your specific application further, contact a Gore representative today. If you're ready to place an order, reach out to Gore specialist directly or one of our authorized distributors.