Mission success starts here with innovative solutions from W. L. Gore & Associates. Our products have been proven reliable, weigh less, remain in service longer, require less maintenance and save on replacement costs.
Gore maintains global testing facilities to evaluate the performance of our defense products and ensure their reliability in aircraft applications. Delivering three areas of expertise — digital and microwave signal analysis, environmental and stress testing, and electromagnetic compatibility — we optimize signal integrity and other important parameters for our products.
We engineer our military electronic components with robust insulation materials that withstand the mechanical, electrical and environmental stress of maintenance and flight operations. Resistant to abrasion and cut-through, they can be routed easily during installation. During use, our defense cables and assemblies deliver non-stop signal transmission with low skew and optimal shielding, while our sealants effectively protect aircraft structures from moisture and corrosion. Our military products are built with expanded PTFE and demonstrate its unique characteristics to keep our products from reacting to broad temperature ranges and harsh contaminants used in aircraft. In a cost-sensitive environment, maintenance, repair and overhaul criteria are essential to reduce life-cycle costs and increase affordability.
Each additional pound or kilogram of weight on aircraft can reduce payload, decrease fuel efficiency and increase operating costs. At Gore, we're careful that the military materials used in our products are considerably smaller, thinner and lighter. Some of our products are up to 60% lighter than competitors. These fluoropolymer technologies allow us to deliver durable, compact solutions unrivaled by other defense suppliers of electronic components.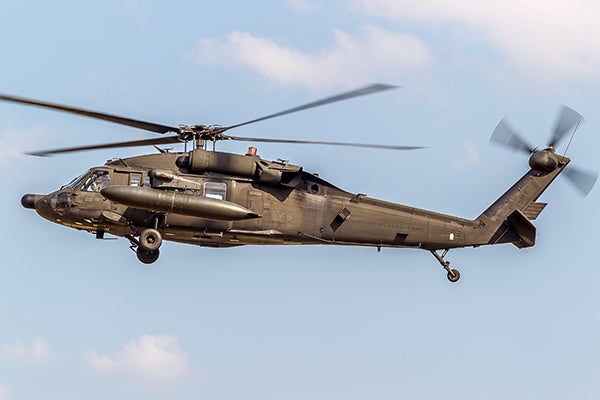 Since the 1990s, our MIL-STD-1760 assemblies have guaranteed safe store operations and disconnect loads on many defense airborne systems. When it comes to the emerging electric aviation market, our high-performance aerospace wires offer long-term durability and higher voltages in a low-profile design.
As for today's enduring fleet and next-gen rotorcraft, we look forward to collaborating with Future Vertical Lift Program stakeholders to solve their operational challenges.
Gore's products simplify routing and reduce aircraft weight while delivering mechanical integrity and electrical reliability in the most challenging maintenance and airborne environments.
Get Started with Gore's Defense Cables & Materials
For the defense aerospace sector, W. L. Gore & Associates has proven to be a trusted partner delivering reliable solutions that withstand high-pressure aircraft environments with long-lasting performance. Find out how our solutions can meet your specific aircraft application needs and requirements now and in the future by contacting a Gore specialist today.
If you're ready to order our in-stock products, contact an authorized distributor for wires and cables, microwave/RF assemblies or aircraft sealants.
Contact Us
United States
+1 800 356 4622
Germany
+49 9144 6010
+49 9144 6816 (fax)
UK
+44 1382 56 1511
+44 1382 56 1007 (fax)
Italy
+39 045 6209 209
+39 045 6209 165 (fax)
France
+33 1 5695 6565
+33 1 5695 6401 (fax)
Spain
+34 93 480 6900
+34 93 373 7850 (fax)
Sweden
+46 31 7067800
+46 31 864226 (fax)
China (Beijing)
+86 10 5707 4999
+86 10 5707 4900 (fax)
China (Shanghai)
+86 21 5172 8299
+86 21 6247 9199 (fax)
China (Shenzhen)
+86 755 8359 8262
+86 755 8359 1654 (fax)
South Korea
+82 2 393 3411
+82 2 393 1285 (fax)
Japan
+81 3 6746 2582
+81 3 6746 2571 (fax)