What Starts at 00,000 ft?
Mission Success Starts Here
Gore's solutions are proven to deliver higher levels of protection and performance on modern airborne digital networks, ensuring mission-critical success. Avionics aboard military aircraft are designed to be more than the eyes and ears of the pilot. In addition to tasks like communication, navigation, monitoring, air flight control systems or weather radar, avionics need to give the pilot a decisive edge in hostile environments. The reliability and accuracy of these systems are non-negotiable.
Cables are the lifelines of electronic systems, ensuring reliable and accurate communication, with both onboard and external communication systems. While continuously moving through tight areas in the aircraft, cables can easily be compromised by abrasion. Other stress factors include harsh contaminants like fuels, oils, chemicals and extreme temperature changes. Damaged insulation can lead to failures over time, resulting in cost-intensive downtime and maintenance.
Why Gore?
We offer an extensive collection of high-performance wires, high-speed data cables, microwave/RF assemblies and protective cable jackets for many applications from the cockpit to the tail. They ensure power is distributed, signals are sent, and data is transmitted quickly with low loss for the duration of your system. Our rugged solutions save weight, solve many routing and protection challenges, deliver complete reliability in critical electronics and IFEC systems, remain in service longer and require less maintenance.
In a cost-sensitive environment, maintenance, repair and overhaul criteria are essential to reduce life-cycle costs and increase affordability.
Our cables are engineered with robust insulation that withstands the mechanical, electrical and environmental stress of flight operations. The cables are abrasion-resistant and flexible, allowing them to be routed easily during installation. During use, they provide excellent signal transmission with optimal shielding and low skew. Our cables are constructed with ePTFE and demonstrate its special characteristics, keeping our cables from reacting to the broad temperature ranges and contaminants used in an aircraft.
Cables and materials need to be smaller and lighter as each additional pound of weight can increase operating costs. At Gore, we're careful that our fluoropolymer technologies deliver significantly smaller solutions with thinner insulation. Some of them are up to 60% lighter than the industry standards — while providing the same amount of power performance and protection that the defense industry requires.
Gore maintains global testing facilities to evaluate our products' performance and increase our understanding of their reliability in the field. Delivering three areas of expertise — digital and microwave signal analysis, environmental and stress testing, and electromagnetic compatibility — we optimize electrical signal integrity and other important parameters for our electronic products.
Video
By comparing signal integrity before and after installation, Gore can engineer assemblies that withstand airframe installation and the demands of the aircraft's flight envelope
---
Our 1.8 mm Simplex version with enhanced crush protection is proven to exceed stringent ARINC 802-2 and BMS13-71 industry requirements. We tested the impact resistance of our cables at a weight of 1.7 kg (3.8 lb), which is higher than specified at 0.5 kg (1.1 lb).
From the Cockpit to the Tail
Gore's track record in the aerospace defense industry dates to 1958 when we prototyped designs of fluorocarbon-insulated wires and ribbon cables for use in military aircraft. Since then, our product portfolio has expanded significantly to meet the industry's current and future needs. Today, our products seal against moisture and corrosion, enable power and signal transmission, and ensure all electronically powered systems work reliably. We are proud that Gore's defense solutions are in every major military aircraft, including the latest fifth-generation fighter aircraft, the F-35.
Webinars
Awards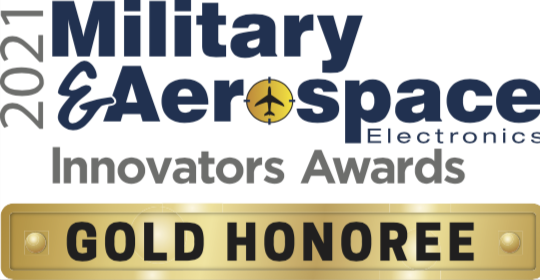 GORE® High Performance Aerospace Wires were recognized for providing EWIS reliability, increase operational readiness, improve safety and reduce total lifecycle costs for next gen aircraft.