Gore Technologies
Externally focused, disciplined innovation drives Gore to develop new technology and create new products. Combining our materials science expertise with market insights, we deliver solutions that improve lives — from medical devices that heal patients, to fabrics that protect first responders in the line of duty. 
Overview
Gore products allow patients to heal. Gore makes outdoor adventurers comfortable, even in the unforgiving climate of Antarctica. Gore products reduce carbon emissions. Gore helps transmit signals from the Mars Rover back to Earth.
Since 1958, Gore has developed products that improve lives. At the center of these solutions is polytetrafluoroethylene (PTFE), a polymer with exceptional properties like high tensile strength, a low dielectric constant, UV resistance and many more. In 1969, the possibilities for PTFE expanded with Bob Gore's discovery of expanded PTFE, or ePTFE.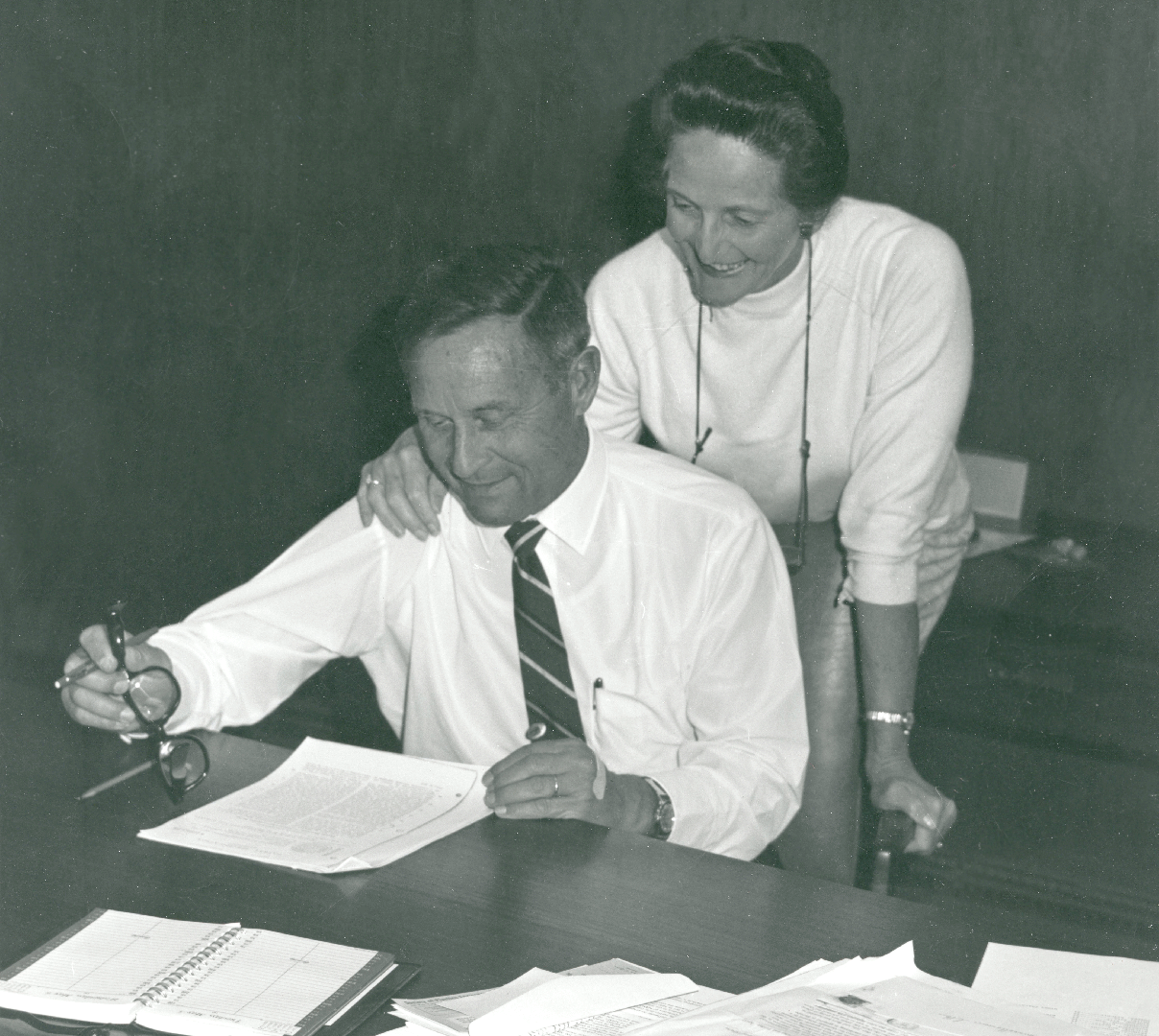 In the years since, we've developed unparalleled expertise in manipulating ePTFE and other fluoropolymers. Our engineers can change a material's structure, shape, thickness and surface geometry, then pair it with complementary materials to provide the performance qualities required by the application and the customer. The resulting product can be strong or permeable, rigid or flexible, thin or thick — with many additional combinations of properties that can be applied to meet the end use requirements.
Since its very founding, Gore has been passionate about solving the complex challenges of our global customers. From the first suggestion of a product need, to its delivery to market, this passion is apparent in everything we do.
Curiosity: From keeping water off a person's skin to preventing leaks from happening in chemical containers, we listen to our customers and analyze the challenges to determine the underlying problem.
Competency: We determine how we can apply our expertise in fluoropolymer science to deliver solutions that are valued and differentiated from the competition.
Commitment: We rigorously test our products to ensure they deliver failure-free performance and suit our customers' needs and applications, the first time and every time.
From the very beginning, we've created and launched innovations aimed at improving lives in ways large and small. Each of Gores' more than 5,500 patents — and the applications they enable — has started with a moment of scientific curiosity and the question, How can Gore improve lives?
The ePTFE Story
In 1938, DuPont had discovered PTFE, a strong, synthetic polymer customers used in a wide array of applications, from valves and seals to kitchen cookware.
In the late 1950s, while working at DuPont, Bill observed the growing momentum of the computer industry — and the opportunity to use PTFE to insulate wires used in early computers. Following his intuition, and with the urging of his wife, Vieve, the Gores started W. L. Gore & Associates in their basement on January 1, 1958. Their first product was MULTI-TET™ Insulated Wire and Cable.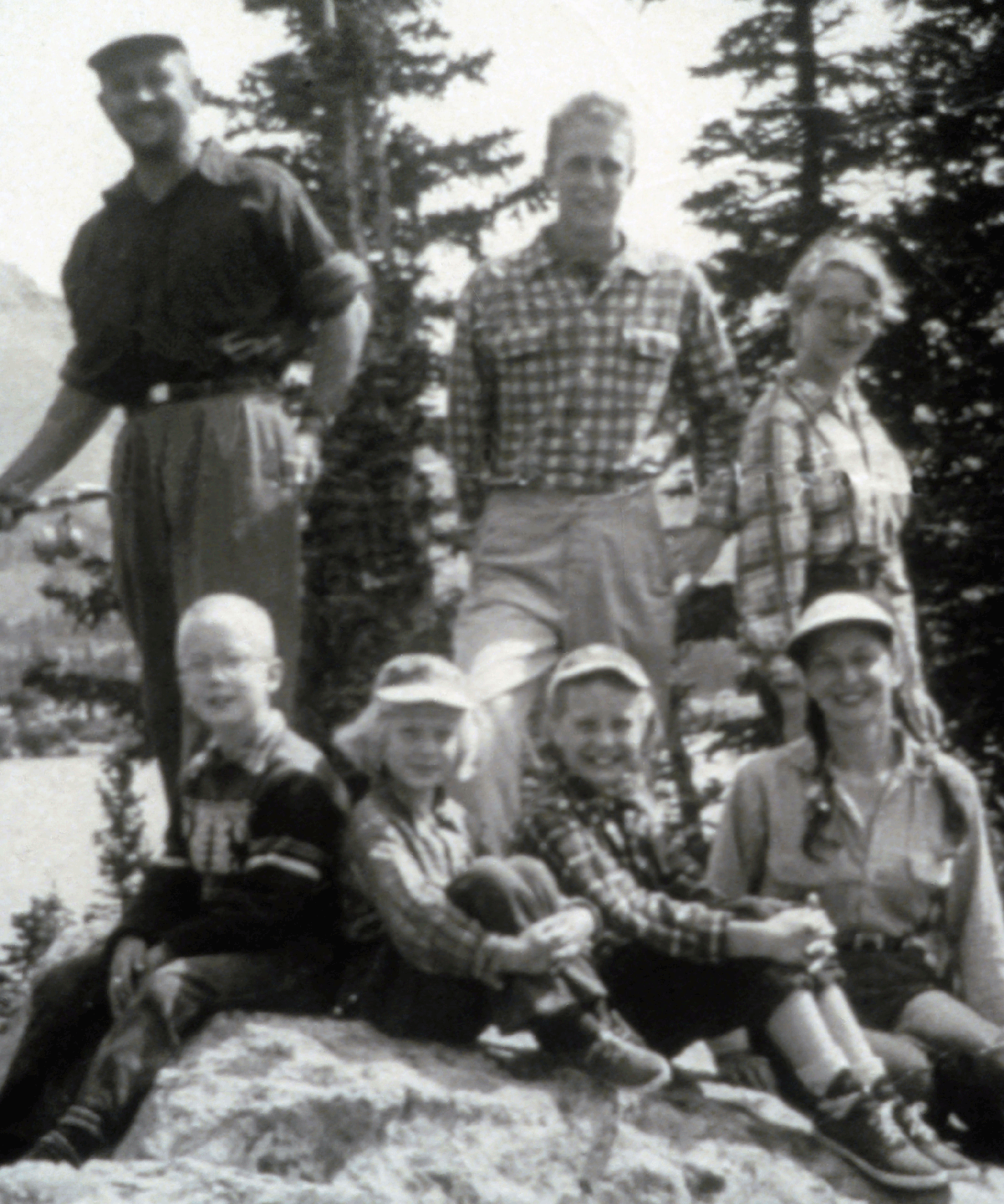 Gore quickly found success as a provider of PTFE-insulated cables and cable components. Just two years into the company's history, it sold 7.5 miles of ribbon cable to the city of Denver, Colorado, and on July 21, 1969, a Gore cable found its way to the moon as part of NASA's Apollo 11 mission.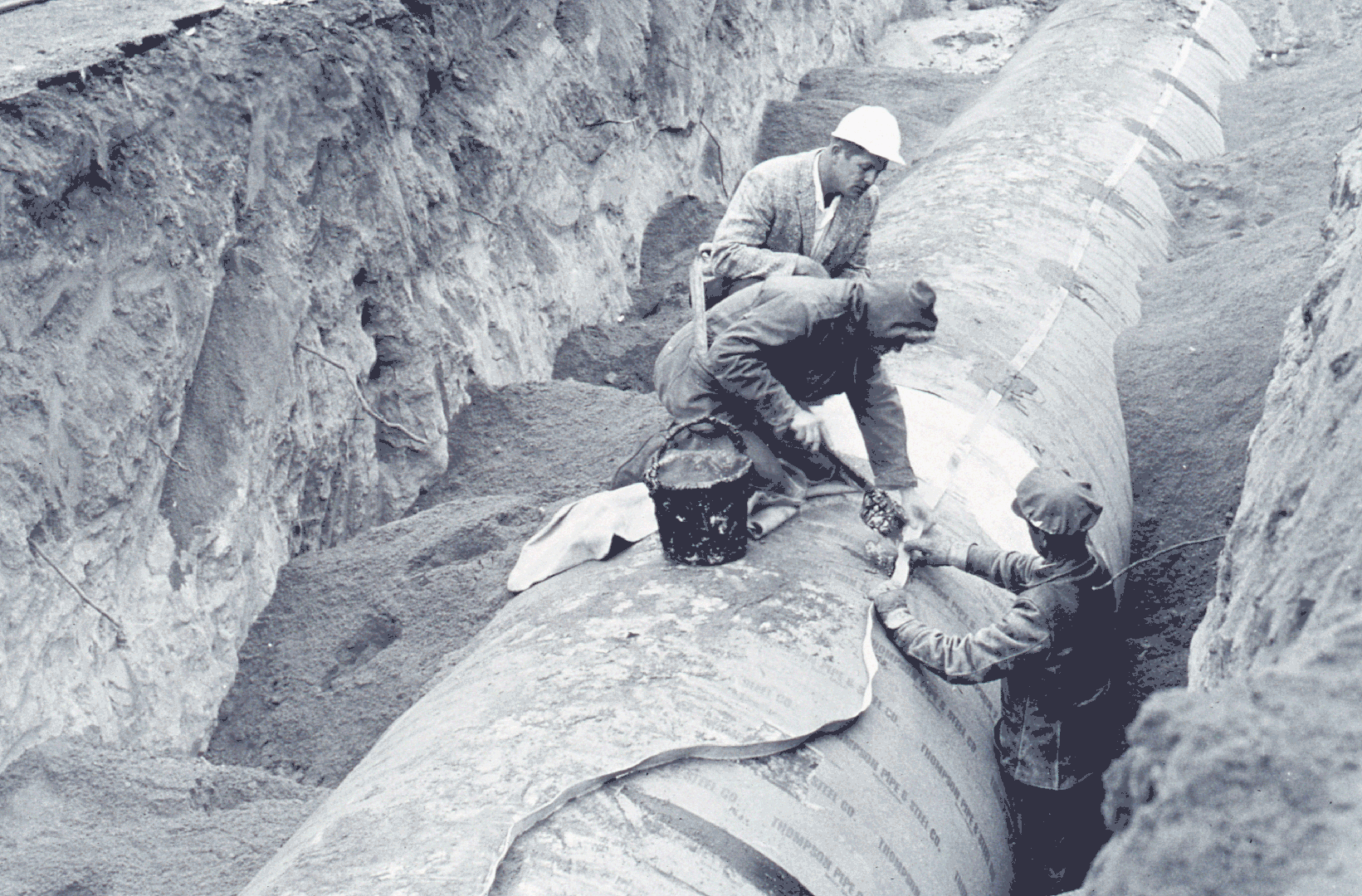 Despite this success, the Gore story was just beginning.
Bill and Vieve's son, Bob, joined the company in 1963. Bob, too, was an entrepreneur and innovator. Just as his father had a decade before, in 1969 Bob considered PTFE and wondered if there was an opportunity to do more with the material. If the PTFE could be expanded, he thought, the increased amount of air would allow the material to be more lightweight, pliable and cost-effective.
Bob experimented with PTFE in an effort to expand it, first heating up rods of PTFE and then gradually pulling it from either end — but the rods broke every time.
Exasperated, Bob finally gave the rod of PTFE an accelerated pull. To his shock, the PTFE expanded ten times its original size!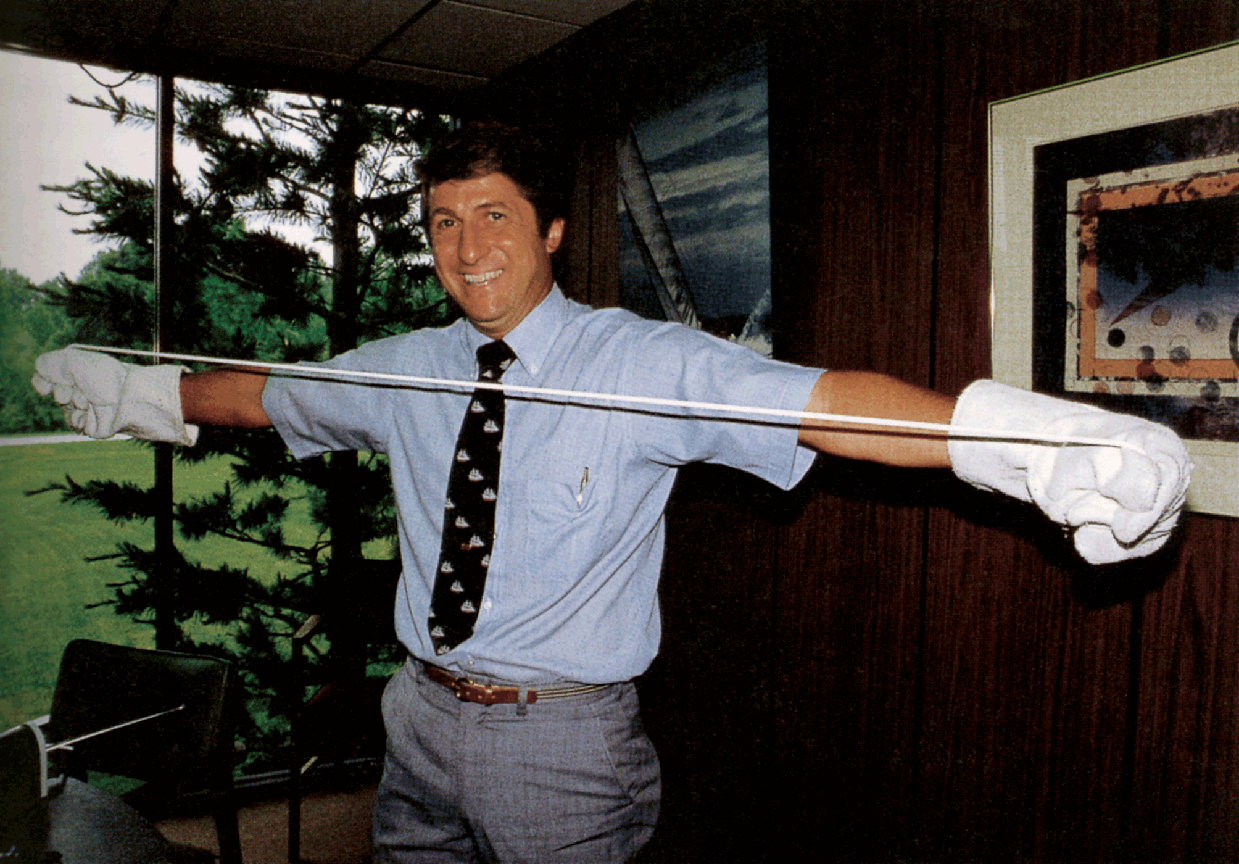 He immediately recognized what this meant. More possibilities! The expanded material was 70% air, enabling Gore to fill the ePTFE with complementary materials. The ePTFE was incredibly lightweight yet strong. It was porous and versatile — and the key to introducing Gore's core technology to many, many more applications. Gore was beginning to test out new concepts and explore new possibilities using the multiple properties of the expanded polymer material.
For nearly the past half-century, Gore has used the transformative discovery of ePTFE to innovate across industries. Product lines include filters, vents and other solutions to contain liquids, solids and fine particles; vents that protect audio quality in smartphones; textiles woven from ePTFE fiber for space exploration; medical devices, now totaling over 40 million implants worldwide; and laminated fabrics that are windproof, durably waterproof and breathable, giving outdoor adventurers unparalleled comfort and protection.
By its very nature, ePTFE is extremely versatile. As long as there's an opportunity to improve lives by using the unique properties of ePTFE, there will always be new developments, innovations and products from Gore.
A Closer Look at ePTFE
Expanded polytetrafluoroethylene, or ePTFE, is the core material in many of Gore's solutions. An ePTFE membrane is created when PTFE — a linear polymer consisting of fluorine and carbon molecules — is expanded, creating a microporous structure with very desirable characteristics, including a high strength-to-weight ratio, biocompatibility, high thermal resistance and many others:
High porosity
Low porosity
Thin
Wide
Continuous length
Clean (no outgassing)
Non-particulating
High temperature use
Low temperature use
Easily handled form
Biocompatible
High surface area
Chemically inert
Low coefficient of friction
High additive loading capacity
UV resistance
Non-combustibility
Sound transmission
Electrical conductivity
Thermal conductivity
Catalytic activity
Chemical activity
Absorption
Magnetic activity
Antibacterial functionality
Odor absorbency
Radiation resistance
Reflectivity
Selective permeability
Transparency/opacity
Dimensional stability
High dielectric constant
Low dielectric constant
Varied hardness and stiffness
Low/high surface energy
Low/high abrasion resistance
Non-permeable barrier properties
Controlled fluid delivery
But why is this single material able to be used in such diverse applications as guitar strings, ski jackets and cables used on the Mars Rover? The answer is that we can tailor ePTFE in a many ways depending on the desired use and functionality.
We can tailor the ePTFE to have:
varied structures based on the application, such as high or low density, tight or open porosity, thinness or thickness, surface or cross-section orientation, and multiple geometries and asymmetries
multiple forms, including tapes, membranes/films, tubes, fibers, sheets and rods
various proprietary modifications that allow us to produce highly valuable end products
Each ePTFE membrane consists of nodes connected by fibrils. Our engineers use their material science expertise to customize the geometry of the fibrils and nodes to customize the functionality — like greater or reduced airflow, or resistance to tissue ingrowth — that are optimized for the application.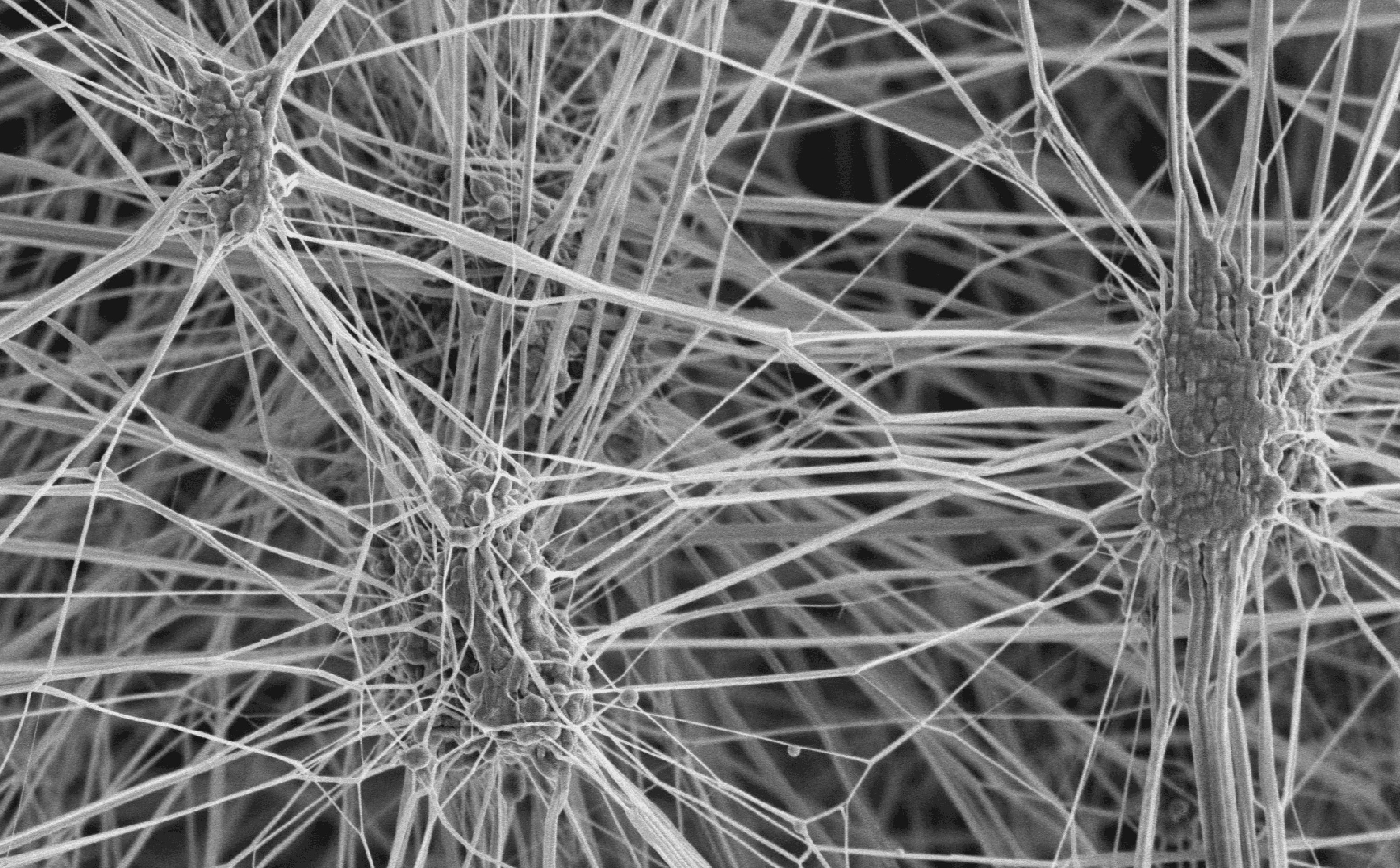 Another way to think about ePTFE: If you look at a GORE® satellite cable and a jacket containing GORE-TEX Fabric and wonder what they could possibly have in common, remember that each contains a membrane layer, whose inner architecture of nodes and fibrils was built in a very different way: one to transmit information, the other to promote physical comfort.
Applications of ePTFE
The characteristics of ePTFE are broad reaching — it's resistant to liquid penetration, is biocompatible, has a low dielectric constant, and much more — making it highly valuable in Gore products and applications used in demanding environments. From medical devices implanted in the human body, to clothing worn on expeditions to Mt. Everest, to electronic cables transmitting signals from outer space, Gore products offer the superior performance and reliability that our customers expect and end users require.
Since discovering ePTFE in 1969, Gore has developed products by combining our ePTFE and complementary material science expertise with an understanding of application requirements. With each new application of ePTFE and other fluoropolymers, Gore has a new opportunity to improve lives.