How the EV Market Paves the Way to Better Sustainability
When it comes to preserving our planet from harmful CO2 emissions and corresponding climate change, the automotive industry has embraced that challenge, and that responsibility. BEVs have become a core product category of all major car manufacturers. These OEMs have pushed the EV transition forward by developing a growing number of innovative EV models with improved performance, and by investing in EV infrastructure:
However, the shift to more sustainable BEVs will continue to create new challenges for Tiers and OEMs. Their increasingly sophisticated — and crowded — electronic components will require more protection in terms of pressure equalization and water ingress. Moisture management, thermal management and several other challenges will also rise.
But the automotive specialists from Gore are there to help — with our innovative and reliable automotive vents.
Automotive/Battery Electric Vehicles (BEVs) Products
BEVs have a greater reliance on electronic components, since the consequences of failures can be serious.
The electronic control units (ECUs) of EVs is equipped with dual-core and multi-core processors for safety-monitoring as well as built-in redundancy, which may require more effective venting to achieve desirable pressure equalization and airflow levels.
Electronic components of electric battery vehicles have to be assessed more critically, since the malfunction of just a single component like the motor drive ECU or the power steering control unit (EPS) can lead to serious failures.

Better Protection Enabled: Play It Safe with Highly Reliable GORE® Automotive Vents
Gore offers multiple Snap-Fit Vents, Adhesive Vents and Weldable Vents for various control units in electric vehicles: Our innovative solutions can be applied to protect engine control modules of EVs such as the electric power converter and the power distribution module.
Furthermore, you can use GORE Automotive Vents for the EV inverter, electric power converter to convert the direct current (DC) from the battery into the alternating current (AC) required by the electric motor, or the on-board charger in order to keep the transmission components of EVs at high performance.
The specifically designed GORE Automotive Vent for Powertrain, which has an integrated pre-filter to protect the membrane from internal oil aerosols, will enhance the power output and reliability of the transmission, the integrated e-axle or the e-motor in electric cars.
3. GORE Automotive Vents for ADAS sensors
4. GORE Automotive Vents for the Electric Vehicle Battery Storage
A key aspect of enabling better sustainability is extending the longevity of vehicle components, especially in terms of improving battery protection. The electric vehicle battery storage is a system unit where GORE Automotive Vents can provide increased protection and prolonged durability. Our Snap-Fit Vents and Adhesive Vents can be used in EV battery packs and EV battery management systems.
Systems and Components Reliably Protected by GORE Automotive Vents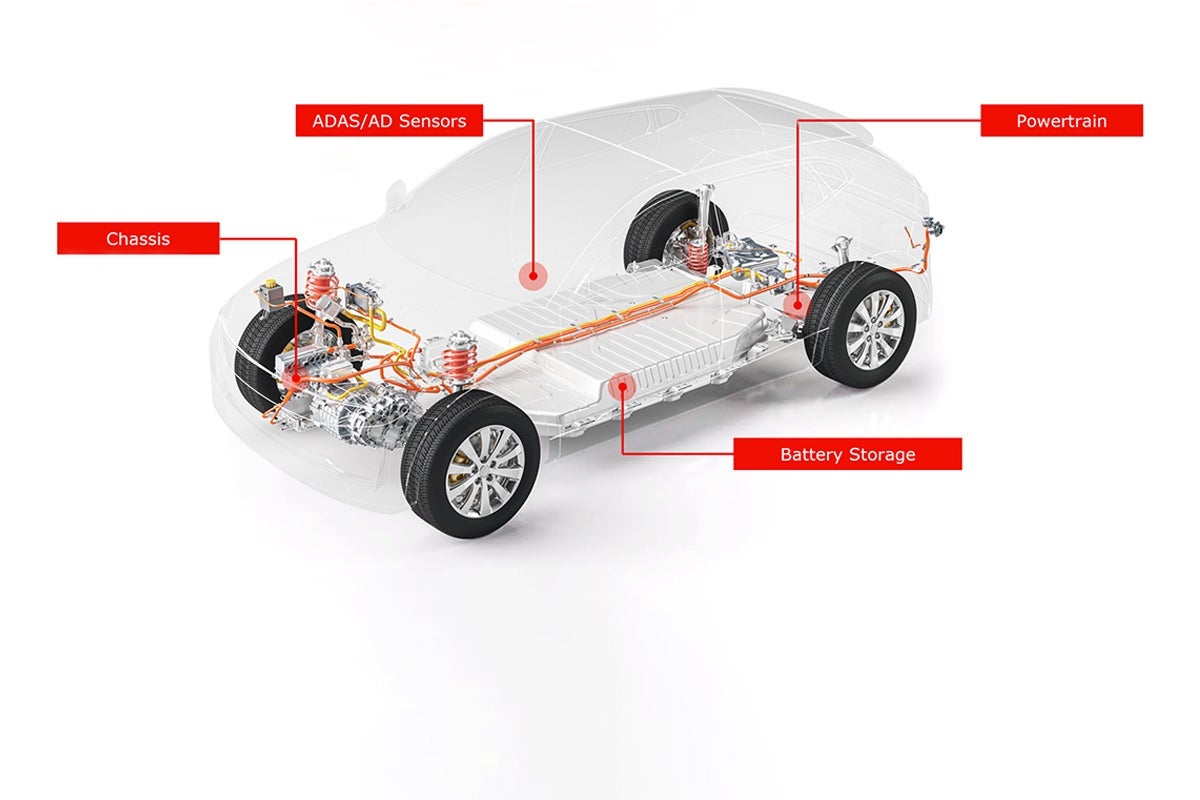 Want reliable protection against environmental risks that could limit the functionality of your EV electric components? Contact us directly to discuss your specific venting requirements — or keep reading to learn why Gore is the ideal partner for Tiers and OEMs of the EV automotive industry!
ePTFE: The Efficient Base in GORE Membrane Technologies for Automotive Components
The core competence of Gore is our expertise in membrane engineering, especially with regard to ePTFE (expanded polytetrafluoroethylene). Our proprietary ePTFE GORE Membrane can be tailored to provide a wide range of properties and performance characteristics. These membrane structures help GORE Automotive Vents to protect the electronic components in electric vehicles.
Made with ePTFE: the Strong Portfolio of GORE Automotive Vents
Gore ePTFE can be delivered in customized structures with unique performance characteristics for a wide range of venting solutions. No matter which GORE Automotive Vent you choose, you will always receive a product that fulfills the highest industry requirements in terms of performance, durability and reliability.
Explore the categories of GORE Automotive Vents that can be used to protect and enhance specific components of EVs:
Gore Combines Reliable Venting Products with Capable Services and Support
As an experienced partner with nearly 40 years in the automotive industry, Gore has accumulated the competence and capabilities to support automotive OEMs and Tiers in their EV manufacturing processes. With Gore at their side, automotive Tiers and OEMs not only receive our proven, high-performing venting products, but also the comprehensive service and support that helps to keep electronic EV components reliably protected.
See for yourself how you will benefit from a partnership with Gore:
1. Quality Assurance
Each GORE Automotive Vent meets the highest industry standards (ISO 9001, ISO 14001, IATF 16949) as well as environmental performance requirements (resistance to thermal shocks, humidity, salt sprays and submersion). Our trackable quality record speaks for itself: billions of our vents are used by all major automotive OEMs and Tiers.
2. Product Testing
Before being delivered to customers, every vent undergoes rigorous product inspection procedures and quality monitoring in our global testing facilities. Our experts conduct several tests under realistic application conditions, including eWEP (Water Entry Pressure) tests and airflow measurement tests.
3. Global Availability
With our global network that consists of 28 sales offices as well as four manufacturing and R&D facilities, we are always near to our customers. Our global presence allows us to quickly react to customer requests and thereby minimize complications with regard to supply chains.
4. Product Supply
In addition to delivering high-quality and highly consistent products, Gore is committed to being a reliable supplier to our automotive industry customers. Having world-wide production capabilities helps to ensure all four manufacturing facilities will have consistent access to sustainable amounts of raw materials. That's how we can offer robust and scalable vent production, and on-time deliveries, to EV OEMs and Tiers.
5. Regulatory Compliance
All GORE Automotive Vents conform to the regulatory requirements of the automotive industry. This entails the regulations of the Global Automotive Declarable Substance List (GADSL) as well as specific EU standards that pertain to restricted substances in articles such as the European RoHS Directives and REACH. When developing new venting products, our material engineers think one step ahead and anticipate future changes of REACH regulations to ensure compliance both now and in the future.
6. Technical Support
Due to our global network, Gore application engineers provide excellent support for our automotive vents. You can be confident you'll get a timely response to any requests, or questions about integrating and installing our venting solutions.
More Than Venting: How Gore Drives Innovation and Sustainability Forward
At Gore, our experts and specialists work continuously to develop innovative membrane solutions, so we can continue to offer you even more advanced ways to reliably protect, and increase the performance of your EV components.
Creating Solutions for Your Unmet Needs
Coming up with innovations that meet future requirements, and the needs of our customers is a central motivation for us. That's why our membrane engineers partner with our customers and continuously explore new technologies that push the boundaries even further in fields of application such as moisture management, thermal management, acoustic management, and the improvement of battery performance in electric vehicles.
Get in touch with one of our experts to discuss further details by filling out the contact form.
Gore's Sustainability Commitment
In order to contribute to better sustainability in the mobility sector, we do more than deliver reliable venting products for battery electric vehicles. We also support other sustainable transportation systems with our innovative GORE Fuel Cell Technologies that provide solutions for fuel cell electric vehicles like passenger cars, busses and trucks.
But offering products which enhance the durability of components is only one part of what Gore contributes to sustainability. As a company, we are dedicated to do what we can to live up to our self-defined high sustainability standards.
Here are some selected fields of action that illustrate Gore's passionate sustainability commitment:
Learning from energy data: We consistently collect and interpret our energy and fuel consumption data to optimize our overall energy usage. Moreover, we match our entire production in accordance with our GHG inventory to reduce greenhouse gases.
Improving overall efficiency: Always looking for more efficient equipment as well as more energy-conscious processes are major parts of our sustainability agenda. Improvements in air handling as well as the building envelope of our global facilities are just two examples of our optimization practices.
Generating sustainable energy: We replace fossil fuels with renewables where we can. For instance, our production facilities in Putzbrunn (Germany) and Phoenix (U.S.) gain energy on-site with the help of photovoltaic systems.
Purchasing renewable electricity: Where on-site energy generation is not possible so far, we purchase energy from renewable sources. That already applies to our German and UK facilities, and our locations in China, Japan and the United States will follow very soon.
Making production carbon-neutral: We have a clear goal in terms of our corporate-wide production process: By 2030, we are targeting a 60 percent reduction of scope 1 & 2 emissions of our facilities. By 2050, we aspire to reach full carbon neutrality.