Overview
Safety, performance and styling are key elements in designing automotive headlamps, fog lamps and rear or specialty (CHMSL) lamps. But any of these elements may be compromised by environmental factors like heating/cooling cycles, humidity, dust, debris, fluids or condensation.
GORE® Adhesive Vents for exterior automotive lighting can protect lamp assemblies from damage, degradation or premature failure in harsh or extreme environments.
They effectively block ingress of rain, sleet, snow, dust, dirt and debris. They respond rapidly to pressure differentials, which can stress seals to failure. Our vents quickly equalize both over-pressures and dangerous under-pressures that could pull water, contaminants and condensation into the housing and onto the sensitive electronics.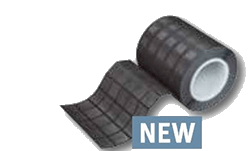 NEW GORE® ADHESIVE VENT AVS 100 - The new performance standard for headlamps.
Engineered for the challenges of LED lamps
High-value LED lamp assemblies require superior venting to protect sensitive electronics from water and dirt, and to avert owner complaints of "foggy" or "dirty" headlamps. LED lamps are prone to these problems because they generate heat only at the electronics at the rear, which creates a cold spot at the front of the lens. Any moisture that permeates the housing – even a few drops worth – will condense at this cold spot, clouding the inside of the lens. Such condensation, along with any particulates it carries, will be extremely noticeable through the clear lenses of today's sophisticated LED headlamps.
GORE Automotive Vents for adhesive installation solve this problem. Their proprietary microporous membrane allows air and gases to pass through freely, so that any moisture is diffused before condensation becomes a problem. Yet the pores of this membrane are 20,000 times smaller than a water droplet, so it blocks entry of liquids, as well as fine dust particulates.
Field-proven, in all regions of the world
Millions of GORE® Adhesive Vents are in use across global automotive platforms, because they:
Rapidly and continuously equalize pressures in response to environmental changes… whether the vehicle is moving or parked.
Effectively diffuse moisture vapor to solve lens-condensation challenges.
Reliably block fine dust, dirt and road debris, as well as water splashes and sprays, from entering the housing.
Offer a choice of performance options, providing a versatile solution for all lamp types (LED, Xenon, Halogen) and for clear and colored lenses.
Are engineered to provide a secure and durable bond with most typical plastic and metal housing materials.
For more than 20 years, we've partnered with global OEMs and Tier-1 lighting suppliers to advance the reliability of automotive headlamps, fog lamps and rear and specialty lamps. We have technical support and testing centers in the US, Germany, Japan, Korea and China, so our application engineers are easily accessible – and ready to work in close partnership with your design team, from product concept through manufacturing integration.
Product Comparison
Gore offers qualified vents for headlamps, fog lamps and rear and specialty (CHMSL) lamp applications. All our vents are extensively tested and evaluated in both laboratory and field conditions, to ensure they will perform consistently and reliably for you.
A Complete Venting Portfolio
Choose from a full range of sizes and performance options, available for automated, semi-automated and manual installation.
AVS 9:
With millions installed, these vents have become a global standard for nearly any type of headlamp.
AVS 100:
Faster, easier and more forgiving installation, as well as greater resistance to high-pressure sprays.
AVS 2 or AVS 5:
A global standard for reliable pressure equalization at temperatures up to 125 °C. Two sizes available.
AVS 15 or AVS 16:
For extra durability and adhesion at higher temperatures up to 150 °C. Two sizes available.
AVS 43:
High airflow quickly equalizes large pressure differentials in housings with large internal air volumes.
AVS 17 or AVS 18:
A global standard for typical operating temperatures up to 85 °C. Two sizes available.
AVS 22 or AVS 23:
For higher-temperature applications up to 125 °C. Two sizes available.
NEW: AVS 110
Quality
Initiate a PPAP submission, waiver, or engineering / product fitness consultation
Resources
Recent News
FOR INDUSTRIAL USE ONLY
Not for use in food, drug, cosmetic or medical device manufacturing, processing, or packaging operations.