Overview
Leading-edge automotive headlamps, rear lamps, fog lamps and specialty lamps are designed for both performance and appearance. But both may be compromised by environmental challenges: Heating/cooling cycles or humidity can create condensation; pressure differentials can stress seals to failure; dust, debris, moisture or automotive fluids can contaminate lenses or damage sensitive electronics.
GORE® Automotive Vents for exterior lighting can protect lamp assemblies from the conditions that can threaten their reliability, longevity and performance.
Our vents reliably keep out rain, sleet, snow, dust, dirt and debris, and have excellent chemical resistance. They continuously equalize pressure differentials, protecting the integrity of the lamp enclosure. And they effectively manage condensation through continuous moisture diffusion, both when the vehicle is moving and when it's parked.
Engineered for the challenges of LED lamps
LED headlamps require superior venting to protect sensitive electronics from contaminants, and to avert condensation quality issues like "foggy" or "cloudy" lenses. Cloudy, streaky lenses are particularly displeasing to car owners, and can be costly to the OEMs and Tiers who must remedy these issues.
LED lamps in particular are vulnerable to condensation issues. Their electronics generate heat only at the rear of the lamp, which causes a cold spot at the front of the lens. Any moisture within the housing will condense at this cold spot. If the condensation is not reduced, the lens will appear cloudy, and any anti-fog coatings may become saturated, and streaky-looking.
Managing Condensation
Gore has the solutions you need!
Our advanced venting technologies can improve moisture management in your headlamps – and wherever condensation threatens your automotive exterior lighting. Gore solutions can save you time, money and frustrations, in multiple ways: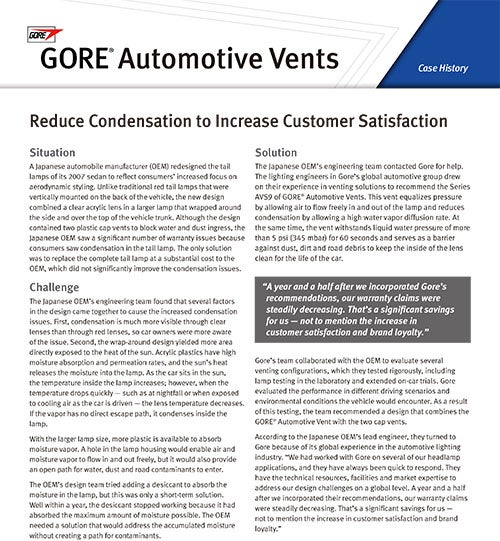 To see how Gore helped an OEM increase satisfaction and decrease warranty claims download this case study (PDF, 356.4 KB)
Sustain Customer Satisfaction
Cloudy, foggy, streaky headlamps are a smear on your quality brand image, and a huge source of frustration for customers who expected better.  Because even when a warranty covers the cost, your customer still has to invest time and effort to deal with what they see as "your quality problem."
Turn to Gore venting technologies to effectively manage headlamp condensation – before it becomes a problem for your customers, or for you.
When condensation builds up in headlamp lenses, warranty claims quickly pile up. That can take a lot out of your bottom line. And, it raises questions about the quality and reliability of your parts – which can be time-intensive and costly to resolve.
Gore has the solutions you need to make your bottom line healthier, and to achieve a rapid, reliable resolution to your condensation problems.
The worst part of headlamp condensation is not what you see on the lenses…it's the hidden damage that can result if condensation corrodes electrical contacts, and degrades the performance, reliability and longevity of the lamp's high-value electronic components.
Gore condensation management technologies can help your headlamp parts and assemblies
maintain the performance-life you designed for.
Streamline Validation Timelines
When headlamp condensation bogs down your validation testing – or even sends you back to re-design — it can force you to re-set your development schedules and re-work your cost projections. And in a worst case, product-launch deadlines could be at risk.
Gore condensation management solutions are validated and field-proven —and backed by Application Engineers who will partner with you on your toughest challenges.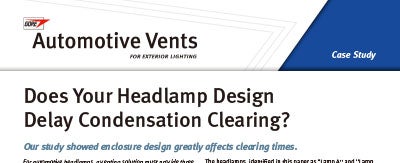 Enhance Design Flexibility
Headlamp design is as much about aesthetics as it is about lumens. And attempts to outsmart condensation with devices like long torturous paths can limit design freedom, compromise aesthetics, and stifle styling innovation. (Yet still not provide effective condensation clearing.)
Gore's diverse condensation management solutions can offer you more design options, and more flexibility when you need to balance performance and styling.
More about GORE Automotive Vents
For decades, Gore has led the way in venting automotive exterior lighting across global platforms. We were first to invent venting products with condensation management capabilities…and continue to develop innovative GORE Automotive Vents and GORE Condensation Management Products for active moisture removal.
Product Comparison
Gore offers qualified vents for headlamps, fog lamps, rear lamps and specialty lamps. All our vents are extensively tested and evaluated in both laboratory and field conditions, to ensure they will perform consistently and reliably for you.
A Complete Portfolio of Automotive Vents for Exterior Lighting
Whether you need both condensation reduction and pressure equalization, or just pressure equalization, Gore has a vent with the right performance and size for your application, whether your installation process is automated, semi-automated or manual.
VENTS FOR CONDENSATION REDUCTION AND PRESSURE EQUALIZATION
Reduces condensation while vehicle is parked and driving.
Rapidly and reliably equalizes pressures at -40 °C to 125 °C.
100% ePTFE membrane resists ingress of water, fluids / oils, dust and dirt.
Designed for adhesive installation using automated, semi-automated or manual processes.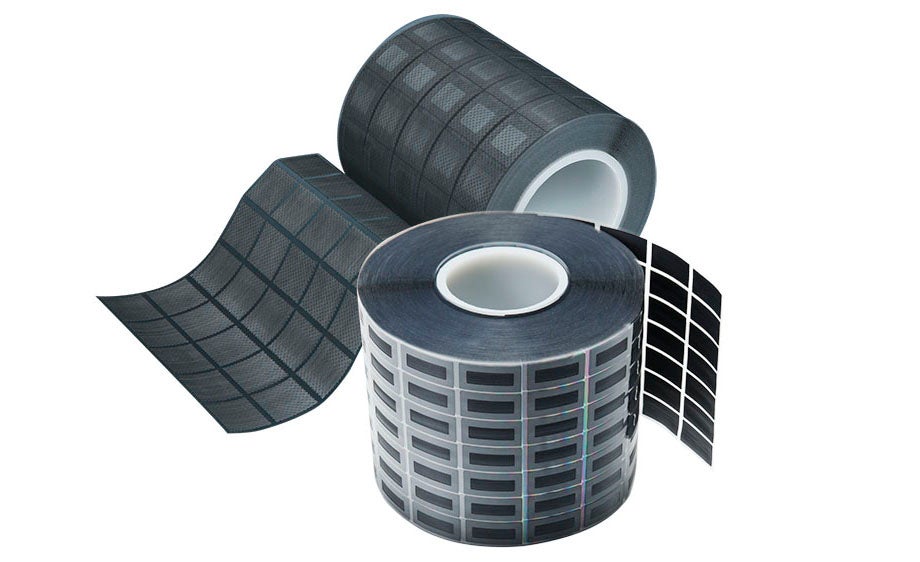 AVS 9
So versatile, it's become a favorite worldwide
AVS 100
More resistance to high-pressure sprays, and more forgiving installation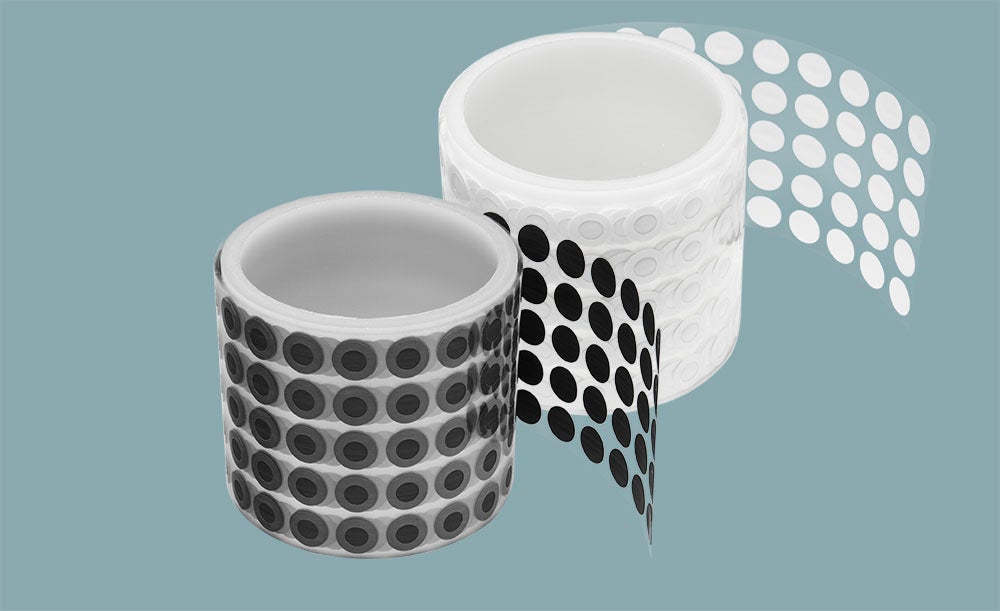 AVS 2/5
Field-proven performance, in two sizes
AVS 43
Higher airflow for housings with larger internal air volumes
VENTS FOR PRESSURE EQUALIZATION
Rapidly and reliably equalizes pressures from -40 °C to your choice of +85/ +125/ +150 °C.
ePTFE membrane resists ingress of water, fluids / oils, dust and dirt.
Choose 100% ePTFE membrane construction, or laminate including ePTFE membrane.
Designed for adhesive installation using automated, semi-automated or manual processes.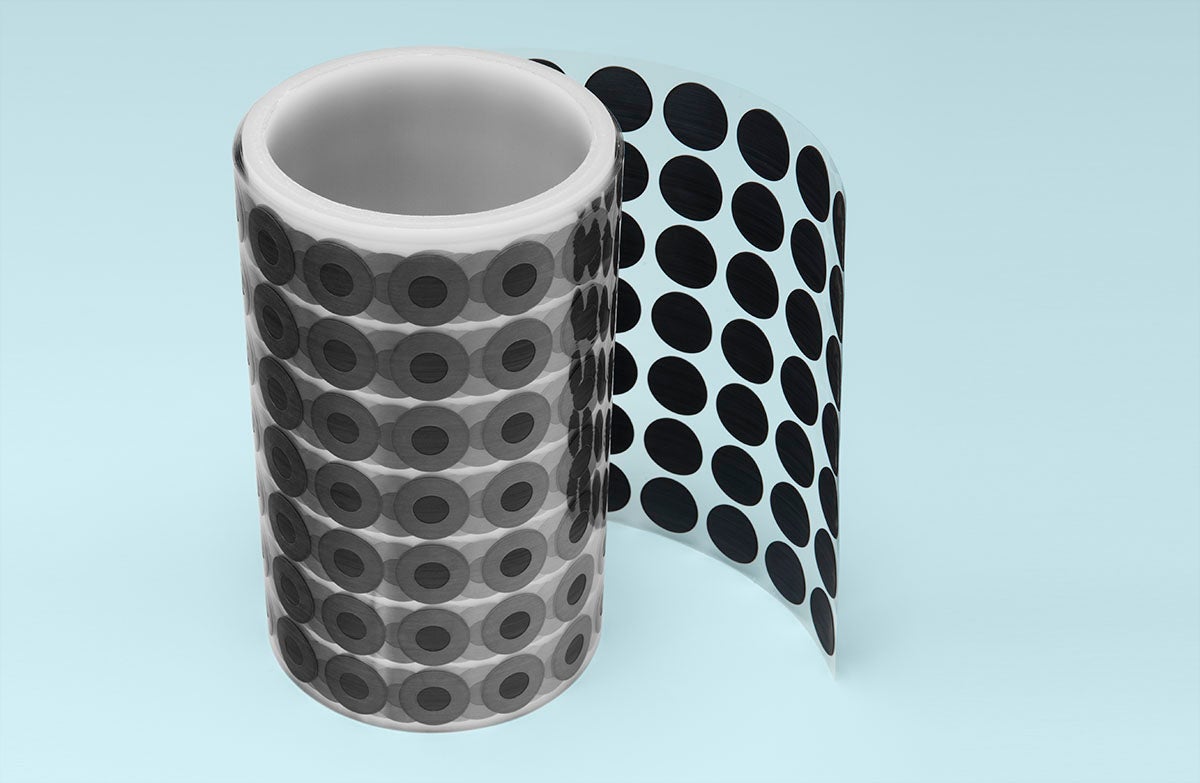 AVS 15/16
Two sizes, with our highest temperature rating: up to 150 °C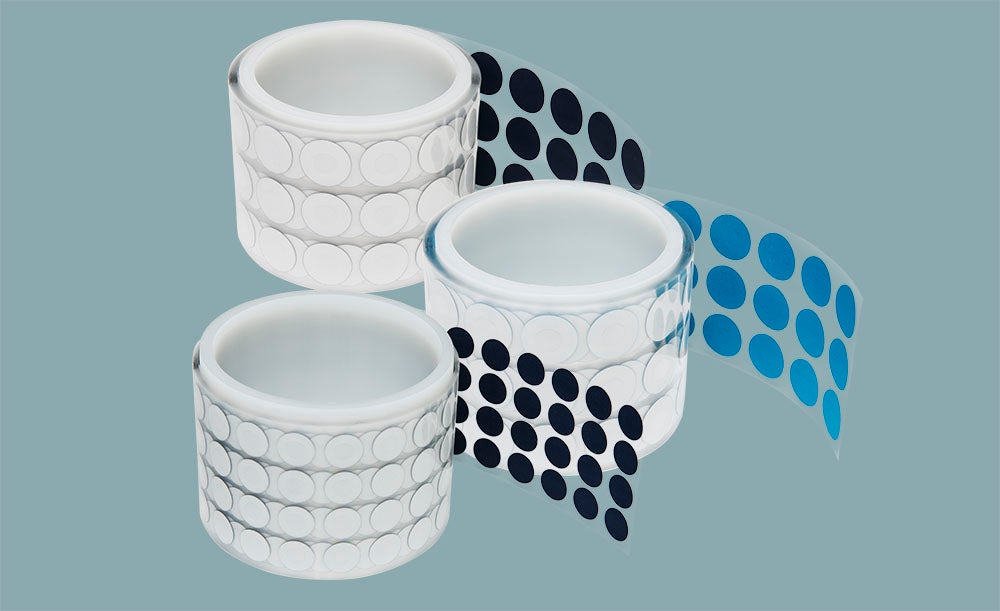 AVS 22/23
Two sizes, temperature-rated up to 125 °C
AVS 17/18
Two sizes, for operating temperatures up to 85 °C

View our data sheet Adhesive Vents for Exterior Automotive Lighting
Field-proven, in all regions of the world
Millions of GORE Automotive Vents are in use across global automotive platforms, because they:
Rapidly and continuously equalize pressures … whether the vehicle is moving or parked.
Effectively diffuse moisture vapor to solve lens-condensation challenges.
Reliably block ingress of fine dust, dirt and road debris, as well as water splashes and sprays.
Offer performance options for all lamp types, and for clear and colored lenses.
Form a secure and durable bond with most typical plastic and metal housing materials.
Are backed by technical support and testing centers in the US, Germany, Japan, and China. 
Our application engineers are easily accessible – and ready to work in close partnership with your design team, from product concept through manufacturing integration.
Quality
Initiate a PPAP submission, waiver, or engineering / product fitness consultation
Resources
Recent News
FOR INDUSTRIAL USE ONLY
Not for use in food, drug, cosmetic or medical device manufacturing, processing, or packaging operations.