See Gore at IMS 2023 to improve 5G & other test outcomes
June 11, 2023 - June 16, 2023
San Diego, California
---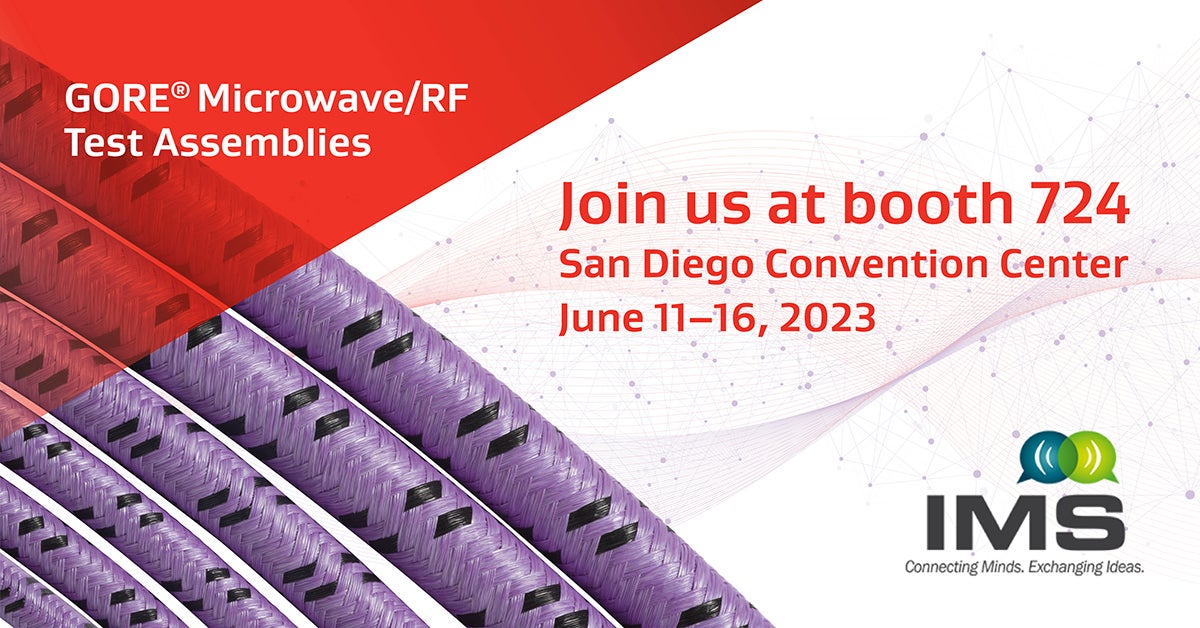 Trust your mmWave test results with Gore interconnects: Durable, reliable cable assemblies. Precise, repeatable testing results.
Visit our booth 724 at the 2023 International Microwave Symposium (IMS) to see Gore's full line of mmWave and higher-frequency interconnects. They are proven to deliver stable, reliable performance. And we'll demonstrate how they enable precise, repeatable test results, even over long testing cycles.
Our in-booth flex-life simulator proves it, as GORE® PHASEFLEX® Microwave/RF Test cables go through multiple bends and thousands of continuous flex-life cycles over the course of the show. Watch our real-time measurement of how much electrical stability is retained!
Designed for precise mmWave testing in the toughest conditions
See our full line of enhanced-durability microwave/RF cable assemblies for test and measurement. All are designed to deliver phase and amplitude stability over extended flex-cycles, and changing temperatures.
The Gore portfolio of solutions for text and measurement includes:
A wide range of small-diameter cables
Frequencies from DC to 110 GHz in low-loss cable constructions
Connector options to optimize the performance of Gore cable assemblies
Our broad industry portfolio also includes cable assemblies for space flight, aerospace and defense applications.
With more than four decades of cable industry expertise, Gore's microwave/RF cable assemblies have become the performance standard preferred by global OEMs for testing systems, including 5G applications.
We look forward to seeing you in our booth #724 at IMS 2023, and hope you will have time for a one-on-one discussion of your new project or technical challenges. Please use the above form to reserve your dedicated discussion time.
Exhibit Hours
Tuesday, June 13: 09:30 a.m.–5:00 p.m.
Wednesday, June 14: 09:30 a.m.–6:00 p.m.
Thursday, June 15: 09:30 a.m.–3:00 p.m.
---
FOR INDUSTRIAL USE ONLY
Not for use in food, drug, cosmetic or medical device manufacturing, processing, or packaging operations.