Overview
Maintaining signal integrity under difficult aerospace environments is essential to the reliability of sophisticated avionics in commercial aircraft. Starting with installation and continuing through harsh flight conditions, like rapid temperature/pressure changes and potential contamination from fuels, oils, and fluids. At the same time, airframe assemblies must be both lightweight and durable to improve fuel efficiency and reduce operating costs.
In fact, we conducted independent studies and research showing that globally more than 75% of microwave/RF assemblies are frequently replaced because of damage during installation or operation. So, costs can quickly add up with replacing assemblies, extra labor, and more maintenance and downtime!
LIGHTWEIGHT SOLUTION WITH LOWEST INSERTION LOSS
GORE-FLIGHT Microwave Assemblies, 6 Series is proven to deliver the lowest insertion loss and more reliable VSWR before/after installation, providing stable and accurate performance compared to alternative airframe assemblies. Our rugged yet flexible airframe assemblies can easily withstand rigorous routing, maintenance activities, and flight conditions ensuring life-of-aircraft performance. They're also 17% lighter weight compared to alternative designs, which improves fuel efficiency and increases cargo.
With this high level of performance, our 6 Series reduces costly production delays, field service frequency, and the need for purchasing replacement assemblies.
Commercial aircraft manufacturers no longer have to accept the practice of replacing microwave assemblies because they get damaged during installation. A fit-and-forget philosophy is now a reality because our 6 Series provides the most cost-effective, lightweight solution that ensures avionics performance for flight crews.
Rugged construction of GORE-FLIGHT Microwave Assemblies, 6 Series
Applications
GORE-FLIGHT Microwave Assemblies, 6 Series is engineered to perform reliably in commercial airborne applications, including:
Ku-Band SATCOM antennas
navigation / communications systems
radar interconnects
If you have any questions or to discuss your specific application needs, please contact a Gore representative.
Benefits
GORE-FLIGHT Microwave Assemblies, 6 Series provides system architects and engineers with many benefits that improve electrical and mechanical performance such as:
outstanding signal integrity in demanding aerospace environments during use and over time
lowest insertion loss and more reliable VSWR before/after installation
less interference among critical systems due to superior shielding effectiveness
lower installation costs due to fewer failures and reduced aircraft production delays
longer system life and reduced downtime with mechanically-rugged constructions
durable vapor sealing prevents ingress of aircraft contaminants
improved fuel efficiency and increased cargo with lightweight assembly
increased design flexibility with robust, low-profile connector options
proven performance with approved aerospace materials through qualification testing
For more information about the benefits of our assemblies, please contact a Gore representative.
Properties
These values demonstrate the electrical, mechanical and environmental performance of GORE-FLIGHT Microwave Assemblies, 6 Series.
Download the catalog/data sheet for more technical information, including qualifications, comparison test data, connector options, and ordering information.
Electrical Property
Cable Type
6E
65
Maximum Frequency Range (GHz)
18
Typical VSWR through Max Frequency
(Straight Connector)

1.25:1
Guaranteed VSWR through Max Frequency
(Straight Connector)

1.40:1
Typical Insertion Loss (dB/m [dB/ft])
0.65 (0.20)
1.12 (0.34)
Installed Insertion Loss (dB/m [dB/ft])a
0.72 (0.22)
1.16 (0.35)
Standard Impendance (Ohms)
50 ± 1
Velocity of Propagation (Nominal) (%)
86
Time Delay (Nominal) (ns/m [ns/ft])
4.0 (0.10)
Capacitance (pF/m [pF/ft])
78.7 (24.0)
75.8 (23.1)
Shielding Effectiveness (dB through Max Frequency)
90
Dielectric Constant (Nominal)
1.35
a Based on a 10-foot assembly after 3 cycles through the installation simulator.
Mechanical / Environemtnal Property
Cable Type
6E
65
Jacket Material
Engineered Fluoropolymer
Jacket Color
Black and Purple
Center Conductor
Solid, Silver Plated Copper
Dielectric Material
ePTFE
Nominal Outer Diameter (mm [in])
8.9 (0.35)
6.1 (0.24)
Nominal Weight (g/m [lbs/1000 ft])
125.0 (84.0)
60.0 (40.3)
Minimum Bend Radius (mm [in])
48.3 (1.9)
25.4 (1.0)
Concentrated Load per MIL-T-81490, 4.7.18 (lbs)
> 150
Temperature Range (°C)a
-55 to +125
Installation Simulator
Gore has long been a proponent of showing accurately how its products and technologies function in real-world environments before bringing them to market. Because nearly one-third of cable failures occur during installation, this is a crucial risk factor that shouldn't be minimized. Damaged airframe assemblies can lead to compromised signal integrity and failures over time, as well as additional testing, maintenance and replacement costs. With our Cable Installation Simulator, civil and military aircraft manufacturers can be confident they are getting a reliable cable assembly solution that withstands the rigors of installation and reduces the total cost of ownership.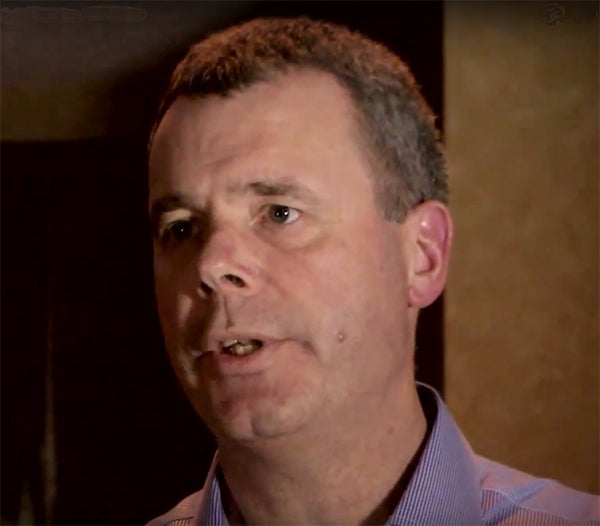 Jim Foreman, Product Specialist
"Aircraft manufacturers need reliable solutions that can be installed deep within an aircraft and left there for the life of the platform. Therefore, we want to create 'fit-and-forget' solutions that will survive the demanding environments within an aircraft," said Jim Foreman, Product Manager at Gore. "We're committed to designing next-generation products that solve key challenges, and mitigate risk for aircraft," said Paul Pino, Lead Principal Design Engineer at Gore. "To do this, we test and simulate real-world conditions to ensure that our products do what we say they will do, consistently and reliably even in harsh conditions."
For more information about our Installation Simulator, download the white paper, 
Proving Installed Performance of Airframe Microwave Assemblies.
Also, download the white paper, Reducing Life Cycle Costs with Reliable Airframe Microwave Assemblies.
Videos
Watch this video and more on YouTube of Gore engineers demonstrating the benefits of GORE Microwave/RF Assemblies.
Online Tools
Easy to Use, Fast Results
Gore's online resources are designed specifically to make it easy for you to select the right microwave/RF assembly for your specific application requirements.
NEW Microwave/RF Cable Assembly Builder allows you to design a Microwave/RF Cable Assembly with ease from your desktop, tablet or mobile phone. Whether you are working in Test & Measurement, Spaceflight, Aerospace or Defense you can design an RF cable assembly to meet your specific needs. Once you design your assemblies you'll be able to download custom datasheets for your builds within minutes, and you can also submit the builds for a quote. A Gore specialist will then review your designs and application requirements.
Microwave/RF Cable Assembly Calculator allows you to calculate insertion loss, VSWR and other parameters of Gore's assemblies for different cable types. Select and compare up to 3 cables at a time.
If you have questions about our assemblies and want to discuss your specific application needs, please contact a Gore representative.
Resources
Recent News