GORE® Fiber Optic Cables for Civil Aircraft
We've packaged standard optical fibers in robust, space-saving designs with an exceptional balance of properties to meet aviation high-bandwidth requirements. Gore's Simplex and ribbon versions offer improved reliability and longevity over competitors. They're proven to transmit instant data and video for fast, secure communication and IFEC during the entire flight.
Contact Us
Germany
+49 9144 6010
+49 9144 6816 (fax)
UK
+44 1382 56 1511
+44 1382 56 1007 (fax)
Italy
+39 045 6209 209
+39 045 6209 165 (fax)
France
+33 1 5695 6565
+33 1 5695 6401 (fax)
Spain
+34 93 480 6900
+34 93 373 7850 (fax)
Sweden
+46 31 7067800
+46 31 864226 (fax)
China (Beijing)
+86 10 5707 4999
+86 10 5707 4900 (fax)
China (Shanghai)
+86 21 5172 8299
+86 21 6247 9199 (fax)
China (Shenzhen)
+86 755 8359 8262
+86 755 8359 1654 (fax)
South Korea
+82 2 393 3411
+82 2 393 1285 (fax)
Japan
+81 3 6746 2582
+81 3 6746 2571 (fax)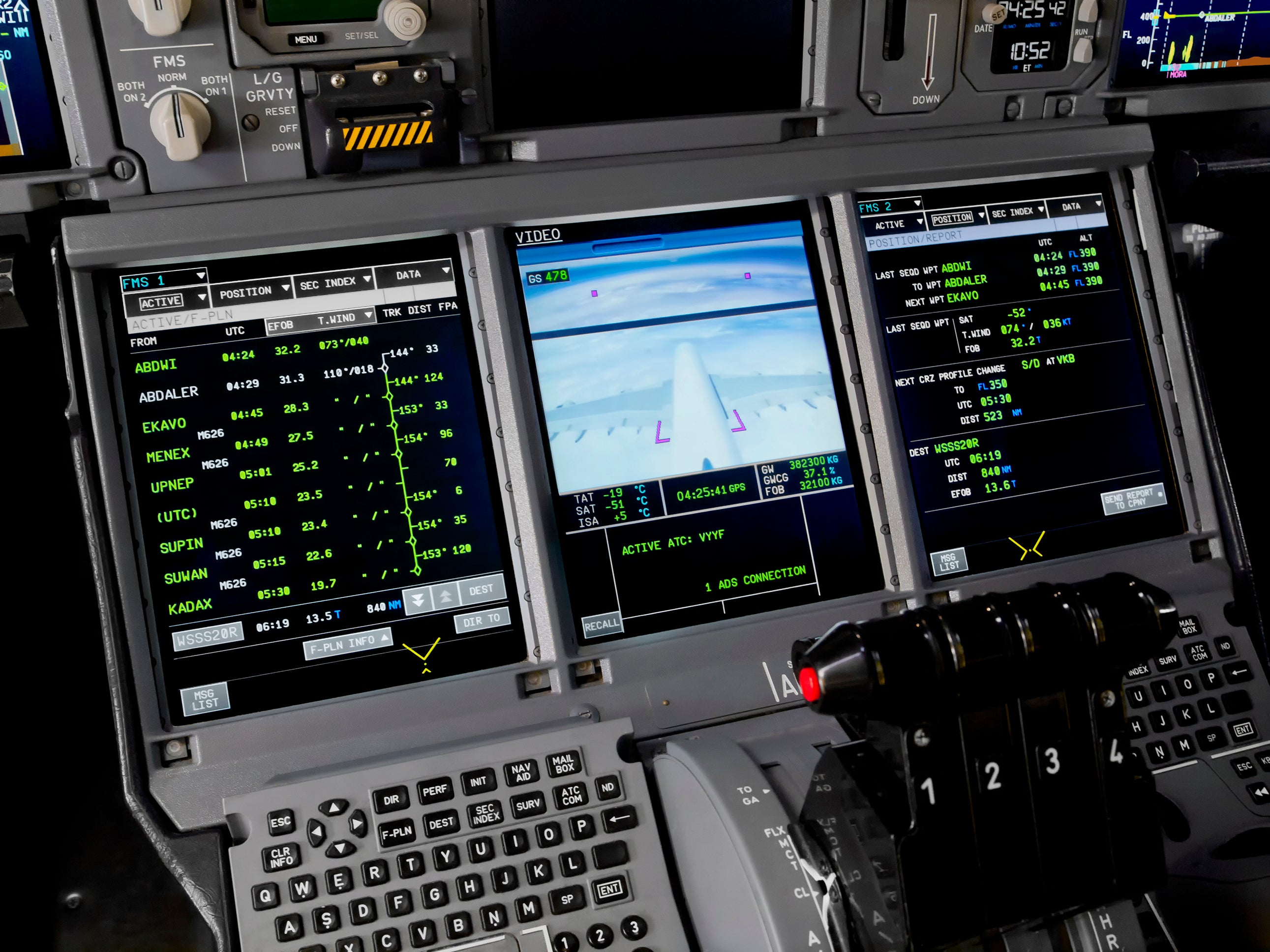 PROVEN HIGH-BANDWIDTH PERFORMANCE AFTER INSTALLATION.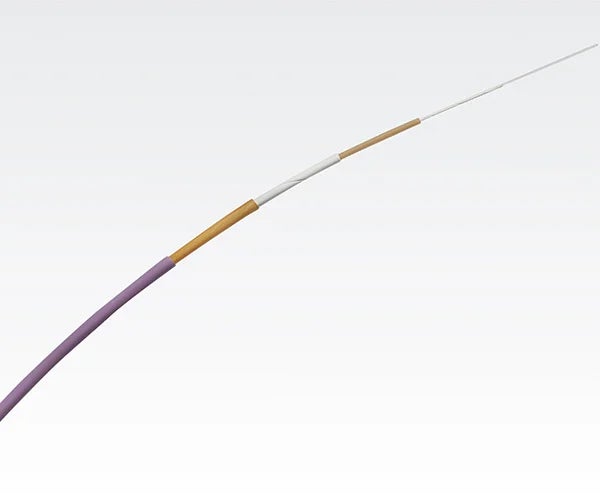 Cables & Cable Assemblies
W. L. Gore & Associates' most popular Simplex cable reliably supports higher bandwidth requirements on data and video architectures up to 100+ Gb/s without signal interruption. This version is proven to guard against high-weight impact, crushing force, vibration, abrasion, extreme temperatures and more.
English (U.S.)
All Resources For GORE® Fiber Optic Cables for Civil Aircraft
Overview
High-Bandwidth Signals
With higher bandwidth requirements rising in avionics, cables must transfer lots of data and video reliably so pilots can maintain communication and passengers can enjoy in-flight entertainment and connectivity (IFEC) for the entire flight. Aviation fiber optic cables must also be smaller and lighter to fit in limited airplane areas.
GORE Fiber Optic Cables offer various Simplex and ribbon versions with single- and multi-mode core types up to OM5 to meet your specific application needs. Delivering strong signals, each version of our aircraft fiber optic cables can easily accommodate bandwidth-intensive requirements to support next-gen data and video architecture.
Impressive level of Robustness
We offer a higher level of robustness with a cable protection tube that shields the fiber core. Our cables are proven to guard against rigorous installation, crushing force, high-intensity vibration, extreme temperatures, mechanical shock, plus more. Each fiber optic data cable meets and even exceeds stringent aerospace industry standards for durability and optical performance.
Unlike competitors, our fiber optics in aircraft are smaller, lighter and routable without losing their strength and signal quality. They balance strength, size, weight and flexibility to maintain fast, stable data and video transfer even in complex, space-limiting installation scenarios.
Whether you choose our robust Simplex or ribbon versions, GORE Fiber Optic Cables offer complete reliability in avionics for faster, more reliable communication and IFEC.
Features & Benefits
GORE Fiber Optic Cables are engineered with unique features that make them more durable against challenging environmental factors and aircraft conditions, including:
Impact- and crush-resistant buffering systems
chemically inert and temperature-resistant materials
space-saving, highly flexible cable diameters
Our cables provide aircraft system architects and engineers with many benefits that improve electrical, mechanical and environmental performance such as:
secure, high-bandwidth data/video transmission with low optical loss
high level of robustness and extended life with unique buffering systems
proven resistance to high impact, crushing, abrasion, vibration, shock and more
proven to exceed new stringent EN4641-301 durability requirements
easier routing with more flexibility and tighter fiber optic bend radius protection
weight and space savings with smaller, lighter constructions
variety of single/multi-mode core types from OM1 to OM5 to meet application of fiber optics in aircraft
compatible with a variety of high-speed connector systems and backshells
selected pre-qualified samples with short lead times for prototyping and evaluation
low risk based on validated product performance in real-world conditions
For more information about the features and benefits of our cables, contact a Gore representative today.
1.8 mm Simplex
HIGH IMPACT & CRUSH RESISTANCE
Our most popular award-wining version offers many advantages of a fiber optic cable. Built with a remarkable buffering system, Our 1.8 mm Simplex is proven to resist high weight impact, crushing, abrasion and kinking compared to competitive cables. This version is also proven to endure high-intensity vibration and mechanical shock in extreme temperatures without optical loss.
Our rugged, compact 1.8 mm Simplex cables are now qualified according to ARINC 802-3 requirements, plus exceed new stringent EN3745-513 requirements for more durability and added protection.
Gore's materials reduce the force needed to move the cable's fiber under compression — optimizing installation and signal transmission while enhancing termination with many standard high-speed connector systems.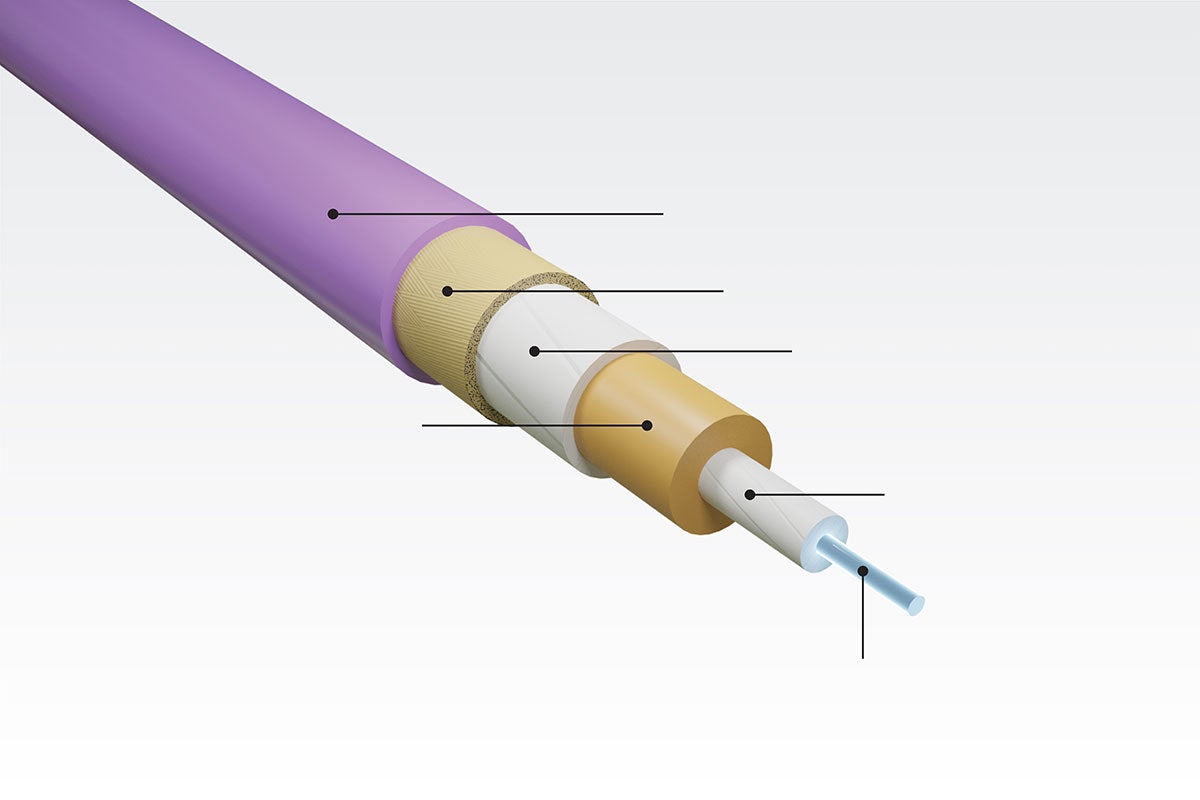 Crush-resistant layers of GORE Fiber Optic Cables (1.8 mm Simplex)
1.2 mm Simplex
RUGGED BUFFERING SYSTEM
This version of our fiber optic cables delivers stable optical performance with low loss for transferring high-speed digital data and video on avionics networks. Thanks to the rugged, thin buffering system, our 1.2 mm Simplex fights off routing, vibration, shock and tension that can severely impact overall system performance in planes.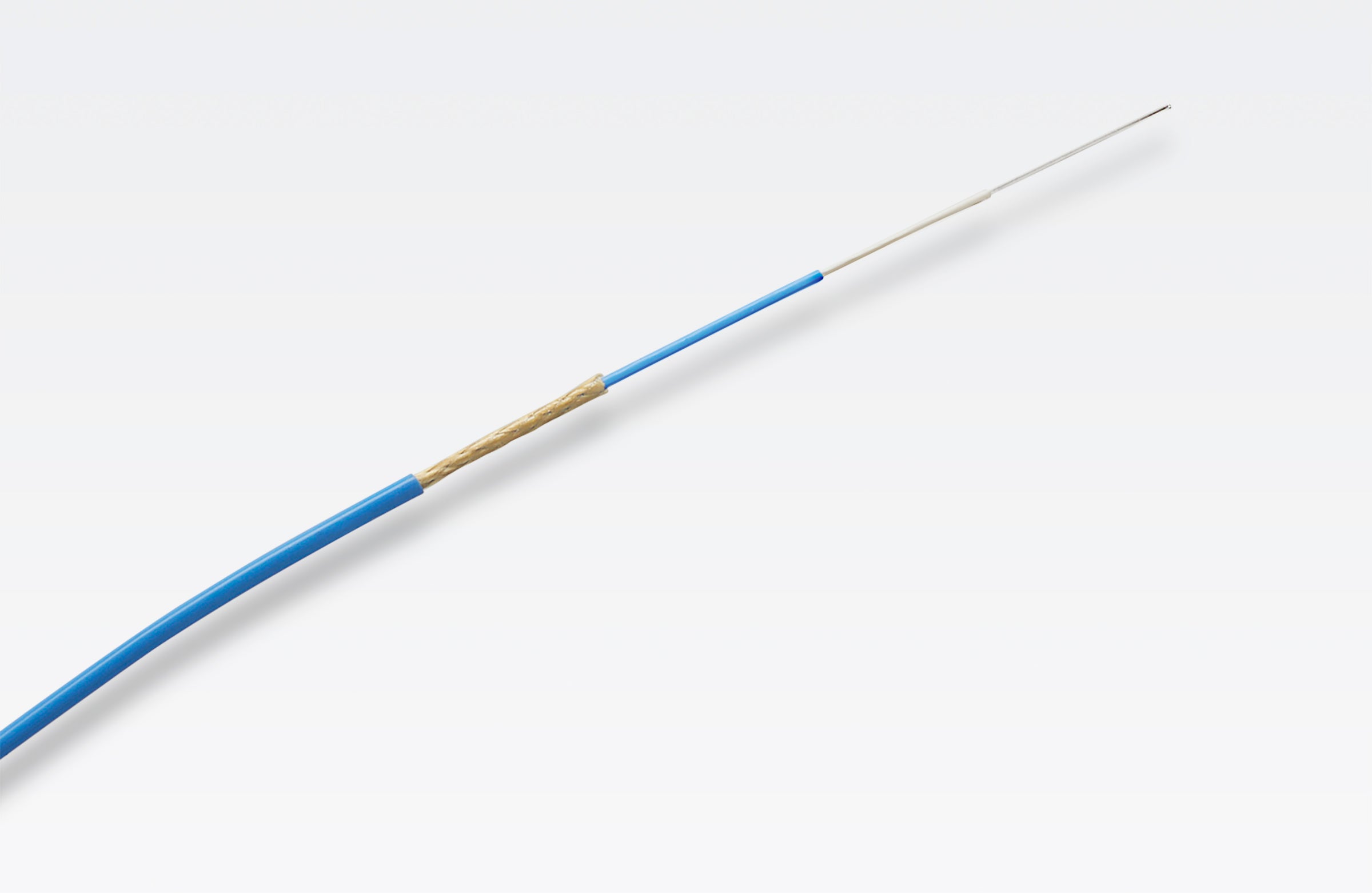 GORE Fiber Optic Cables (1.2 mm Simplex)
900 micron
ROBUSTNESS WITH REDUCED SHRINK BACK
Like our other Simplex versions, these cables provide a high level of crush resistance to protect sensitive avionics. They also drastically reduce shrink back, along with shortening sample termination times. Without ever failing, our robust cables deliver quality signals with minimal loss during maintenance and flight.
Our 900 micron version also proves to be an excellent choice for inside-the-box applications because they're slender, flexible and easy to route.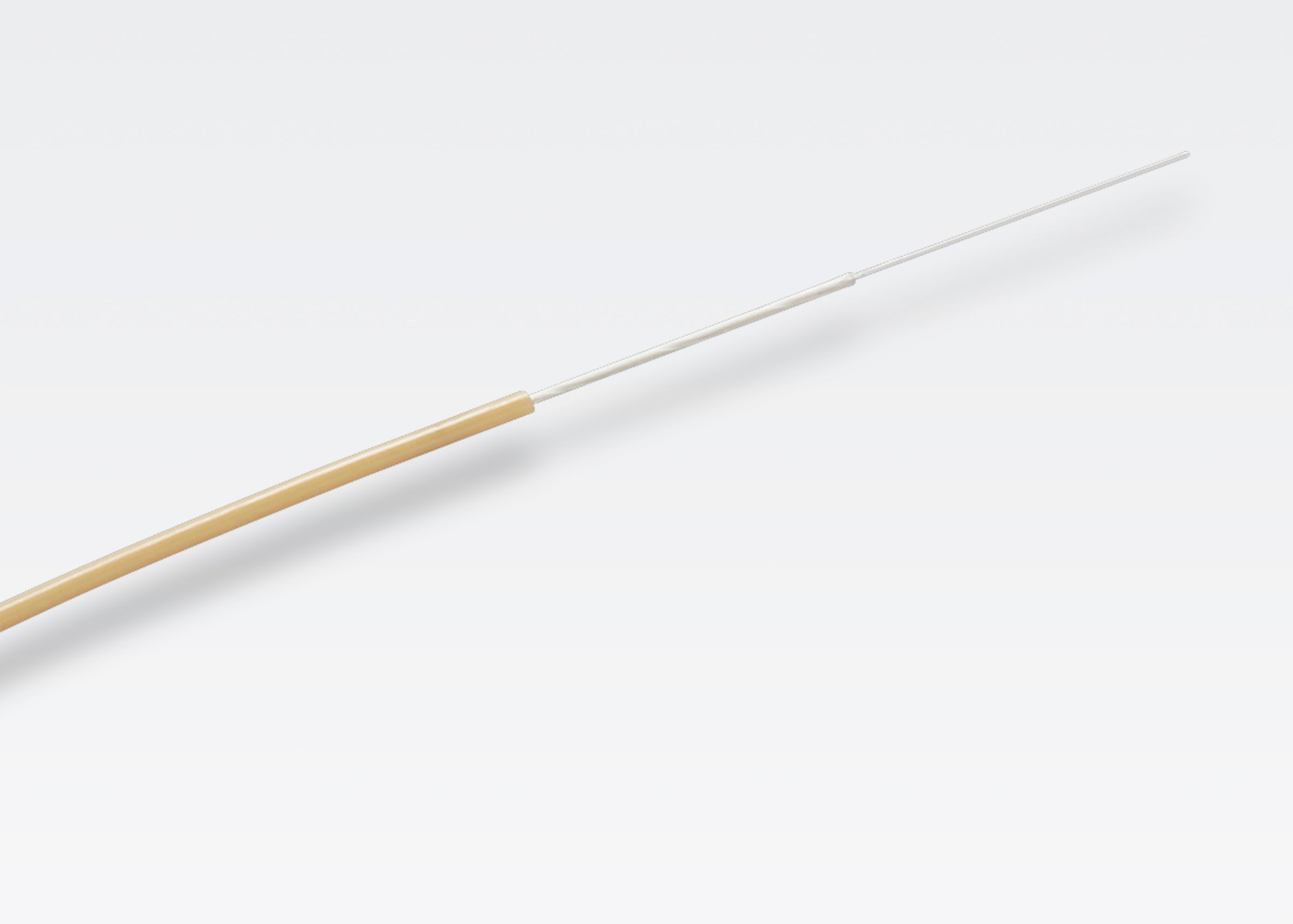 GORE Fiber Optic Cables (900 micron)
12-Fiber Ribbon
RIGHT AMOUNT OF RUGGEDNESS
Available in several versions, each 12-core fiber optic cable is manufactured with a composite buffering system proven to withstand volatile conditions that commercial aircraft typically experience during maintenance and flight. They bring consistent signal integrity with low optical loss and offer uninterrupted high-speed data and video transmission long after alternatives have succumbed to their environment.
In a rugged, slim, flexible package, our 12-fiber ribbon cables are suitable for routing and applications ranging from inside-the-box to outside the aircraft.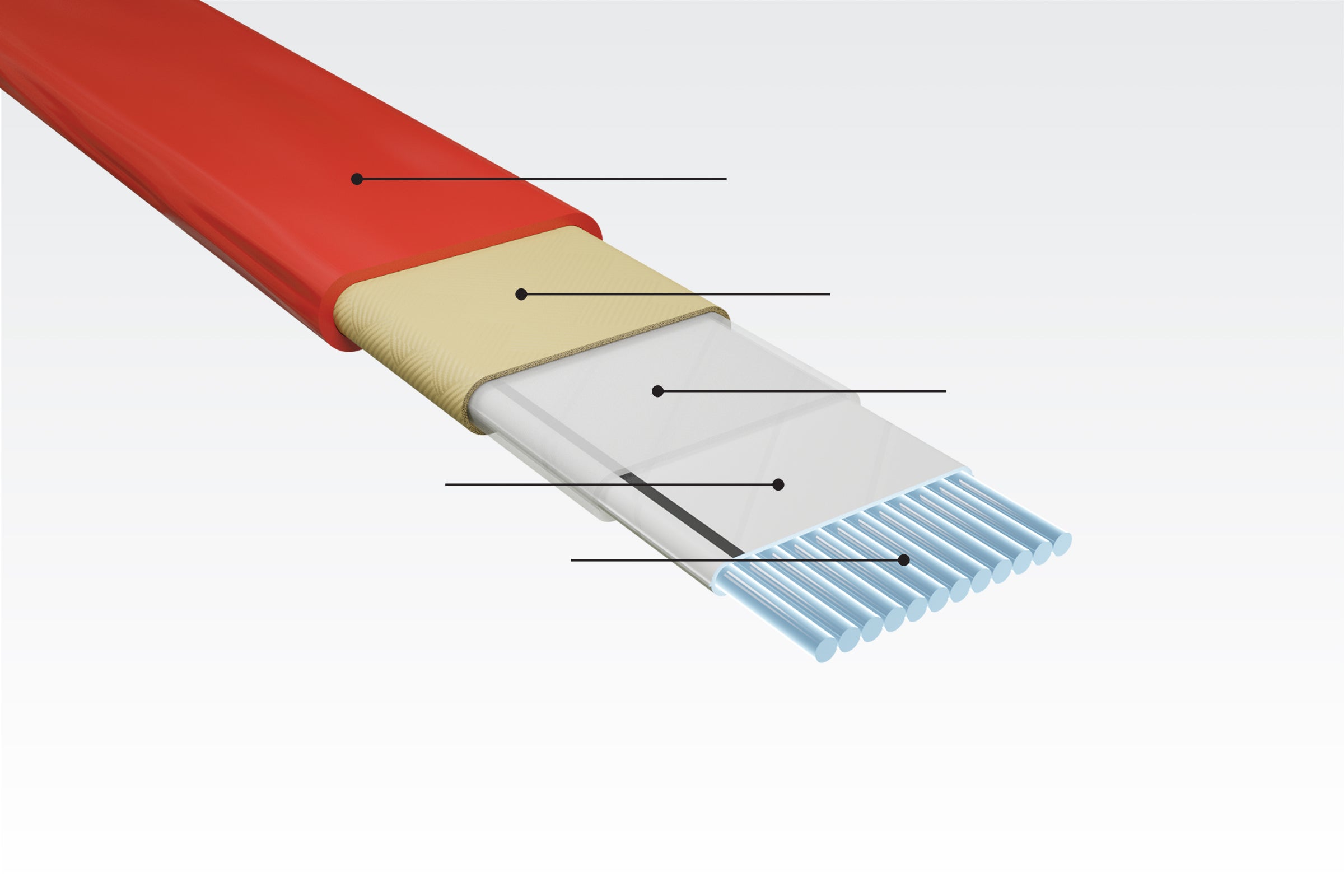 Unique Buffering Systems of GORE Fiber Optic Ribbon Cables
Videos
Watch Gore engineers in these videos and more on YouTube demonstrating the durability of GORE Fiber Optic Cables.
More Information
LEARN MORE ABOUT GORE FIBER OPTIC CABLES OR ORDER NOW
Offered in robust Simplex and ribbon versions, GORE Fiber Optic Cables meet the civil aerospace industry's bandwidth-intensive requirements. For more information or to discuss your specific application needs, contact a Gore representative today.
If you're ready to order, visit our list of distributors and explore our sample inventory to learn more about selected products and lead times. Pre-qualified complimentary samples are available within 48 hours for prototyping and evaluation.
Resources
Recent News
FOR INDUSTRIAL USE ONLY
Not for use in food, drug, cosmetic or medical device manufacturing, processing, or packaging operations.