GORE® Shielded Twisted Pair Cables for Civil Aircraft
Controlled-impedance cables from Gore meet the industry's growing demand for aircraft cables with higher data rates on modern airborne digital networks. Our durable cables ensure lifelong protection and performance in a low-profile, flexible, and routable construction making them well-suited for aerospace harness applications.
Contact Us
Germany
+49 9144 6010
+49 9144 6816 (fax)
UK
+44 1382 56 1511
+44 1382 56 1007 (fax)
Italy
+39 045 6209 209
+39 045 6209 165 (fax)
France
+33 1 5695 6565
+33 1 5695 6401 (fax)
Spain
+34 93 480 6900
+34 93 373 7850 (fax)
Sweden
+46 31 7067800
+46 31 864226 (fax)
China (Beijing)
+86 10 5707 4999
+86 10 5707 4900 (fax)
China (Shanghai)
+86 21 5172 8299
+86 21 6247 9199 (fax)
China (Shenzhen)
+86 755 8359 8262
+86 755 8359 1654 (fax)
South Korea
+82 2 393 3411
+82 2 393 1285 (fax)
Japan
+81 3 6746 2582
+81 3 6746 2571 (fax)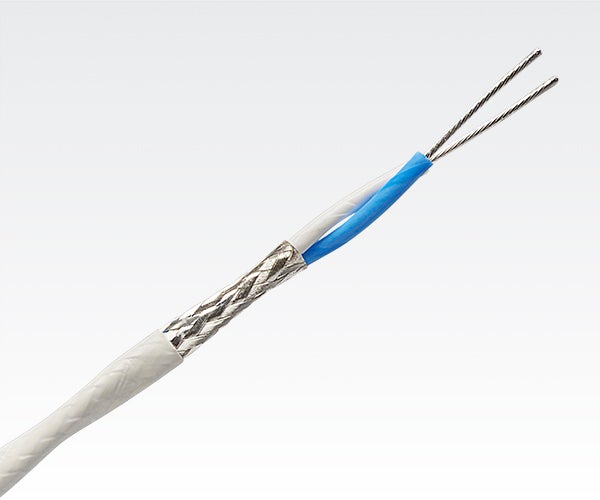 W. L. Gore & Associates offers 100-ohm controlled impedance cables that balance rugged designs with light, slim constructions necessary for optimal performance. They're ideal for most wire and cable harness applications thanks to their construction that withstands challenging installation and environmental factors.
English (U.S.)
All Resources For GORE® Shielded Twisted Pair Cables for Civil Aircraft
Overview
Improvements in aerospace technology and passenger expectations for constant connection and access to IFE are driving the demand to update commercial aircraft with higher data rate cables. These cables also need to provide consistent power in less space of an airframe.
GORE Shielded Twisted Pair Cables utilize low-voltage differential signals (LVDS) with controlled impedance for data transmission lines at speeds up to 1 GHz. No matter the conditions inside or outside the aircraft, our cables ensure reliable performance for a successful flight every time. That's because the combination of durable materials in their construction enables a higher tolerance against the harshest environments, like rapid changes in temperatures encountered during take-off and landing.
SAVE WEIGHT WITH GORE CABLE TECHNOLOGY
Our shielded twisted pair cables work well in aerospace harness applications because of their high flexibility and easy routability in hard-to-reach places of airframes. The low-dielectric cable configuration is 30% smaller, which reduces overall weight by as much as 50% when compared to standard oval configurations. If you compare our design side by side with alternative round designs, you'll see that our cable is drastically smaller.
Our cables' superior electrical performance can also reduce the need for additional signal amplification in your system architecture, decreasing weight and power requirements even more.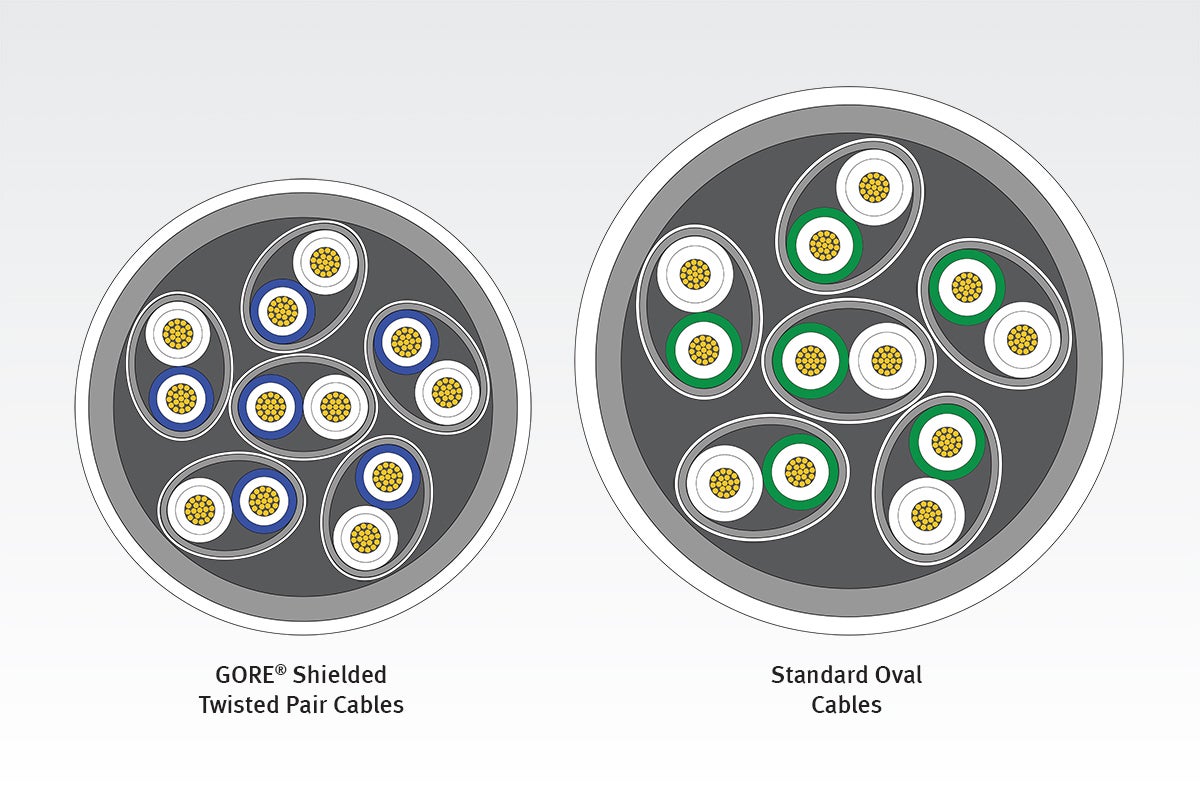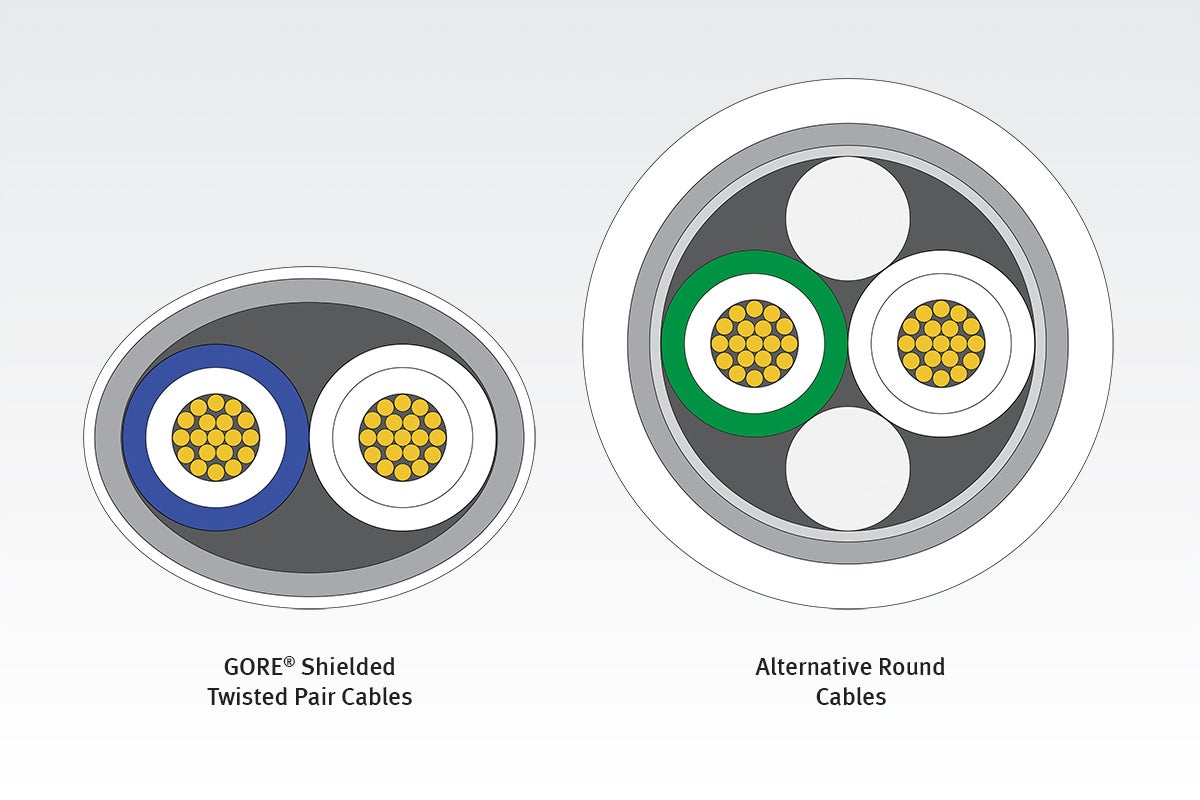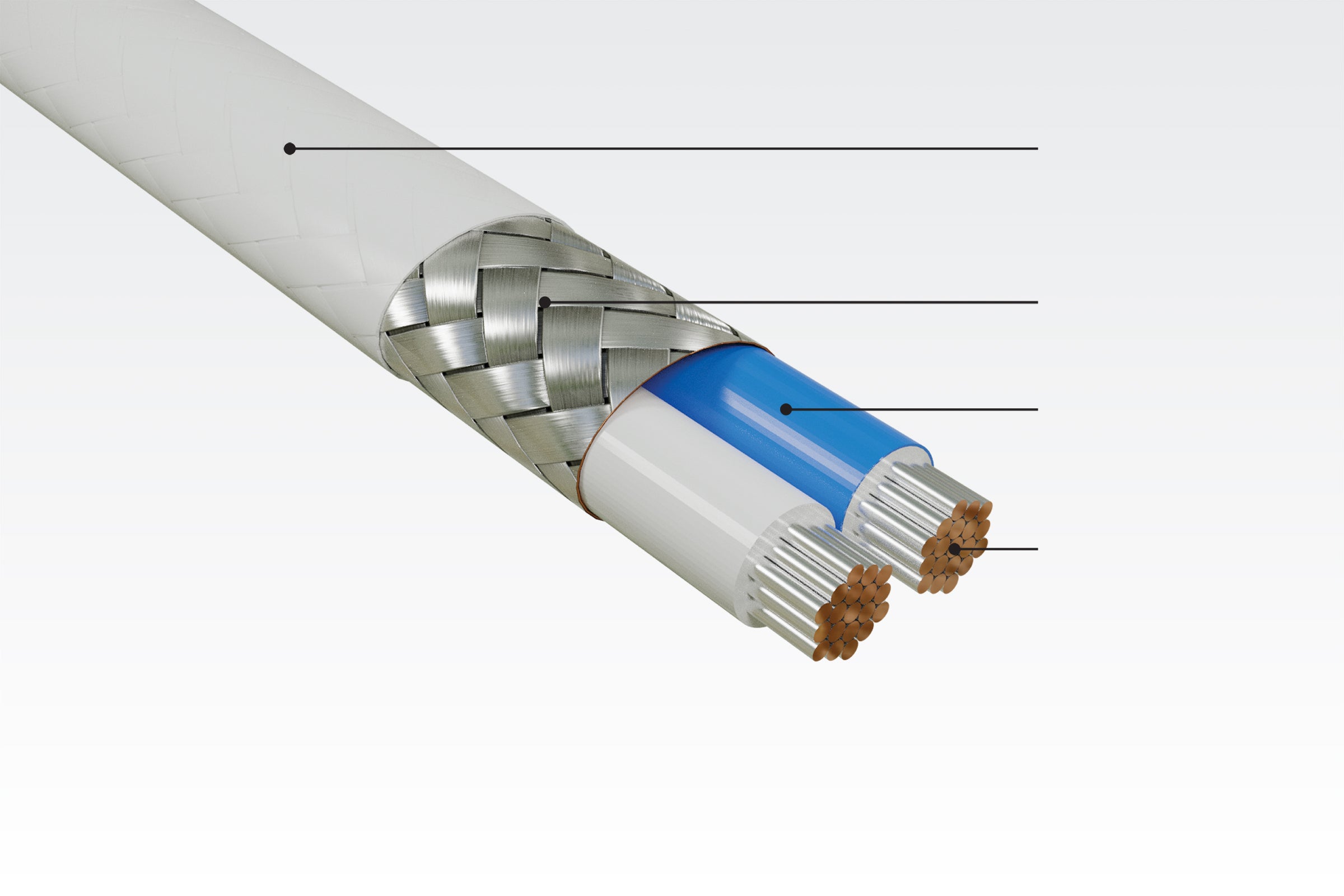 Durable construction of GORE Shielded Twisted Pair Cables
Applications
GORE Shielded Twisted Pair Cables are engineered to perform reliably in a variety of aircraft applications, including:
avionics networks
cabin management systems
digital video systems
Ethernet backbone
LVDS devices
serial buses
If you have any questions or to discuss your specific application needs, please contact a Gore representative.
Benefits
GORE Shielded Twisted Pair Cables provide aircraft system architects and engineers with many benefits that improve electrical and mechanical performance such as:
reliable LVDS with controlled impedance for high-speed data transfer up to 1 GHz
durable construction protects against harsh conditions, like rapid temperatures
low-profile configuration reduces size by 30% and weight by as much as 50%
less need for additional signal amplification further reduces weight/power requirements
highly flexible with a tighter bend radius for easier installation in hard-to-reach places
compatible with variety of high-speed aerospace connector systems/backshells
selected pre-qualified samples with short lead times for prototyping and evaluation
low technical risk based on validated product performance in real-world conditions
For more information about the benefits of our cables, please contact a Gore representative.
Properties
These values demonstrate the electrical, mechanical and environmental performance of GORE Shielded Twisted Pair Cables.
Electrical Property
Value
Standard Impedance (ohms)a
100 ± 10
Typical Operating Voltage (V)
< 15
Nominal Velocity of Propagation (%)
80
Nominal Time Delay ns/m (ns/ft)
4.10 (1.25)
Capacitance pF/m (pF/ft)
42.6 (13.0)
Dielectric Withstanding Voltage (Vrms)
Conductor-to-Conductor
Conductor-to-Shield

1500
1000
a Contact a Gore representative for other impedance options.
| Mechanical / Environmental Property | Value |
| --- | --- |
| Jacket Material | Engineered Fluoropolymer |
| Jacket Color | White (Laser Markable) |
| Conductor | Silver-Plated Copper Alloy |
| Conductor Color-Coding | Blue/White |
| Dielectric Material | ePTFE/PTFE |
| Temperature Range (°C) | -65 to +200 |
Part Numbers & Drawings
Download the drawings to view cable characteristics, like diameter, weight, minimum bend radius and insertion loss.
Qualifications
GORE Shielded Twisted Pair Cables have undergone substantial qualification testing to ensure they meet the most current industry standards and our customers' requirements.
ABD0031 (AITM 2.0005); BSS7230; FAR Part 25, Appendix F, Part I: Flammability
ABD0031 (AITM 3.0005); BSS7239: Toxicity
ABD0031 (AITM 3.0008B); BSS7238; FAR Part 25, Appendix F, Part V: Smoke Density
RoHS and REACH Information (See data sheet or catalog)
Fill out a short form to receive a complimentary sample of our pre-qualified cables for prototyping and evaluation from our authorized global distributors, Air Cost Control (Europe) or WireMasters (US).
Resources
Recent News
FOR INDUSTRIAL USE ONLY
Not for use in food, drug, cosmetic or medical device manufacturing, processing, or packaging operations.