GORE® Ethernet Cables for Defense Air & Land
Proven to solve complex routing and mission challenges, our high-density cables provide superior protection at higher transmission speeds without default. We offer several compact, flexible configurations and performance lengths that meet Cat5e, Cat6A and Cat8 protocols on modern avionics and vectronics digital networks.
Contact Us
Germany
+49 9144 6010
+49 9144 6816 (fax)
UK
+44 1382 56 1511
+44 1382 56 1007 (fax)
Italy
+39 045 6209 209
+39 045 6209 165 (fax)
France
+33 1 5695 6565
+33 1 5695 6401 (fax)
Spain
+34 93 480 6900
+34 93 373 7850 (fax)
Sweden
+46 31 7067800
+46 31 864226 (fax)
China (Beijing)
+86 10 5707 4999
+86 10 5707 4900 (fax)
China (Shanghai)
+86 21 5172 8299
+86 21 6247 9199 (fax)
China (Shenzhen)
+86 755 8359 8262
+86 755 8359 1654 (fax)
South Korea
+82 2 393 3411
+82 2 393 1285 (fax)
Japan
+81 3 6746 2582
+81 3 6746 2571 (fax)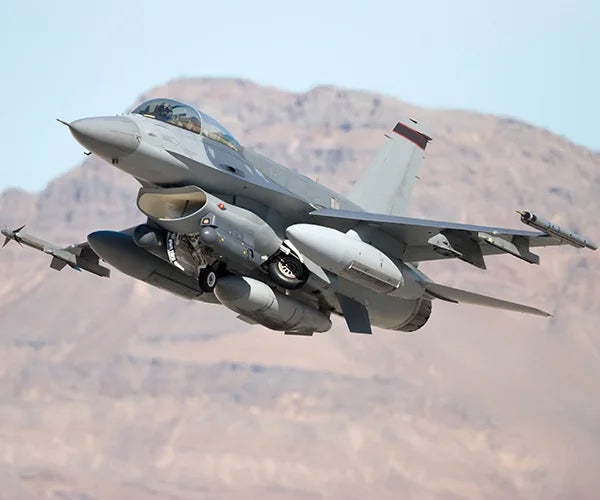 Is high-speed data transmission a system lifeline or costly afterthought?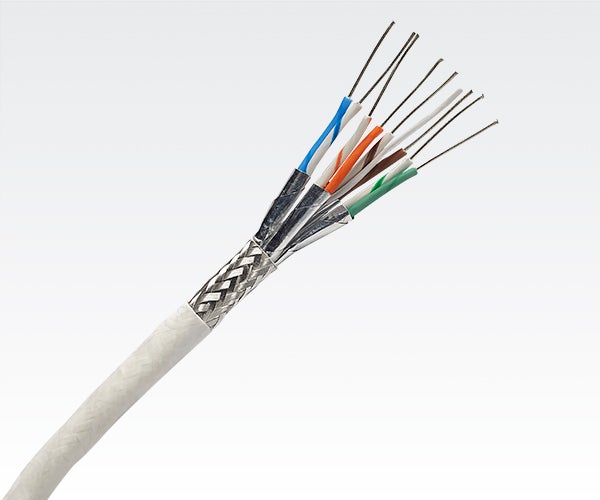 Cables & Cable Assemblies
Modern avionics and vectronics rely on high data rate digital networks. With new advances in aviation and military technologies, W. L. Gore & Associates offers a compact version that provides the fast speeds and excellent signal integrity needed to support current and next-gen critical systems.
English (U.S.)
All Resources For GORE® Ethernet Cables for Defense Air & Land
Portfolio Overview
HIGH DATA RATE CABLES. VALUABLE WEIGHT SAVINGS.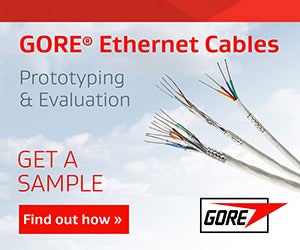 As the military requires faster digital networks, a Mil-spec Ethernet cable and connector must transfer massive amounts of critical data and Intel at much higher data rates. At the same time, cables must be smaller and lighter to save weight but must also be flexible and durable to survive complex routing and harsh mission conditions.
GORE Ethernet Cables are designed with these "must haves" in mind. We offer several compact, high-density configurations and performance lengths that reliably support standardized protocols. Each military-grade Ethernet cable brings fast speeds, robustness, route-ability and weight savings that armed forces want and need to ensure the success of every mission.
Features & Benefits
Unlike leading alternatives, GORE Ethernet Cables are engineered with unique features that make them more durable against challenging maintenance activities and mission conditions, including:
temperature- and abrasion-resistant materials
chemically inert and EMI shielding materials
slender, lightweight, highly flexible diameters
For system architects and engineers, our defense and aerospace-grade gigabit Ethernet cable provides many benefits that ensure their performance and longevity in defense aircraft and vehicles, like:
meet or exceed Cat5e/6A/8 protocol requirements
excellent signal integrity with sufficient margin after installation and over time
lower crosstalk for less RF signal interference among critical systems
valuable weight savings with compact cable configurations
endure extreme environments with high-density constructions
quick, easy routing from greater flexibility and tighter bending
compatible with a variety of leading connector systems and backshells
Are you wondering if your avionics or vectronics could benefit from Gore's Ethernet cables?
Cat6A/8 (4 Pairs)
Our award-winning cable Cat6A for defense applications exceeds stringent protocol requirements. It's proven to maintain clear data and video Cat6A transmission speed up to 10 Gb/s at lengths up to 80 m (262 ft.) with additional margin to help overcome routing issues and mission challenges.
Based on test results using cable routing simulators that we built, this flexible multi-layer Cat6A Ethernet cable wiring delivered proven installed performance compared to leading alternatives. Our Cat6A cable specification is approved to SAE AS6070™ and VG95218-31 standards and on the Qualified Products List (QPL). This version is also qualified according to C21091 specifications and has been selected for aircraft program upgrades, like the F-16 and more.
For even faster speeds, our Cat8 shielded Ethernet cable can help you adapt now and be ready for the future without having to transition to an entirely different cabling solution. This version transfers Cat8 Ethernet cable speed up to 40 Gb/s at lengths up to 22 m (72 ft.) without jeopardizing system robustness or adding weight.
Our 4-pair design is generally 24% smaller and 25% lighter than alternative designs. In fact, they're proven to save 1.93 kg per 100 m (13 lbs. per 1000 ft.) of weight in military aircraft and combat vehicles. For Cat8 Ethernet cable specs, replacing 4 leading alternative Cat6A cables with a single Gore Cat8 cable at 22 m (72 ft.) could save installed weight up to 82 kg/km (180 lbs. per 1000 ft.).
Cat5e (Quadrax)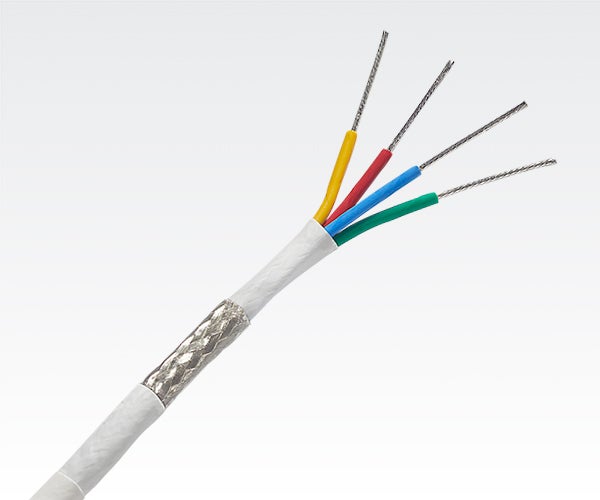 When you don't want to use a 4-pair design in your system architecture, our star quadrax cable design is a perfect alternative to meet Ethernet Cat5e protocol requirements. And this version is a proven reliable substitute for dual twisted pair constructions to meet higher data rate needs.
This quadrax Ethernet for defense applications uses dual differential pairs to transmit continuous bi-directional signals at high speeds. Their performance is proven reliable up to 100 MHz at lengths up to 70 m (230 ft.) using size 24 AWG and 50 m (164 ft.) using size 26 AWG. Also, positioning two of our cables side by side can achieve Ethernet 1000BASE-T performance for more system design options.
This pioneering cable geometry we originally invented is roughly 40% smaller and up to 30% lighter than dual twisted pair constructions. Our star quadrax design saves more than 5.0 kg (11 lbs.) on aircraft like the latest fifth-generation F-35.
Cat5e (2 Pairs)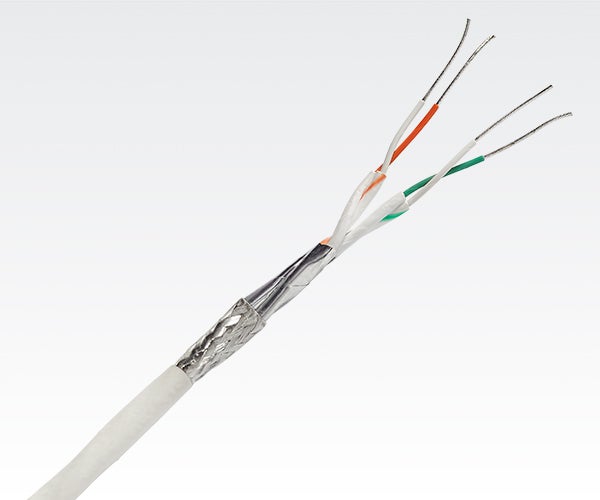 Our Cat5e cable pairs are ideal if you prefer an Ethernet 2-pair vs. a 4-pair or quadrax design in your system architecture. Small and robust, this 100-ohm 2-pair Ethernet cable and wiring preserves signal integrity, significantly exceeds crosstalk requirements and reliably carries up to 1 GHz Cat5e speed limit of high-speed data on military digital networks.
For Ethernet 1000BASE-T performance, positioning 2 of our Cat5e wire pairs side by side gives engineers more options when designing avionics or vectronics systems.
Applications & Connectors
Delivering valued performance and longevity, GORE Ethernet Cables can be reliably used in many defense aircraft and vehicle applications. Each configuration can be terminated with a variety of leading defense and aerospace Ethernet connector systems and backshells, like ARINC and MIL-STD-38999 with size 8 contacts.
Get termination instructions for Gore's Cat6A cables with leading connector systems, like a 4-pair RJ45 connection.
Application
Cat5e/6A/8
(4 Pairs)
Cat5e
(Quadrax)
Cat5e
(2 Pairs)
Box-to-Box Systems
✔
Communications Systems
✔
✔
✔
Data Storage
✔
Flight/Vehicle Management Systems
✔
✔
✔
Digital Camera/Video Systems
✔
✔
✔
Digital Visual Interface (DVI)
✔
Ethernet Backbone
✔
✔
✔
Flight/Propulsion Control
✔
HD Video Streaming
✔
Military Digital Networks
✔
✔
✔
Mission Systems
✔
✔
✔
Program Upgrades
Abrams Main Battle Tank,
C-130, F-16, KC-135, UH-60
Radar/Radio Systems
✔
✔
✔
Serial Buses
✔
Tactical Links
✔
✔
✔
Have a new application with challenging cabling specs? Let's talk about what Gore can do to meet them!
Technical Specs & Drawings
These values demonstrate the electrical, mechanical and environmental performance of GORE Ethernet Cables for Defense Air & Land.
Elec./Mech./Environ. Property
Cat8
(4 Pairs)
Cat5e/6A
(4 Pairs)
Cat5e
(Quadrax)
Cat5e
(2 Pairs)
Signal Transmission Speed
Up to 40 Gb/s
Up to 10 Gb/s
Up to 100 MHz
Up to 1 GHz
Standard Impedance Ohms
100 ± 10
100 ± 10
100 ± 10
100 ± 10/-5
Typical Operating Voltage V
< 15
< 15
< 15
< 15
Nominal Velocity of Propagation %
80
80
80
80
Nominal Time Delay ns/m (ns/ft.)
4.10 (1.25)
4.10 (1.25)
4.10 (1.25)
4.10 (1.25)
Capacitance pF/m (pF/ft.)
42.6 (13.0)
42.6 (13.0)
45.0 (13.7)
41.0 (12.5)
Minimum Near-End Crosstalk (NEXT) dB
10 MHz
100 MHz
500 MHz
1000 MHz
2000 MHz

—
45.3
34.8
30.3
25.8

59.2
52.3
42.2
—
—

50.0
35.0
—
—
—

59.2
52.3
—
—
—
Shielding Effectiveness dB
> 55
> 55
—
—
Dielectric Withstanding Voltage Vrms
Conductor-to-Conductor
Conductor-to-Shield

1500
1000

1500
1000

1500
1000

1500
1000
Jacket Material
Engineered Fluoropolymer
Engineered Fluoropolymer or PU Halogen-Free1
Engineered Fluoropolymer
Engineered Fluoropolymer
Jacket Color
White (Laser Markable)
EF: White (Laser Markable)
PU: Black1
White (Laser Markable)
White (Laser Markable)
Conductor
Silver-Plated Copper or SPC Alloy
Conductor Color-Coding
Solid Blue & White/Blue Stripe,
Solid Orange & White/Orange Stripe,
Solid Green & White/Green Stripe,
Solid Brown & White/Brown Stripe
Blue/Red,
Green/Yellow
Solid Green & White/Green Stripe, Solid Orange & White/Orange Stripe
Dielectric Material
Expanded PTFE/PTFE
Temperature Range °C
-65 to +200
-65 to +200
-65 to +200
-65 to +200
Data Sheet
Data Sheet
Data Sheet
Data Sheet
1 Based on Gore's part numbers, GSC-01-85237-VG, GSC-01-85238-VG and GSC-01-83134-VG for military vehicle systems.
Fill out a short form for instant access to selected part number drawings.
Get Samples or Buy
Available in several configurations to meet Cat8/6A/5e protocols, GORE Ethernet Cables are the proven reliable solution for supporting military digital networks and mission-critical systems. For prototyping and evaluation in your specific application, check out our selection of pre-qualified defense and aerospace Ethernet cables to order your complimentary samples.
If you're ready to buy our cables in a 4-pair, 2-pair or quadrax design, connect with a trusted distributor now for in-stock availability.
If you're unsure which military-standard Ethernet cable best fits your application, call us today and we'll help you navigate the requirements and select the correct version.
Resources
Recent News
FOR INDUSTRIAL USE ONLY
Not for use in food, drug, cosmetic or medical device manufacturing, processing, or packaging operations.