Data Sheet: GORE® SKYFLEX® Aerospace Materials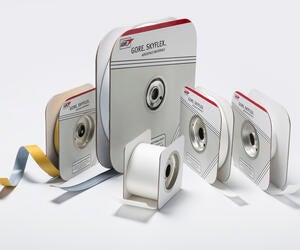 Data Sheets, English
In volatile aerospace conditions, aircraft faying surfaces on leading edges and fairings are subjected to mechanical forces that may lead to abrasion and corrosion. Further, if fuel and access panels aren't sealed and don't have proper surface protection, they can be exposed to harsh contaminants like UV radiation or liquids like petroleum, engine oils and de-icing fluids. That's why choosing the best interfay material is crucial to the aircraft's successful production and operation.
Knowing this, W. L. Gore & Associates set out to combat the common pitfalls of alternative products with our line of GORE® SKYFLEX® Aerospace Materials. Our wide range of standard and custom aerospace materials reliably seals and protects against challenges like harsh contaminants, abrasion, corrosion and gap-filling.
---
Specifications and Performance
GORE SKYFLEX Aerospace Materials are engineered with expanded polytetrafluoroethylene (ePTFE), a unique proprietary material that Gore specializes in. In fact, our expertise in ePTFE has led to more patents for products and processes than any other company worldwide. During manufacturing, we manipulate the ePTFE membrane's structure to provide characteristics that can resist fuels, aviation fluids and wide temperatures and make for easier installation, even around the corners. Additionally, we can modify the following:
Density
Strength
Compression response
And more.
This process yields a diverse portfolio of commercially available material sets, forms and sizes – all engineered with unique properties and specifications. While all dry PTFE-based sealants are non-hazardous and chemically inert, no other ePTFE-based sealant in the industry matches the full-scale performance of our unique tapes and gaskets. GORE SKYFLEX Aerospace Materials also deliver the following advantages over alternatives:
Quick and Easy Installation
With only a few simple steps required for installation, no special equipment or training, GORE SKYFLEX Aerospace Materials are considerably faster and easier to install than form-in-place (FIP) seals. In turn, they also eliminate curing time for sealing and protective surface materials, which reduces manufacturing cycles and direct maintenance time.
Hassle-Free Maintenance
GORE SKYFLEX Aerospace Materials maintain their protective performance over multiple open/close cycles. This means fewer replacements and less frequent reworking of seals, as well as significant time saved during production and maintenance. And unlike traditional two-component materials, Gore's dry tapes and gaskets require no mixing, masking or clean up after installation, as their non-hazardous properties reduce environmental impact, disposal costs and safety risks for installers.
Highly Conformable
Because Gore's aerospace materials are consistent in form, they provide reliable, predictable performance when sealing gaps and other irregular surfaces. Alternative large fairings and panels, meanwhile, have significant variations in piece-to-piece consistency due to gaps.
Durable Barrier
Unlike liquid sealants, GORE SKYFLEX Aerospace Materials provide a durable barrier between faying surfaces and seal against contaminants, Not only does this protect structures and surfaces from abrasion, vibration and contaminants, but Gore's materials also remain in place under compression and do not squeeze out.
Meeting Rigorous Standards across Several Applications
Gore's aerospace materials are approved for use on multiple civil, defense, and fixed/rotary wing aircraft and are routinely specified by leading OEMs. They are prequalified and tested to ensure that their properties are consistent along the length of tape and with each gasket. In addition, we use other proprietary processes, equipment and materials to provide characteristics in our material sets that can resist fuels, aviation and wide temperatures.
Suitable in many application environments, GORE SKYFLEX Aerospace Materials are often used as an alternative to FIP seals, as well as in the following areas:
Access panels (wing, fuel, LE/TE & dry bay)
Floorboards (cargo & passenger area)
Structure (cargo & passenger area)
Engine cowlings
External fuel tanks
Fairings
Fuel bladder cavities
Helicopter tail boom covers
Wing D-Nose
Lighting assemblies
How to Order GORE SKYFLEX Aerospace Materials
GORE SKYFLEX Aerospace Materials are available in standard or custom sizes with a variety of adhesives. For more information, contact a Gore representative, who will work closely with you to help evaluate the parameters of your specific application and recommend the appropriate series. If you're ready to order Gore's aerospace materials, contact a distributor today.
---
FOR INDUSTRIAL USE ONLY
Not for use in food, drug, cosmetic or medical device manufacturing, processing, or packaging operations.