Gore Honored by Military & Aerospace Electronics 2017 Innovators Awards Program
---
LANDENBERG, Pa (November 15, 2017) - W. L. Gore & Associates, Inc. (Gore) announced today that its GORE® Aerospace Ethernet Cables were recognized by the judges of the annual Military & Aerospace Electronics Innovators Awards program. The judging panel consisted of a panel of senior third-party expert professionals.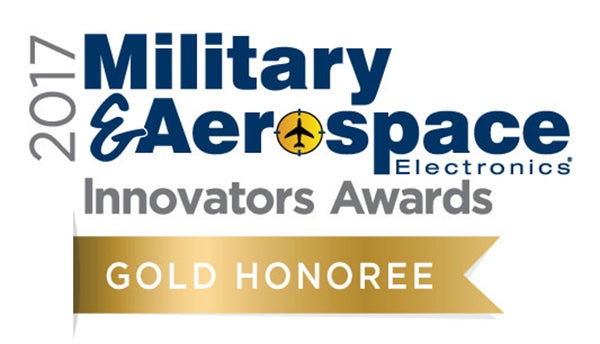 GORE Aerospace Ethernet Cables earned the gold award for product and system-level innovation. These Cat6a cables are engineered for the increasing data demands of modern airborne digital networks. They deliver superior signal integrity for high-speed data transmission in a small, lightweight design without compromising durability. Gore's cables can handle rigorous flexing during routing with a tight bend radius as small as 0.5 inches (12.7 millimeters) without breaking or failing — ensuring proven performance after installation and over time in mission-critical systems. 
"We are honored to receive this prestigious Military & Aerospace Electronics Innovators Award," said Brian Tallman, Gore Aerospace Product Specialist. "Our Associates are dedicated to understanding real-world requirements and translating them into robust cable designs. This recognition validates the value of their contributions to the Aerospace industry."
Alan Bergstein, publisher of Military & Aerospace Electronics (militaryaerospace.com), said "This prestigious program allows Military & Aerospace Electronics to celebrate and recognize the most innovative products and services in the military electronics industry. Our 2017 Honorees are an outstanding example of companies who are making an impact."
The Innovators Awards are judged based on the following criteria: Innovation; Value to the User; Sustainability; Meeting a Defined Need; Collaboration; and Impact.
The 2017 Military & Aerospace Electronics Innovators Awards Honorees are featured in the November Issue of Military & Aerospace Electronics magazine as well as on militaryaerospace.com.
About Military & Aerospace Electronics
Published since 1990, Military & Aerospace Electronics delivers time-sensitive news, in-depth analyses, case studies, and real-world applications of new products, industry opinion, and the latest trends in the use of mil-spec, rugged and commercial-of-the-shelf components. The Military & Aerospace Electronics brand includes the magazine, website, email newsletters and webcasts.
About The Military & Aerospace Electronics 2017 Innovators Awards program
The Military & Aerospace Electronics Innovation Awards celebrates the most innovative applications of aerospace and defense electronics technology products and systems. Awards are presented to organizations that demonstrate excellence in the use of a product or system. Submissions are accepted from designers and integrators, and users of military and aerospace electronics systems.
About Gore
W. L. Gore & Associates is a global materials science company dedicated to transforming industries and improving lives. Founded in 1958, Gore has built a reputation for solving complex technical challenges in the most demanding environments — from revolutionizing the outerwear industry with GORE-TEX® fabric to creating medical devices that improve and save lives to enabling new levels of performance in the aerospace, pharmaceutical and mobile electronics markets, among other industries. The company is also known for its strong, team-oriented culture and continued recognition from the Great Place to Work® Institute. Headquartered in Newark, Del., Gore employs approximately 9,500 Associates and generates annual revenues that exceed $3 billion.
Performance Solutions Division
Gore Performance Solutions Division develops products and technologies that address complex product and process challenges in a variety of markets and industries, including aerospace, automotive, pharmaceutical, mobile electronics, oil and gas — and more. Through close collaboration with industry leaders across the globe, Gore enables customers to design their products and processes to be safer, cleaner, more productive, reliable, durable and efficient across a wide range of demanding environments.
Media Contact
GORE, GORE-TEX and designs are trademarks of W. L. Gore & Associates.