New GORE® Acoustic Vent: An Advancement in Acoustic Performance
The new GORE Acoustic Vent ensures exceptional levels of acoustic performance and consistency. Furthermore it is optimized for use in any devices that require IPX8-level protection, contamination-resistance and provided in black color for darker colored devices.
---

Ensuring exceptional levels of acoustic performance and consistency, the GORE Acoustic Vent GAW334 is built to protect your handsets and wearables against water ingress.
Designed to offer incredible performance, the product is an enhancement of Gore technology that is optimized for use in any device where IPX8-level protection is required.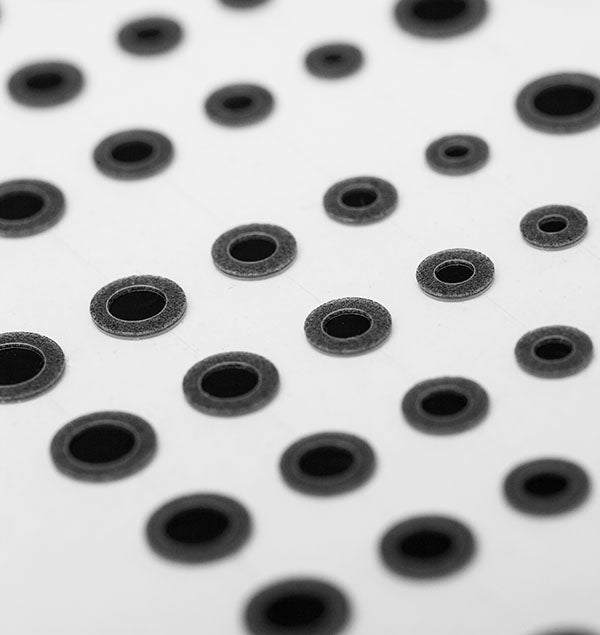 Improved acoustic consistency
Offering better acoustic consistency than GAW325, it offers average insertion loss of less than 2 dB at 1,000 Hz with vent ID size of 1.6 mm under typical MEMS microphone testing.
Excellent waterproofness : IPX8
It can handle water immersion depths up to 2 meters for 1 hour thus contributing to the reliability of the device.
Black color & contamination resistant
With the black-colored membrane, it enables non-contrast to your devices along with avoiding contamination due to its oleophobic property.
Product Performance Characteristics GAW334
IP rating (IEC 60529)1
IP67; IP68 (2 meters water for 1 hour)
Transmission loss at 1,000 Hz2

< 2 dB (I.D. 1.6 mm)
< 1.5 dB (I.D. 2.0 mm)

Acoustic variability at 1,000 Hz3
~ 0.2 dB (I.D. 1.6 mm)
Membrane Type
ePTFE
Membrane-characteristic
Oleophobic
Membrane-color
Black (black side facing outward)
Standard part reference
Thickness (PET support material)
0.31 mm
Adhesive options
Acrylic4
Adhesive Temperature Resistance
-40 °C to 85 °C
RoHS5
Meets requirements
1 IP ratings for assembled devices depend on the design of the product housing.
2 Response from a typical MEMS microphone system. Performance is dependent on design of device
3 Standard deviation based on a representative sample size measured by a typical MEMS microphone system
4 Other adhesives available upon request
5 To the best of our knowledge, the parts listed above do not have any restricted substances above the maximum concentration values listed in RoHS Directive 2011/65/EU. This information is based on our current level of knowledge and does not constitute a representation or warranty beyond those contained in our standard terms and conditions.