New GORE® PolyVent XS is 30% smaller, for more design options and easier integration into small, thin-walled outdoor electronics
---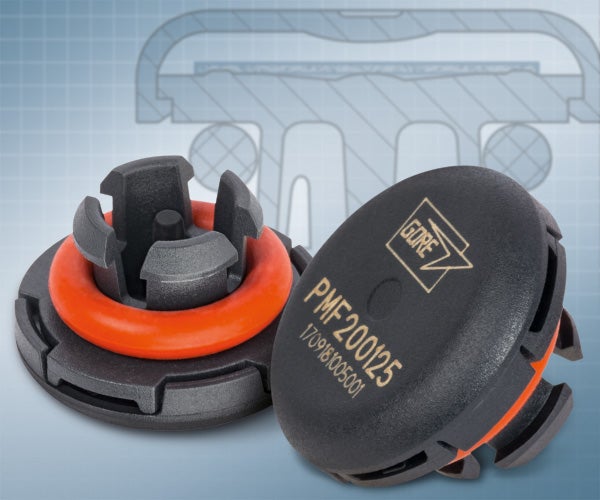 New GORE PolyVent XS for Snap-In installation, is efficient to use in higher-volume automated production processes, and also fast and easy to install manually.
PolyVent XS is engineered to meet the needs of today's more streamlined, space-limited outdoor enclosures for lighting, telecommunications, smart security systems, and other electronics.
With its compact, low-profile design, new GORE® PolyVent XS is the right fit for smaller housings with thinner walls, where internal and external space is at a premium, and where materials cost is a concern.
PolyVent XS is the right fit for your streamlined enclosure designs.
It's 30% smaller – in all dimensions – than Gore's Standard or High Airflow vents for Snap-In installation.
Smaller diameter (only 14.4 mm) for easy integration in smaller housings with limited exterior clearances. 
Low installed height (only 3.75 mm) improves aesthetics and fit in tight spaces, and reduces risk of damage due to mechanical impact or steam-jets.
Shorter "legs" (only 1.45 mm) minimize vent intrusion inside the enclosure, for more flexibility in component layout, and easier heat transfer to the housing exterior. 
PolyVent XS delivers the durable protection you can count on.
PolyVent XS incorporates Gore's advanced materials technology, so it reliably withstands challenging environments and keeps your outdoor electronics protected.
The vent body and cap, of hydrostabilized PBT GF30, provide excellent mechanical stability and resistance to high humidity and temperatures.
Advanced oleophobic GORE™ Membrane reliably protects against ingress of water, lower surface-tension liquids such as cleaning fluids, and particles such as dust.
The silicone O-ring durably withstands aggressive liquids like cleaning fluids, and high temperatures (to +140 °C). Temperature resistance is crucial in small housings where printed circuit boards are transferring higher temperatures to the housing walls. 
Product performance characteristics
Typical airflow
450 ml / min (dp = 70 mbar)
Laminate: membrane / backing material
ePTFE / Polyester (PET)
Membrane Characteristic
Oleophobic
Vent body & cap: material
PBT GF30 hydrostabilized
Vent body & cap: color
Black (similar to RAL 9004)
O-ring material
Silicone 50 Shore A
Installed height (to the inside)
1.45 mm
Installed height (to the outside)
3.75 mm
Traceability
Yes: individually laser-marked
Design and Dimensions
Units are in mm
Recommended Installation

Units are in mm

Install on a flat, vertical housing surface where water or other contaminants will not pool.
PolyVent XS is designed to be installed from outside the enclosure.