Frequently Asked Questions for GORE® Turbine Filters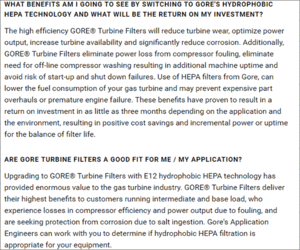 FAQ, English
Find out the answers to frequently asked questions, like "What are the benefits of HEPA", and "How long will my HEPA filters from Gore last?"
---
Benefits of HEPA
What benefits am I going to see by switching to Gore's hydrophobic HEPA technology and what will be the return on my investment?
The high efficiency GORE Turbine Filters will reduce turbine wear, optimize power output, increase turbine availability and significantly reduce corrosion. Additionally, GORE Turbine Filters eliminate power loss from compressor fouling, eliminate need for off-line compressor washing resulting in additional machine uptime and avoid risk of start-up and shut down failures. Use of HEPA filters from Gore, can lower the fuel consumption of your gas turbine and may prevent expensive part overhauls or premature engine failure. These benefits have proven to result in a return on investment in as little as three months depending on the application and the environment, resulting in positive cost savings and incremental power or uptime for the balance of filter life.
Are GORE Turbine Filters a good fit for me / my application?
Upgrading to GORE Turbine Filters with E12 hydrophobic HEPA technology has provided enormous value to the gas turbine industry. GORE Turbine Filters deliver their highest benefits to customers running intermediate and base load, who experience losses in compressor efficiency and power output due to fouling, and are seeking protection from corrosion due to salt ingestion. Gore's Application Engineers can work with you to determine if hydrophobic HEPA filtration is appropriate for your equipment.
Efficiency
How important is filtration efficiency for my gas turbine?
Very important - Poor air filtration efficiency will negatively affect the performance of your gas turbine. If they are not captured, sub-micron particles, liquids, and dissolved contaminants such as salt can enter your engine. This will result in compressor fouling, as well as more severe problems like blocked cooling passage, blade erosion, and hot gas corrosion. These result in lower power output, higher fuel consumption and more frequent repairs and replacement of high value parts.
What is a HEPA Filter?
HEPA stands for High Efficiency Particulate Air and it is a classification of air filters. HEPA filters provide the highest level of filtration efficiency in the gas turbine industry. The grade of efficiency is classified by the most penetrating particle size (MPPS), which is the particle size that is most difficult for the filter to capture. The classification is described in the European Standard EN 1822. GORE Turbine Filters meet the filter classification of E12 according EN 1822 and have a minimum efficiency of 99.5% for the MPPS. By contrast, E10 filters capture only 85% of the MPPS. Other non-HEPA filter solutions may only capture 50% or even less.
How does the HEPA technology from Gore deliver high efficiency, block liquids, and provide a low-pressure drop (dP) over a long lifetime? 
The media in HEPA filters from Gore is a unique patented structure with three layers that work in concert to deliver this performance. The first layer is a high efficiency non-woven material that pre-screens the larger particles and captures contaminants throughout the depth of the 3-D structure. The second layer is ePTFE that captures the very fine particles that pass through the pre-filter layer. In addition, the ePTFE membrane has a tight pore structure, which makes it naturally hydrophobic and blocks liquid water and dissolved salt or contaminants from passing. The final layer is a robust backing textile that provides rigidity and very high media burst resistance. The resulting laminate delivers high efficiency and water protection with low dP and proven filter lifetime.
Hydrophobicity
What is hydrophobicity?
Hydrophobicity is the property of being water-repellent, or to repel and not absorb water. This can be achieved through material selection or a coating. The expanded polytetrafluoroethylene (ePTFE) membrane used in GORE Turbine Filters is naturally hydrophobic and is an inherent property of the material, so it is not susceptible to low durability like a coated material.
Service Lifetime
How long will HEPA filters from Gore last?
GORE Turbine Filters have proven lifetimes of two to four years in very challenging coastal and industrial environments across a full range of turbine engine brands and models. For more details and case studies please refer to the GORE Turbine Filter Lifetime Brochure.
How do I know that my GORE Turbine Filters are approaching the end of their service lifetime?
Trend monitoring of filter dP is the most reliable way to decide when to replace filters. When the filters begin to approach end of life, the dP typically will begin to show sensitivity to wet and humid conditions. This is due to the swelling of captured hygroscopic particles. It is time to plan for a filter replacement when the dP trends upward and the influence of humidity grows.
Pre-filter Selection
Should I use a pre-filter / coalescer in front of HEPA filters from Gore? 
Gore cartridge filters come with a coalescing pre-filter sock preinstalled on the filter. This sock captures very large particles and insects and protects the filter in heavy rain and fog conditions by collecting and drawing moisture away from the filtration media. This buffers the dP increase that may otherwise occur without a coalescer.
Gore panel filters are normally installed in conjunction with a prefilter or prefilter/coalescer combination. Many variables, such as environment, airflow per filter, dP budget and filter integration will influence the pre-filter selection. Our application engineers are available to review your case and assist you with the proper selection.
Installation Guidance
Do I have to modify my filter house to install HEPA filters from Gore? 
Our filters are designed to ensure a simple retrofit replacement of your current filters. In most cases, GORE Turbine Filters can be installed without any filter house modifications. In systems where non-standard size filters are being used, a simple holding frame modification can be installed. Our application engineers are available to review the condition of your filter house and make recommendations.
Pulse Cleanable Filters
Is it possible to clean GORE Turbine Filters?
Our cartridge style filters are able to be pulse cleaned. They are not designed to be removed, washed and re-installed. Pulse cleaning can be very useful depending upon the local environment. In cold weather regions where ice can form on the filter and in dry regions with sand storms, frequent pulsing can be very effective. Programming of the pulse system should be optimized for the application.
Field experience has shown that pulse cleaning of our filters is not beneficial in environments where icing or heavy sand loading is not present, due to the low mass and "sticky" nature of common submicron particles.
Please contact our application engineers for more information on whether pulsing can benefit your operation.
Gore Filter Warranty
What is Gore's warranty on these filters? 
Gore warrants that all turbine filters will be free from defects in material and workmanship at the time of delivery. Claims for defects must be received by Gore within one (1) year from Gore's delivery to the customer location.
---
FOR INDUSTRIAL USE ONLY
Not for use in food, drug, cosmetic or medical device manufacturing, processing, or packaging operations.