Data Sheet: GORE Filter Bag 6161, Polypropylene Felt Filter Bag 407 g/m2 (12 oz/yd2)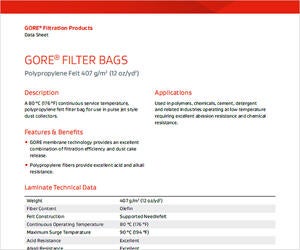 Data Sheets, English
A 80ºC (176ºF) continuous service temperature, polypropylene felt filter bag for use in pulse jet style dust collectors.
---
Features and Benefits
GORE membrane technology provides an excellent combination of filtration efficiency and dust cake release.
Polypropylene fibers provide excellent acid and alkali resistance.
Applications
Used in polymers, chemicals, cement, detergent and related industries operating at low temperature requiring excellent abrasion resistance and chemical resistance.
Laminate Technical Data
Weight

407 g/m2 (12 oz/yd2)

Fiber content

Olefin

Felt construction

Supported Needlefelt

Continuous operating temperature

80°C (176°F)

Maximum surge temperature

90°C (194°F)

Acid resistance

Excellent

Alkali resistance

Excellent

Breaking strength

Machine direction: 445 N/5 cm (100 lb/2 in) wide sample
Cross-machine direction: 1113 N/5 cm (250 lb/2 in) wide sample

Mullen burst

2068 kPa (300 psi)

Thickness

1.91 mm (0.075 in)
All data expressed as typical values. This technical data is subject to change. Please contact W. L. Gore & Associates, Inc., directly to confirm current information.
FOR INDUSTRIAL USE ONLY
Not for use in food, drug, cosmetic or medical device manufacturing, processing, or packaging operations.