Data Sheet: GORE Filter Bag 5117, Polyphenylene Sulfide Felt 543 g/m2 (16 oz/yd2)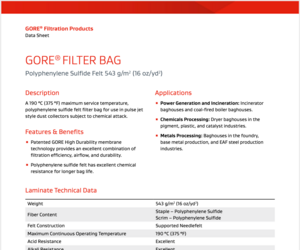 Data Sheets, English
A 190°C (375°F) maximum service temperature, polyphenylenesulfide felt filter bag for use in pulse jet style dust collectors subject to chemical attack.
---
Features and Benefits
Patented GORE High Durability membrane technology provides an excellent combination of filtration efficiency, airflow, and durability.
Polyphenylene sulfide felt has excellent chemical resistance for longer bag life.
Applications
Power Generation and Incineration: Incinerator baghouses and coal-fired boiler baghouses.
Chemicals Processing: Dryer baghouses in the pigment, plastic, and catalyst industries.
Metals Processing: Baghouses in the foundry, base metal production, and EAF steel production industries.
Laminate Technical Data
Weight:
543 g/m2 (16 oz/y

d

2)
Fiber Content
Staple – Polyphenylene Sulfide
Scrim – Polyphenylene Sulfide
Felt Construction:
Supported Needlefelt
Maximum Continuous Operating Temperature:
190 °C (375 °F)
Acid Resistance
Excellent
Alkali Resistance
Excellent
Breaking Strength
Warp: 670 N/5 cm (150 lb/2 in) wide sample
Fill: 1020 N/5 cm (230 lb/2 in) wide sample
Mullen Burst
> 2760 kpa or 400 psi
Thickness
1.7 – 2.3 mm or 0.07"–0.09"
Thermal Stability
< 2.0% shrinkage at 204 °C (400 °F) for 2 hours
Durability
Good
FOR INDUSTRIAL USE ONLY
Not for use in food, drug, cosmetic or medical device manufacturing, processing, or packaging operations.