Data Sheet: GORE® REMEDIA® Catalytic Filter Bags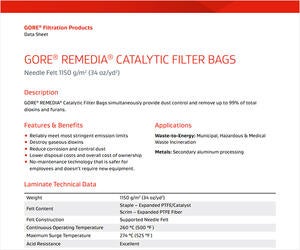 Data Sheets, English
GORE REMEDIA Catalytic Filter Bags simultaneously provide dust control and remove up to 99% of total dioxins and furans.
---
Features & Benefits
Reliably meet most stringent emission limits
Destroy gaseous dioxins
Reduce corrosion and control dust
Lower disposal costs and overall cost of ownership
No-maintenance technology that is safer for employees and doesn't require new equipment.
Applications
Waste-to-Energy: Municipal, Hazardous & Medical Waste Incineration
Metals: Secondary aluminum processing
Laminate Technical Data
Weight
1150 g/m2 (34 oz/yd2)
Fiber Content
Staple – Polytetrafluorethylene
Scrim – Woven Polytetrafluorethylene
Felt Construction
Supported Needle Felt
Continuous Operating Temperature
260 °C (500 °F )
Maximum Surge Temperature
274 °C (525 °F )
Acid Resistance
Excellent
Alkali Resistance
Excellent
Breaking Strength:

Machine Direction: 130 lbs/2" wide sample (58 kg/5 cm)
Cross-Machine Direction: 120 lbs/2" wide sample (53 kg/5 cm)

Mullen Burst
400 psi (28 kg/cm2)
Thickness
0.072" (1.85 mm)
Thermal Stability
Less than 2% shrinkage at 260 °C after 2 hours (on cage)
Durability
Excellent
Note: All data expressed as minimum values. This specification is subject to change. Please contact W. L. Gore & Associates, Inc., directly to confirm current information.
FOR INDUSTRIAL USE ONLY
Not for use in food, drug, cosmetic or medical device manufacturing, processing, or packaging operations.