Data Sheet: GORE Filter Bag 3650 Fiberglass Fabric PTFE Coated 746 g/m2 (22 oz/yd2)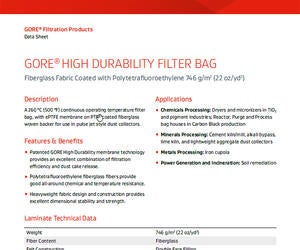 Data Sheets, English
A 260 °C (500 °F) continuous operating temperature filter bag, with ePTFE membrane on PTFE coated fiberglass woven backer for use in pulse jet style dust collectors.
---
Features and Benefits
Patented GORE High Durability membrane technology provides an excellent combination of filtration efficiency and dust cake release.
Polytetrafluoroethylene fiberglass fibers provide good all-around chemical and temperature resistance.
Heavyweight fabric design and construction provides excellent dimensional stability and strength
Applications
Chemicals Processing: Dryers and micronizers in TiO2 and pigment industries; Reactor, Purge and Process bag houses in Carbon Black production
Minerals Processing: Cement kiln/mill, alkali bypass, lime kiln, and lightweight aggregate dust collectors
Metals Processing: Iron cupola
Power Generation and Incineration: Soil remediation
Laminate Technical Data
Weight

746 g/m2 (22 oz/yd2)

Fiber Content

Fiberglass

Fabric Construction

Double Face Filling

Continuous Operating Temperature

260°C (500°F)

Maximum Surge Temperature

288°C (550°F)

Acid Resistance

Very Good

Alkali Resistance

Fair

Breaking Strength

Warp: 1558 N/2.54 cm (350 lb/1 in) modified cut strip

Fill: 2002 N/2.54 cm (450 lb/1 in) modified cut strip

Mullen burst

6205 kPa (900 psi) minimum
FOR INDUSTRIAL USE ONLY
Not for use in food, drug, cosmetic or medical device manufacturing, processing, or packaging operations.