Case Study: GORE® LOW DRAG Filter Bags – Reducing Differential Pressure in Carbon Black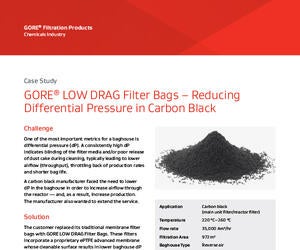 Case Studies, English
A carbon black manufacturer faced the need to lower dP in the baghouse in order to increase airflow through the reactor – and, as a result, increase production. The manufacturer also wanted to extend the service life of its filter bags to lower the overall cost of ownership.
---
FOR INDUSTRIAL USE ONLY
Not for use in food, drug, cosmetic or medical device manufacturing, processing, or packaging operations.