GORE® Ozonation Modules for Semiconductor & Microelectronics Processing
With a proven track record of over 40 years, Gore's modules have generated the cleanest, bubble-free, highest concentration ozone water for cleaning silicon wafers and semiconductor and FPD fabrication processing. They support an environmentally friendly cleaning process to reduce harsh chemicals, improve process performance and reduce operating costs.
Contact Us
United States
+1 800 356 4622
China (Shenzhen)
+86 755 8359 8262
+86 755 8359 1654 (fax)
South Korea
+82 2 393 3411
+82 2 393 1285 (fax)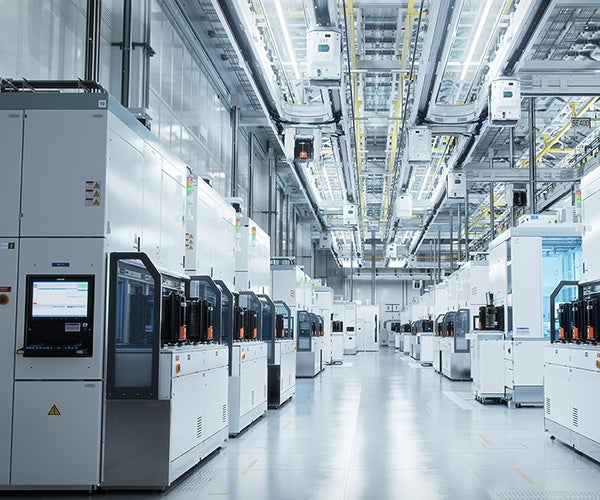 IDEAL MODULES IN OZONE WATER SYSTEMS FOR CLEAN SILICON WAFER & FPD APPLICATIONS.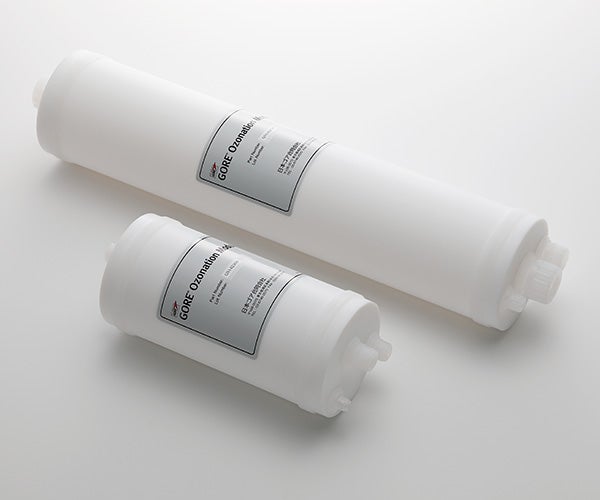 Microfiltration Solutions for Semiconductors and Microelectronics Microfiltration Media for Semiconductor & Microelectronics Processing
When it comes to silicon wafer and semiconductor cleaning processes, the industry is shifting to ozone water treatment. It's friendlier to the environment, doesn't involve expensive waste treatment and costs less than chemical mixtures. Fortunately, GORE Ozonation Modules from W. L. Gore & Associates go beyond the current benchmark by delivering the cleanest, bubble-free, highest concentration ozone water solution on the market today.
English (U.S.)
All Resources For GORE® Ozonation Modules for Semiconductor & Microelectronics Processing
Overview
SHIFT TOWARD OZONE WATER TREATMENT TO REDUCE CHEMICAL CONSUMPTION
The industry traditionally uses chemical-based mixtures for SI cleaning and semiconductor cleaning applications. But, they're moving towards an ozone functional water treatment that is friendlier to the environment, reduces waste and costs less.
Manufacturers want a safe, energy-efficient organic removal and surface treatment using cleaning liquid at room temperature. They also want to reduce traditional chemical consumption that isn't environmentally friendly and costs more for waste treatment. An example is the SPM process that uses a mixture of hydrogen peroxide and hot sulfuric acid — a corrosive and harmful chemical that increases waste treatment costs.
They also need cleaner ozonated water at a higher ozone dissolution concentration beyond the current benchmark to help increase yield. Clean ozonized water ensures organic wafer contamination is removed on silicon (Si) wafers and flat panel displays (FPD).
HOW GORE'S MODULES HELP IMPROVE SEMICONDUCTOR CLEANING PROCESSES
Since the 1980s, GORE Ozonation Modules have been successfully used in an ozone water-based wafer cleaning tool for silicon wafer and semiconductor applications. This ozonation module provides a safer and more effective treatment using deionized ozone water (DI-O3 water) than commonly used methods involving harsh chemicals and many semiconductor cleaning process steps.
For instance, wet cleaning and photoresist removal methods use chemicals in the preparation of silicon wafer cleaning, followed by an SPM wet cleaning process that also uses chemicals to remove the remaining organic contaminants.
CLEANEST, BUBBLE-FREE OZONE WATER SOLUTION
Proven, Continuous, Consistent Concentration & Flow
Gore's modules generate the cleanest, bubble-free, ozonized ultra-pure water on the market today — cleaner than ozone water generated by mechanical mixer technology, like an ejector or static mixer.
These modules can also achieve the highest dissolved ozone concentrations up to 200 mg/L. They continuously and consistently dissolve ozone gas into ultra-high pure water to generate the cleanest, bubble-free ozone water. We manufacture our ozone modules with microporous fluoropolymer membranes that allow high water entry pressure (WEP) of more than 0.40 MPa.
With this level of proven continuous, consistent concentration and flow, GORE Ozonation Modules are the ideal solution in ozone water systems for clean SI wafer and FPD applications.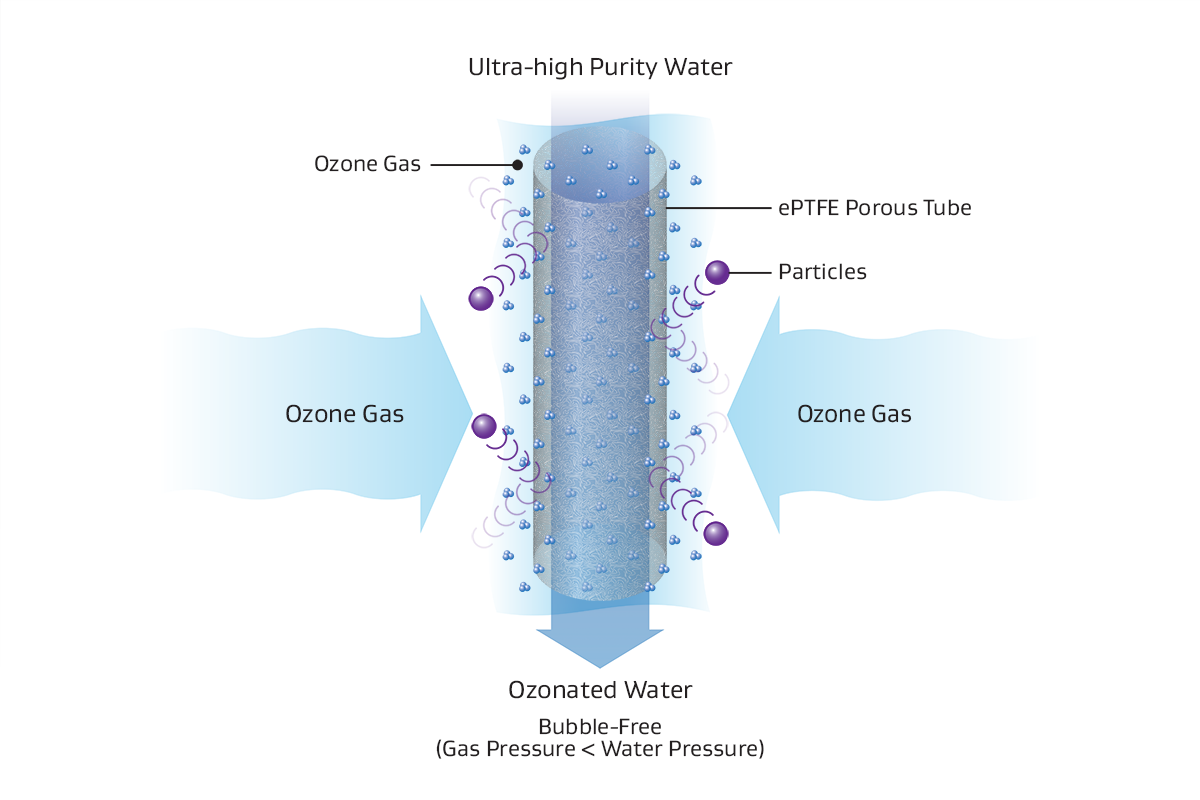 ADVANTAGES OF GORE OZONATION MODULES COMPARED TO MECHANICAL MIXERS
Compare GORE Ozonation Modules against mechanical mixers to better understand the advantages of our product. For more information about the characteristics and performance of our modules, contact us today.
Critical Attributes
GORE Ozonation Modules
Mechanical Mixers
(injector/ejector & static mixer)
Cleanliness

Bubble-free
No particles within O3 gas with ePTFE ozone dissolving membrane

Potential ozone water bubbles from direct injection of O3 gas
No filtration function removing particles within O3 gas

Operability

Consistent high-concentration ozone water
Consistent ozonized ultra-pure water flow rate

Inconsistency due to the effect of water and gas pressure fluctuation
Applications
GORE Ozonation Modules are a cost-effective solution for use in leading-edge SEMI process ozone water applications and cleaning processes with ozone in the microelectronics industry, like:
Silicon wafer cleaning and production
Logic and memory fabrication
LED/OLED/QOLED (LTPS) flat panel display cleaning & production
Photomask
If you have any questions or to discuss your specific application needs, contact us today.
Features & Benefits
GORE Ozonation Modules provide numerous features and benefits for semiconductor cleaning equipment manufacturers that improve ozone water cleaning processes such as:
Bubble-free, ultra-high purity ozone water at highest concentration up to 200 mg/L
Cleanest ozone water due to unique fluoropolymer construction
No particle contamination due to ePTFE membrane tube
High WEP > 0.40 MPa due to microporous membrane technology
Proven continuous and consistent operation
Easy-to-control ozone water flow rate and concentration
For more information about the features and benefits of our ozonation modules, contact us today.
Characteristics
These values demonstrate the characteristics of GORE Ozonation Modules for semiconductor and microelectronics processing.
Property
Gore Part Number
GN-142-300
GN-142-650
Length (Flange-to-Flange) mm
300
650
Diameter mm
142
142
Membrane Material
Expanded PTFE
Expanded PTFE
Housing Material
PTFE/PFA
PTFE/PFA
Ozone Concentration ppm
Up to 200
Up to 200
Water Entry Pressure (WEP) MPa
> 0.40
> 0.40
Maximum Liquid Pressure MPaG
0 to 0.35
0 to 0.35
Maximum Gas Pressure MPaG
0.25
0.25
Recommended Operating Temperature °C
0 to +30
0 to +30
How to Buy
LEARN MORE ABOUT GORE OZONATION MODULES OR ORDER NOW
Using a unique microfiltration membrane technology, Gore's modules generate the highest purity and bubble-free ozone water in the industry today. They're proven to be a reliable solution for improved semiconductor wafer cleaning and FPD fabrication processing that are friendlier to the environment. For more technical information and to order our ozonation modules, contact us today.
Resources
FOR INDUSTRIAL USE ONLY
Not for use in food, drug, cosmetic or medical device manufacturing, processing, or packaging operations.