Overview
Proven performance and reliability for 32 GHz spaceflight applications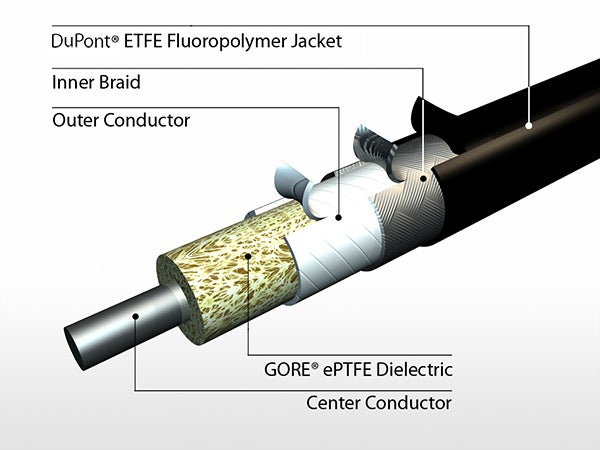 Failure isn't an option in space, nor is it an option for cables used in space. These cables must endure take-off and harsh landings, stay reliable in use throughout the mission, and never require maintenance. After all, there's no quick fix millions of miles from home.
Gore's High-Frequency Cable Assemblies for Ka Band Frequencies (Type 5G Series of GORE® Spaceflight Microwave/RF Assemblies) are qualified for spaceflight applications in three separate phases — integration, launch, and in-orbit — to ensure consistently reliable performance for the duration of the mission.
Unlike the standard bifurcated contact used in test connectors, the robust connectors of the Type 5G Series withstand the vibration of launch and orbit without compromising signal performance. In addition, the low profile of these connectors increases flexibility during the layout process of satellite design.
With superior radio frequency performance at 32 GHz, the cables are optimized for Ka band uplink and downlink applications.
Features & Benefits
Gore's High-Frequency Cable Assemblies for Ka Band Frequencies have a durable cable construction engineered to withstand the rigors of space travel, from takeoff to landing and back. The assemblies deliver:
reliable signal integrity with excellent insertion loss and return loss
outstanding shielding effectiveness
increased flexibility in design layout with robust, low-profile connector solutions
proven performance from qualification in integration, launch, and in-orbit phases
Additionally, the assemblies are Globally available from manufacturing facilities in the United States and Europe.
If you have any further questions about the benefits of our High-Frequency Cable Assemblies, please contact us.
Specifications
Gore's High-frequency Cable Assemblies for Ka Band Frequencies have these general specifications:
 
Frequency Range: DC – 32 GHz
Optimized Frequencies: 17.5 GHz – 22 GHz, 27 GHz – 32 GHz
Impedance: 50 ±1 ohms
This chart outlines additional specifications, like mass, minimum bend radius, and jacket material. Note that all specifications are based on 23.6 in (600 mm) long qualification assemblies; DC to 32 GHz. Guaranteed figures are available on request.
| Property | Value |
| --- | --- |
| Cable Part Number | 5G |
| Cable Outer Diameter (nom) | 0.170 in (4.3 mm) |
| Mass (nominal) | 13 g/ft (42 g/m) |
| Minimum Bend Radius | 1.0 in (25.4 mm) |
| Center Conductor | Silver-plated copper wire, solid |
| Dielectric | Expanded PTFE (ePTFE), tape wrapped |
| Electrical Shield | Silver-plated flat copper wire, helically-wrapped |
| Mechanical Braid | Silver-plated round copper wire, braided |
| Jacket | Extruded DuPont™ ETFE fluoropolymer, black |
Qualifications
The cables are fully qualified for integration, launch and in-orbit phases, along with multiple configurations and wide temperature ranges.
| Property | Value |
| --- | --- |
| Integration, Launch and In-Orbit Phases | Fully Qualified |
| Configurations | 5GZMQZMQ & 5GZMQZQA Cable Assemblies |
| Temperature Range | -55°C to +155°C |
| Qualification Test Report No. | ET-12036 |
Resources