Overview
Single-use storage containers have many advantages to biopharmaceutical manufacturers and are commonly used throughout drug production. However, there are vulnerabilities associated with traditional polymer-film-based disposable bags:
They can become brittle and fragile at cold temperatures, increasing the risk of loss during cold chain handling, transport or storage.
Extractables and leachables from materials commonly used in disposable packaging are a concern.
Now, Gore Materials Science Delivers a Solution to Both Issues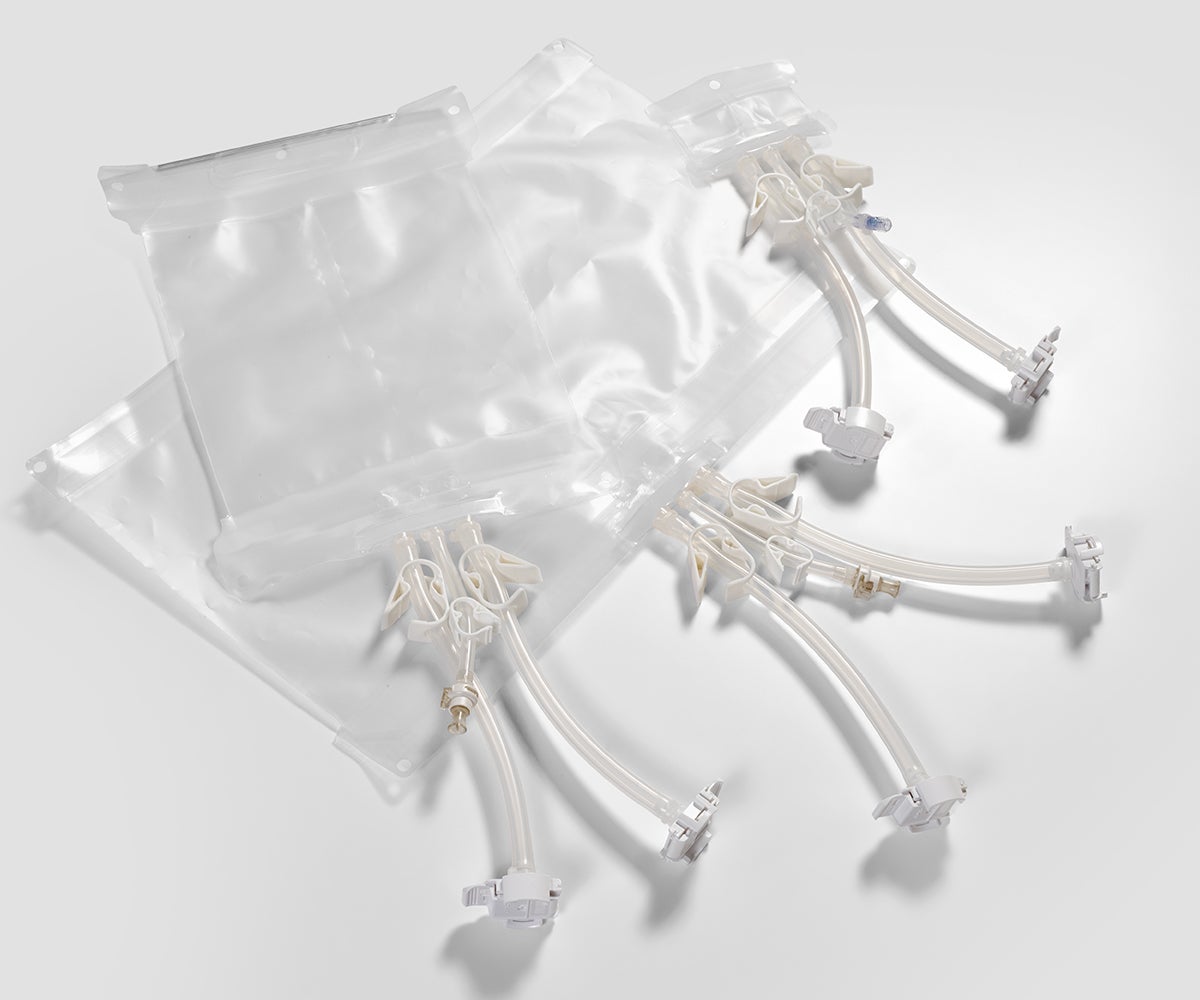 GORE STA-PURE Flexible Freeze Containers in medium, large and sample sizes. Small 2L size not shown.
Single-use GORE STA-PURE Flexible Freeze Containers are intended for storing and transporting bulk drug substances, after freezing at -86°C (-123°F).
The strength, durability and high purity of the materials of construction make GORE STA-PURE Flexible Freeze Containers ideal for high-value biopharmaceutical bulk drug substances such as:
vaccines
monoclonal antibodies
antibody drug conjugates (ADCs)
And a robust validation package and available technical support are offered to make initial evaluation easier.
Technology
Utilizing our advanced materials understanding, we've engineered a highly durable proprietary fluropolymer (PTFE) composite film designed specifically for bulk biopharmaceutical cold chain applications.
Proven strength and durability at frozen temperatures
Frozen film integrity maintained after impact and flex cycles
Frozen Container integrity maintained after multiple freeze/thaw cycles
High purity, biocompatible fluoropolymer film
Low extractables profile ideal for bioprocess applications
This distinctive material is combined with a patented* bag design to create robust containers able to withstand the rigors of frozen handling.
* Patent EP3174514, additional patents pending in the US & EU
Product Performance
Gore takes the responsibility of providing products that perform the way we say they will perform seriously. Our comprehensive approach to product testing includes evaluation of performance at the material level and in final product form.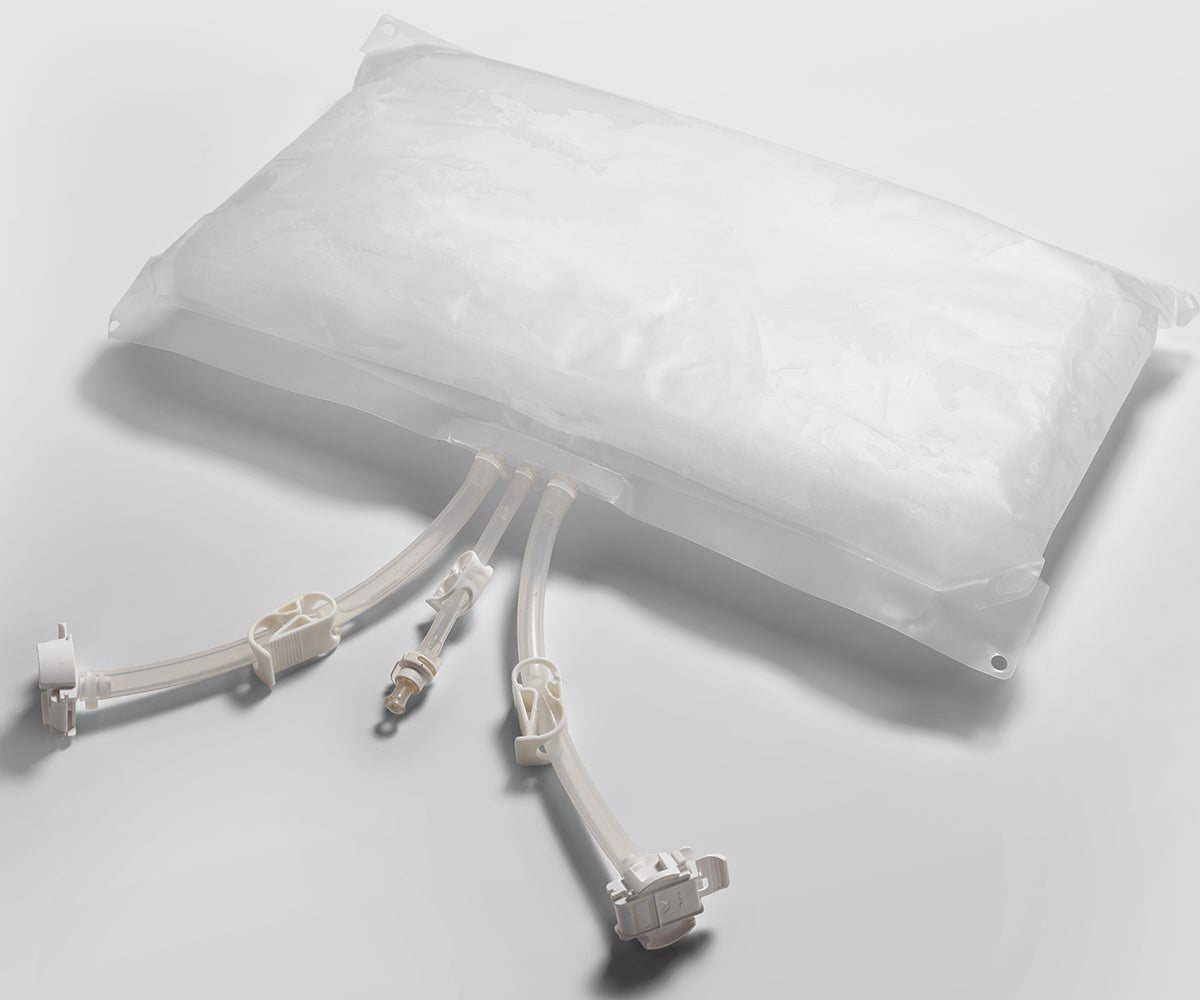 We put our filled containers through a battery of durability tests, including impact testing and multiple freeze thaw cycles, to prove that they will be able to withstand the rigors of frozen transport, handling and storage.
Containers filled with a phosphate-buffered saline solution were frozen in a blast freezer for a minimum of 24 hours with a set point of -86°C (-123°F), or in a plate freezer for a minimum of 4 hours at a set point of -70°C (-94°F). After freezing, the containers were tested for frozen impact durability, performance after five freeze/thaw cycles and after long-term storage.
| | |
| --- | --- |
| Frozen Impact Durability | Frozen and dropped from height of 3 feet (91.4 cm) onto concrete floor |
| Freeze/Thaw | Stored in a freezer and thawed in water bath for 5 cycles |
| Long-Term Frozen Storage | Stored for 12 months |
After testing, the containers were integrity tested by vacuum decay and visual inspection. All samples passed.
High Purity and Low Extractables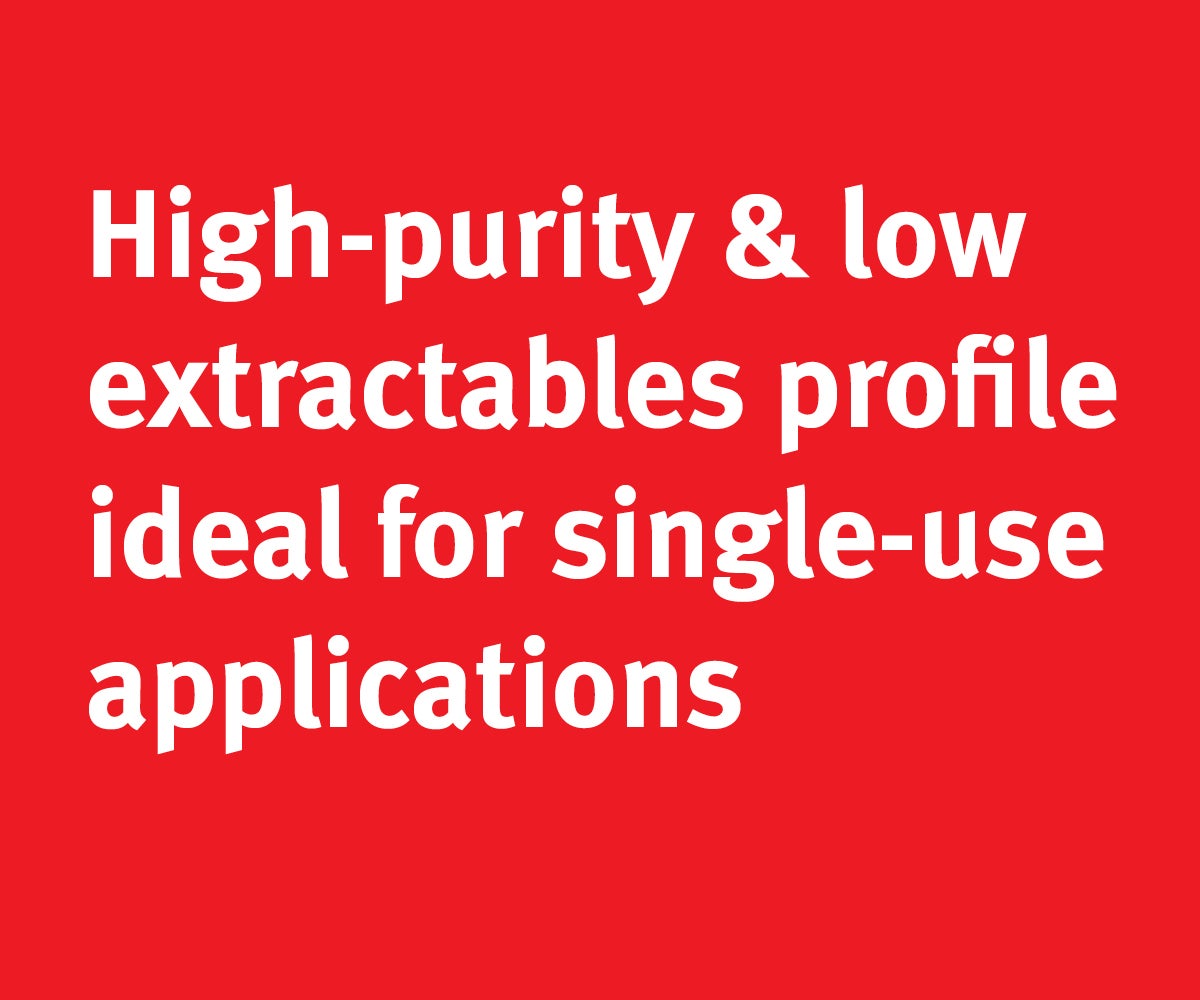 The materials used in the GORE STA-PURE Freeze Container are durable and, above all, highly pure and suitable to bioprocessing applications. All fluid contact surfaces of the containers (container and port) are made of a proprietary 100% fluoropolymer composite. The container film is chemically inert and has high degree of compatibility with a variety of fluids.
We compared the material in our containers with commonly-used films in traditional single-use bags. Results show that the film material in the GORE STA-PURE Freeze Containers (container and port) have a lower extractables profile compared to other commonly-used films.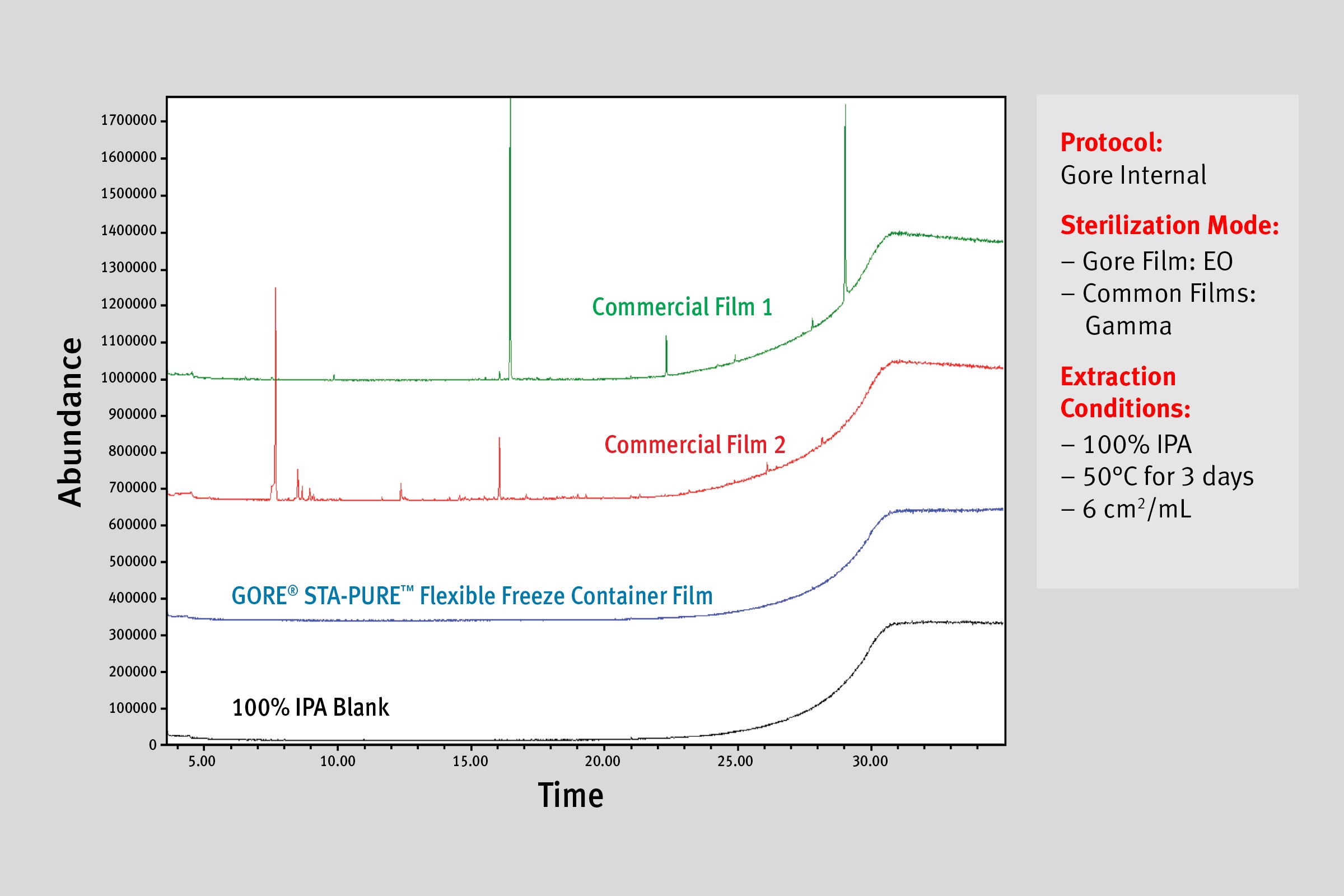 The extractables data shown is based on Gore's internal test protocol. In line with industry standards, Gore performed an extractables study based on guidelines put forth by the BioPhorum Operations Group (BPOG) as stated in their User Requirements Pack. This study involved testing representative material sets after sterilization from the GORE STA-PURE Flexible Freeze Container's product portfolio. Please contact us for more information about the test protocol and availability of results.
Configurations
GORE STA-PURE Flexible Freeze Containers are sold as an assembly and are suitable for both plate and blast freezers in sample, small, medium and large sizes. Maximum fill volumes vary by freezing method. Contact us for tubing and connector options.
Size
Dimensions (W x L)
Freezing Method
Maximum Fill Volume
Sample
5 x 6 in (12.7 x 15.2 cm)
Suitable for plate or blast freezers
50 milliliter (mL)
Small
8 x 17.5 in (20.3 x 44.5 cm)
plate
blast
2.5 Liter (L)
2.5 Liter (L)
Medium
12 x 18 in (30.5 x 45.2 cm)
plate
blast
4.25 Liter (L)
5.0 Liter (L)
Large
25 x 18 in (63.5 x 45.2 cm)
plate
blast
10 Liter (L)
12 Liter (L)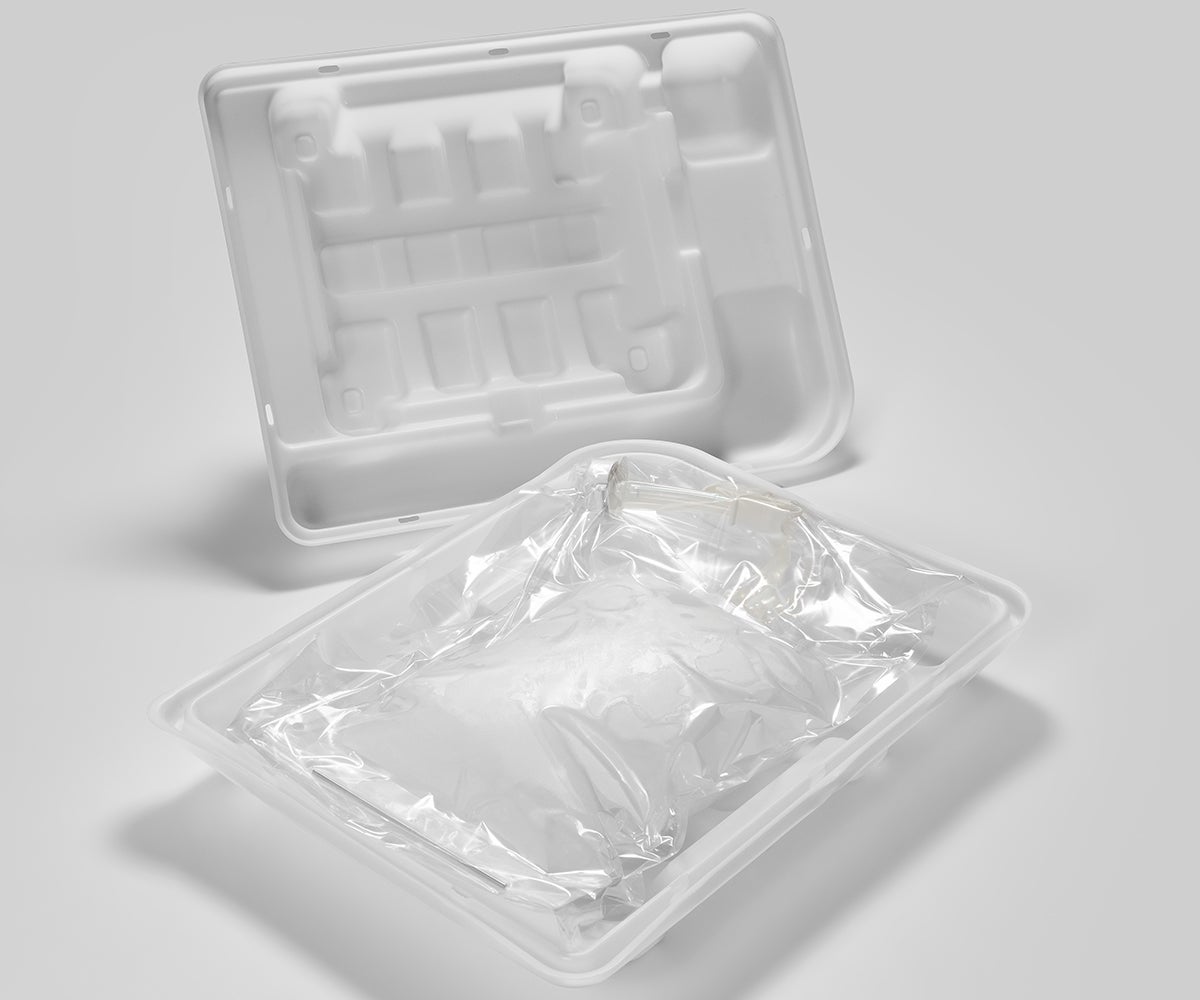 Optional hard-shell carriers and barrier wraps are available.
Gore also offers single-use hard-shell carriers (patent pending) made of durable high-density polyethylene (HDPE), configured for use in either blast or plate freezers, as an optional accessories to the Container. They are designed to maximize freezer space, make handling easier and further protect tubing in the Container Assembly. See our Use Guidelines for more information about our carriers.
If carbon dioxide (CO2) or oxygen (O2) permeation are a concern in the application, an optional vacuum-sealable secondary Barrier Wrap is available to minimize ingress. The Wrap fully encloses the Container Assembly, including tubing. For more information about our Wraps, see our Use Guidelines.
Sterilization
The Freeze Container Assemblies are packaged sterilized and ready to use inside two TYVEK® pouches prior to shipment. Contact us for more information about sterilization.
Compliance & Quality Control
GORE STA-PURE Flexible Freeze Containers (container and port) are 100% integrity tested by vacuum decay and visually inspected before quality control release.  The raw materials and/or components of the fluid contact surfaces meet standards for biocompatibility, bacterial endotoxin, and particulates as shown in the table. 
Biocompatibility
USP ‹87› Biological Reactivity Tests in Vitro
USP ‹88› Biological Reactivity Tests in Vivo Class VI
Bacterial Endotoxin
USP ‹85› Bacterial Endotoxin limits
Particulates
USP ‹788› Particulate Matter in Injections
Gore is committed to providing our customers with rigorously compliant products that deliver high-quality performance over time. GORE STA-PURE Flexible Freeze Containers are manufactured and assembled in a manner that adheres to relevant current Good Manufacturing Practices (cGMP) as defined in the Gore PharmBIO Products' quality system, which is certified to ISO 13485 and ISO 15378. These products are manufactured following the appropriate material and regulatory requirements. Please Contact us for current compliance statements.
Resources
Recent News