GORE® Microfiltration Media for Non-Implantable Medical Devices and In Vitro Diagnostics
Reliable and consistent operation of non-implantable devices and diagnostics is critical to maintain patient comfort, safety and ensure accurate diagnosis. Our Microfiltration Media solutions are designed to enable degassing, venting, and pressure equalization while containing and managing liquids. The superior quality of our materials allows for high-yield production of non-implantable devices and diagnostic cartridges.
Contact Us
Americas
+1 800 294 4673
+1 410 506 1715
Europe
+49 89 4612 3456
+800 4612 3456
US
+1 800 294 4673
+1 410 506 1715
All Resources For GORE® Microfiltration Media for Non-Implantable Medical Devices and In Vitro Diagnostics
Overview
In almost all healthcare equipment applications, including bedside or wearable, venting and filtration capabilities are critical to the successful operation of the equipment. Effective venting requires high gas permeability. It is the gas permeability of the media that enables high airflow, fast pressure equalization. Filtration solutions protect equipment from contamination during use by enabling gas to pass through with low pressure drop while providing a barrier to liquids, aerosolized liquids, microbes, and particles.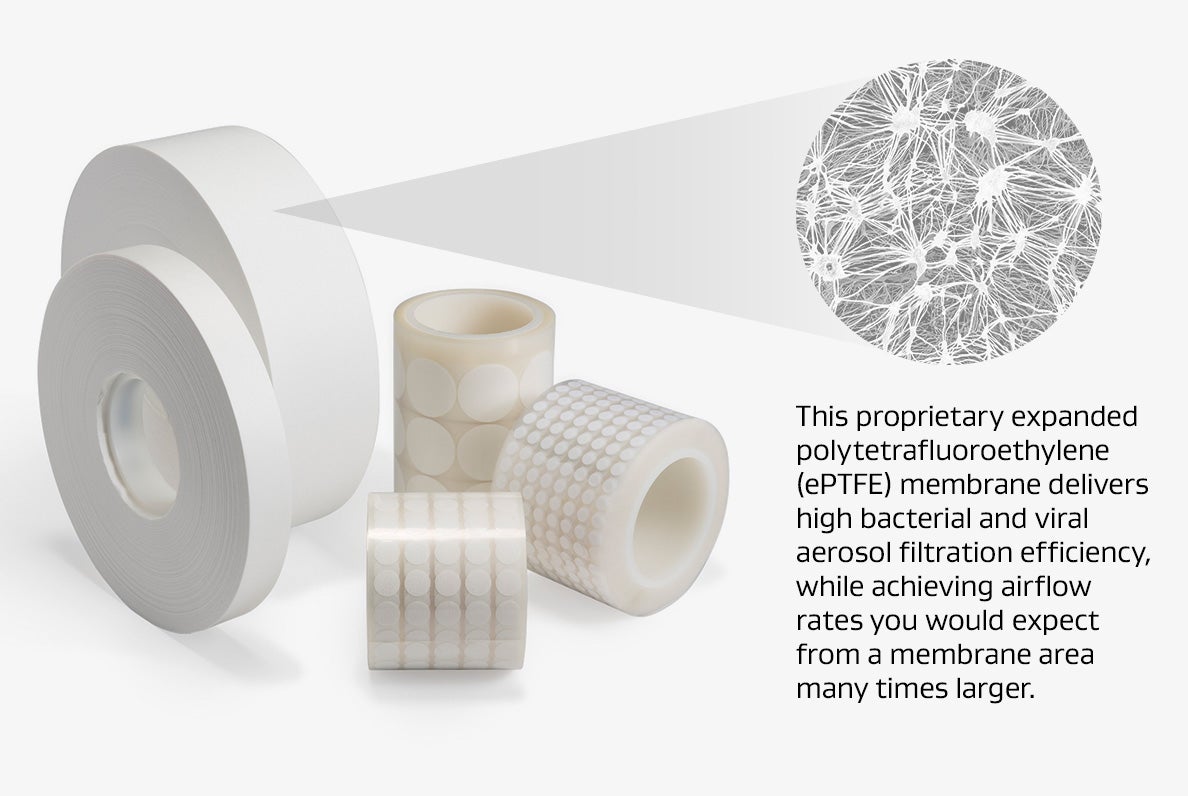 Gore has been developing high performance media including expanded polytetrafluoroethylene (ePTFE) membranes to solve the design challenges faced by device engineers for more than four decades. We are not just a supplier of membranes — we are a trusted partner that collaborates closely with device development teams to design a solution that addresses the unique challenges of your device and end-use environment. Based on individual requirements, Gore engineers will assist in the selection of the best material for our customer's applications based on various material properties, such as density, porosity, thickness, and surface characteristics.
---
VERSATILITY AND CUSTOMIZATION
GORE Microfiltration Media are constructed with a proprietary expanded polytetrafluoroethylene (ePTFE) membrane backed by various support layers. They deliver superior performance in non-implantable medical devices, whether the need is venting, moisture control, pressure equalization, or filtration efficiency as measured by bacterial filtration efficiency (BFE) or viral filtration efficiency (VFE).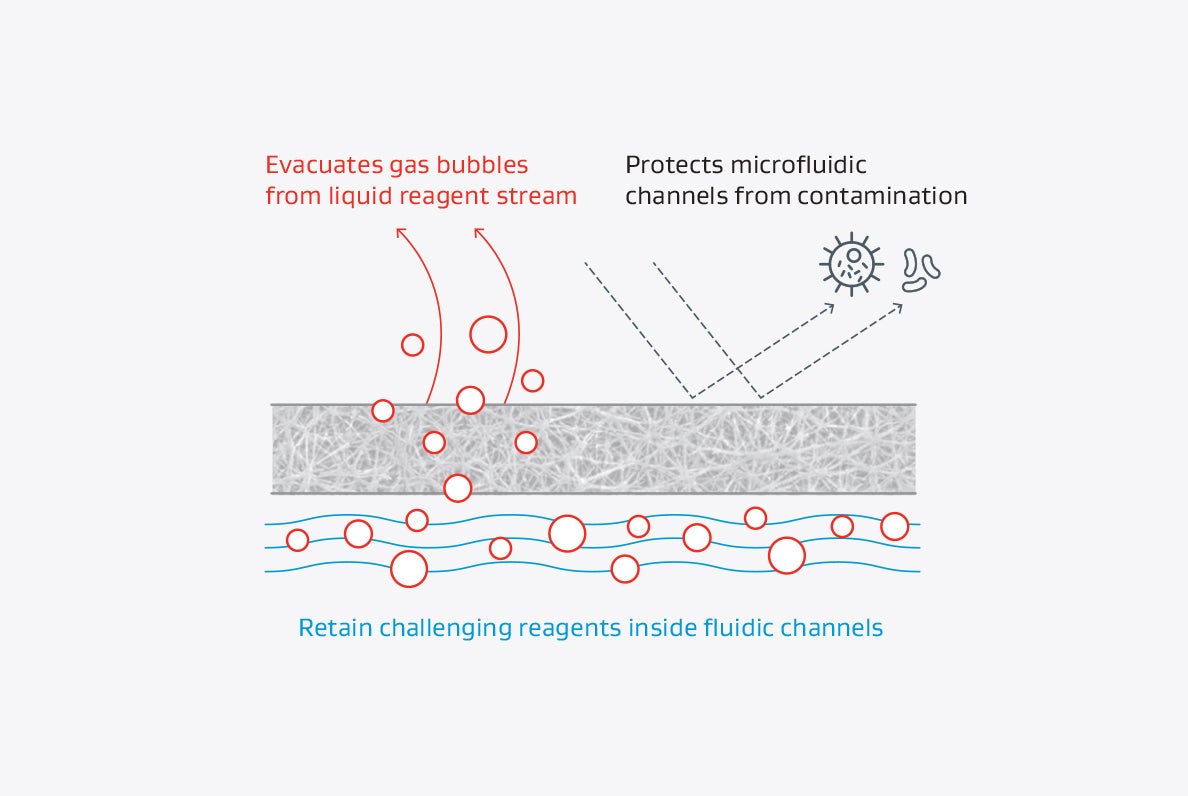 Highly customizable, GORE Microfiltration Media are available with hydrophobic or oleophobic properties and can be made with a variety of non-woven support layers. They can be engineered in rolls with custom slit widths or to fit custom die cut parts.
Actual product design is based on customer requirements. We design each vent specifically for its application. Once the vent is built, we thoroughly test it in realworld conditions. As a result, vents are designed to perform to specifications — the first time and every time — and deliver outstanding performance.
Liquid Entry pressure (LEP) / Airflow Performance Requirements of various Applications
The following graph shows suitable and common applications for the individual material classes based on airflow and liquid retention needs.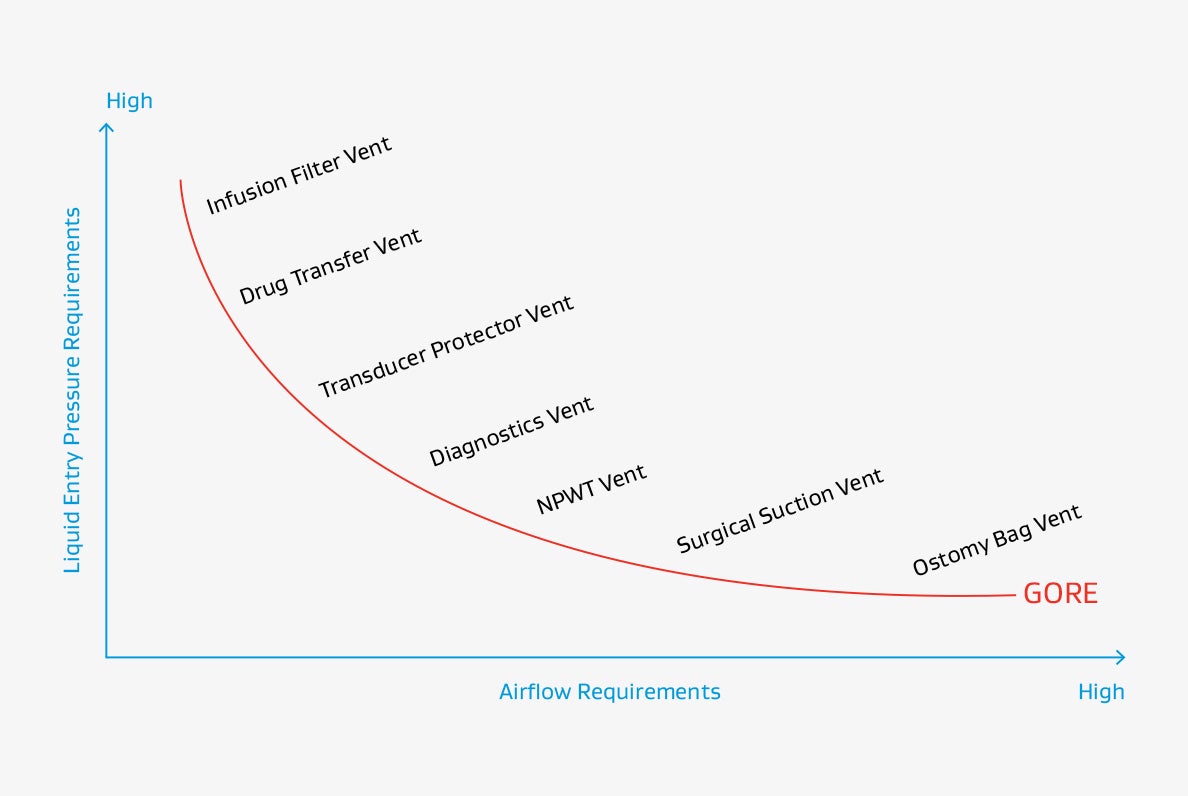 ---
OUTSTANDING PERFORMANCE
GORE Microfiltration Media deliver superior performance, ranging from high airflow to high retention, in an expanding family of non-implantable devices. All of your key performance characteristics can be balanced carefully to meet the specific requirements of your application.
The following table lists the range of performance for selected product characteristics of GORE Microfiltration Media.
GORE Microfiltration Media Performance Ranges
Based on typical mean product performance characteristics
Ranges vary between constructions
Airflow, typical [l/h @12 mbar @2.99 cm2]
4 to 124
WEP, typical [kPa]
110 to 1897
Thickness, typical [mm]
0.21 to 0.23
BFE/VFE [%]
99.999 to 99.9999999
Nominal Pore Size [µm]
0.03 to 3
---
ENGINEERED FOR LIFE SCIENCES
Gore maintains adherence to our disciplined quality system to ensure we meet rigorous standards for life science products:
ISO 13485 certification
Products manufactured under relevant cGMP
Cleanroom monitoring program equivalent to that which is required for ISO class
Products controlled by designated Design History File
In addition, the GORE Microfiltration Media portfolio of products meets the applicable biological evaluation tests described in BS EN ISO 10993-4, -5, -10, -11, and -23 as relevant for medical devices.
Diagnostics
GORE Microfiltration Media for In Vitro Diagnostics help design engineers and program managers of Original Equipment Manufacturers (OEMs) and Contract Development Manufacturing Organizations (CDMOs) of diagnostics equipment and consumables to develop molecular diagnostic (MDx) panels with consistent and precise fluid movement thus enabling accurate and reliable test results. Unlike other filter or vent options Gore's vent solutions are engineered to work with aggressive reagents and solvents giving more degrees of freedom in cartridge design enabling the most cost-effective designs.
USE THE FORM AT RIGHT TO REQUEST A SAMPLE
Negative Pressure Wound Therapy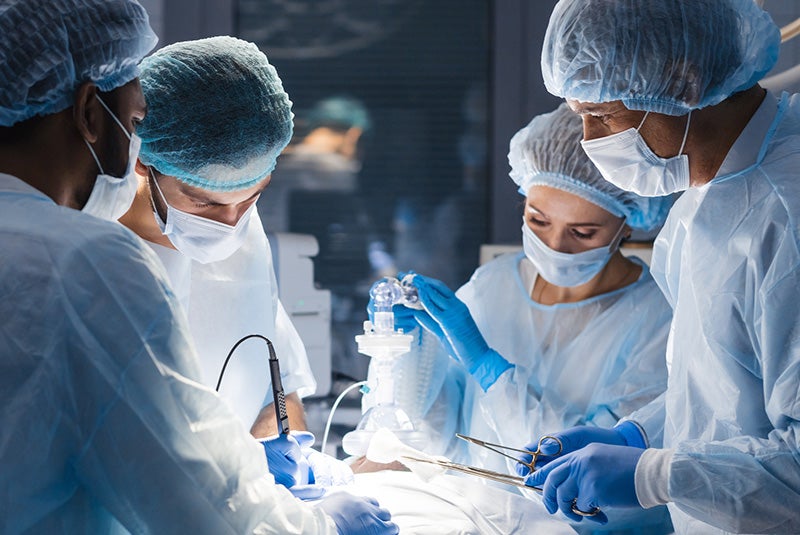 GORE Microfiltration Media for Negative Wound Pressure Therapy (NPWT) act as a filter which help design engineers of medical device manufacturers for NPWT to enable proper functionality and longevity of the NPWT systems. Unlike other barrier materials GORE Microfiltration Media provide exudate containment and aerosol filtration as well as proper functioning of the equipment's control units.
USE THE FORM AT RIGHT TO REQUEST A SAMPLE
Drug Preparation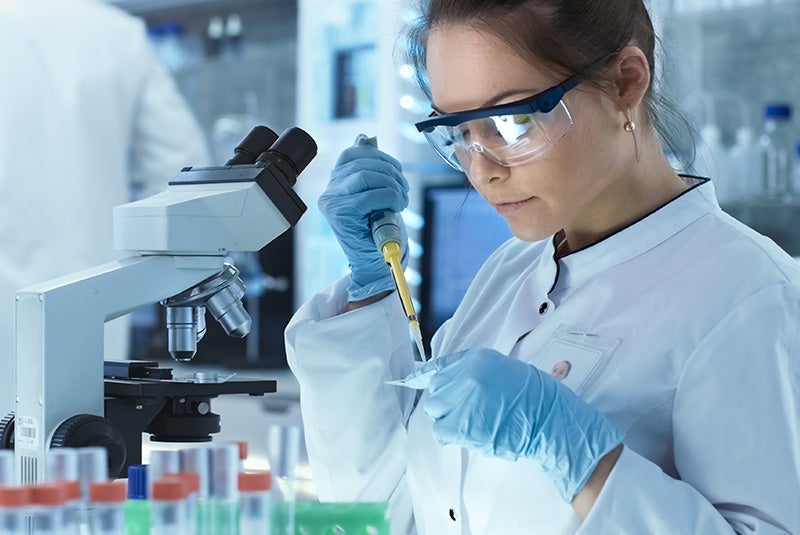 For more than 20 years GORE Microfiltration Media help to protect healthcare workers from exposure during the compounding and administration of hazardous drugs. Unlike other materials, GORE Microfiltration Media are highly inert and engineered to contain aggressive reagents and solvents. Therefore, GORE Microfiltration Media for Drug Preparation is the logical choice when it comes to designing reliable closed system transfer devices (CSTD).
USE THE FORM AT RIGHT TO REQUEST A SAMPLE
Infusion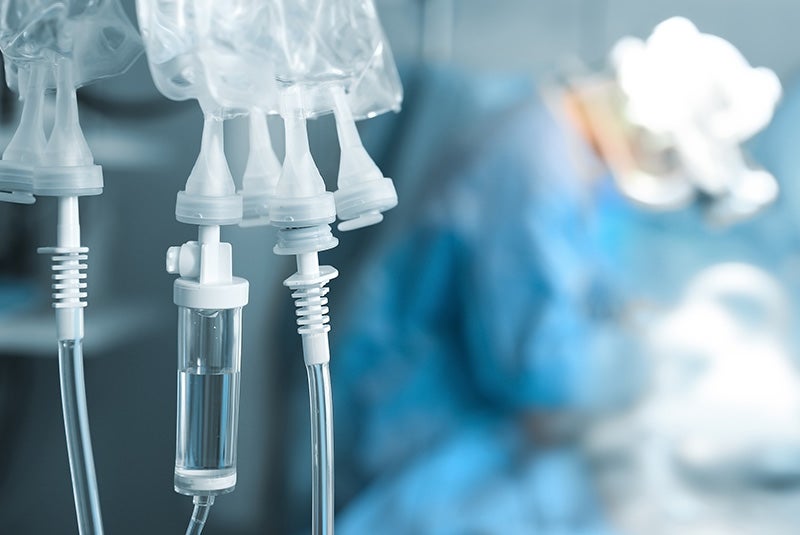 For more than 20 years GORE Microfiltration Media for Infusion have enabled medical device manufacturers to design IV filters with reliable micro-gas bubble evacuation while containing fluids and maintaining sterility. Unlike other materials, GORE Microfiltration Media for Infusion consistently deliver high performance and enable a stable integration process for high volume production.
USE THE FORM AT RIGHT TO REQUEST A SAMPLE
---
FOR INDUSTRIAL USE ONLY
Not for use in food, drug, cosmetic or medical device manufacturing, processing, or packaging operations.