Overview
GORE Bulk High Purity Chemical Filters are engineered to improve product quality in the microelectronics and semiconductor industries while optimizing cost of ownership. These filters are ideal for processing bulk high purity and ultrapure electronics grade chemicals used in the manufacturing of:
Semiconductors
Flat panel displays (FPD), LCD, LED, OLED, AMOLED, Plasma
Hard disk drive (HDD) and data storage
Solar and photovoltaics (PV)
Silicon wafers
Applications
GORE Filters can improve efficiency in these applications:
Recirculation
Final filtration
Packaging: Drum filling, bottle filling, ISO-tainers,
IBC-filling, truck-filling
Chemical distribution
Fluids:
Acids, bases, solvents, specialty chemicals
High viscosity fluids
Wet etch and clean chemicals, and specialty blends
Aqueous and other higher surface tension fluids
---
Product Comparison
Product form: Cartridge filter
Sizes available: 10-inch, 20-inch, 30-inch
Materials of construction:
Series
Filtration Media
Cage, core, end caps, support layers
Retention ratings available
HCOEE
Hydrophobic PTFE
High density polyethylene (HDPE)
20 nm
50 nm
HCOEM
Hydrophobic PTFE
Polypropylene (PP)
.1 um 
0.05 um
0.03 um
HCIEM
Hydrophilic PTFE
Polypropylene (PP)
.1 um
0.05 um
0.03 um
---
Features & Benefits
Features:
Several times higher flow capacity than filters of same retention rating
High retention, utilizing unique membrane technology
Drop-in solution, no capital expenditure required
Ultraclean, non-shedding membrane 
High chemical and thermal resistance of PTFE
100% integrity-tested
ISO 9001 certified
Benefits:
Improve Product Quality
Filter smaller particles
Reduce particle counts
Drop-in solution for filtration upgrade. No additional capital costs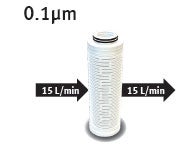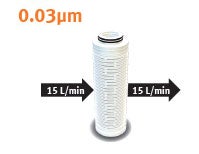 ---
Increase Production Capacity
Clean up faster (recirculation)
Fill faster (single pass)
No additional capital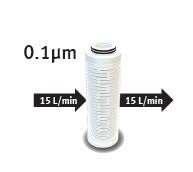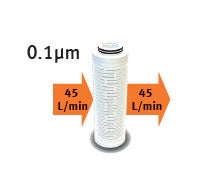 ---
Reduce Filtration Costs
Longer filter life
Reduce process downtime
Use fewer filters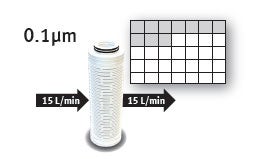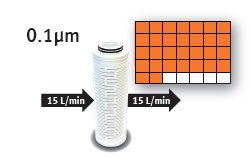 ---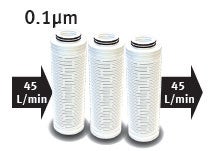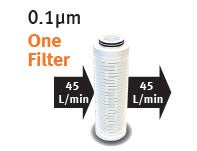 ---
Only high purity chemical microfiltration cartridges from Gore offer this unique combination of higher filtration performance and lower total filtration cost in bulk high-purity chemical processing operations.
---
Resources
---
FOR MICROELECTRONICS USE ONLY.
Not for use in food, drug, cosmetic or medical device manufacturing, processing, or packaging operations.