Filter Bags for the Waste-to-Energy Industry
Incineration plants and other manufacturers in the waste-to-energy industry must control air pollutant emissions while also controlling costs. GORE® Filter Bags offer reliable solutions for capturing particulates and destroying volatile pollutants, providing near-zero emissions at a lower overall cost of ownership.
Contact Us
United States
+1 800 437 5427
Australia
+61 2 9473 6800
Central America
+52 81 8288 1281
France
+33 (0)1 56 95 65 65
Germany/Austria/Switzerland
+ 49 89 4612 2211
Netherlands
+31 (0) 135 07 47 00
Scandinavia
+ 46 31 706 7800
South America
+ 55 11 5502 7800
South Africa
+ 27 11 894 2248
Taiwan
+ 886 2 8771 7799 x28731
United Arab Emirates
+971 2 4437749
United Kingdom
+ 44 1506 460123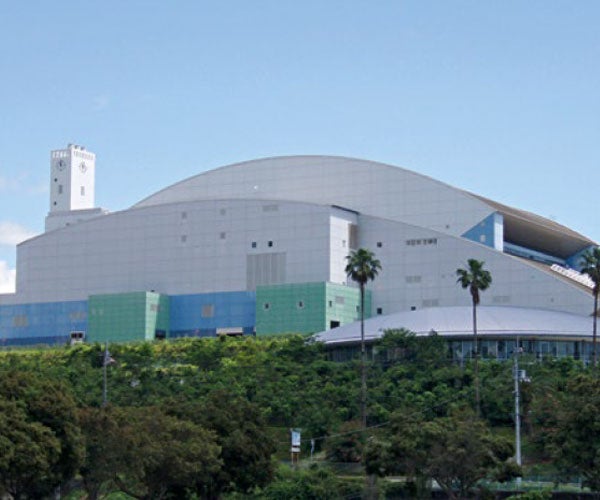 At an energy to waste facility in Kochi, Japan, power was generated by incinerating municipal waste using a stoker furnace, which incorporated pollution control units at the downstream. After heat recovery, the flue gas was further cooled down to 150 °C for the effective carbon adsorption of dioxin/furan. The gas was then passed through a filter baghouse to remove particulates. Finally, the gas was reheated to 210 °C for tail-end NOx reduction by an SCR tower.
English (U.S.)
All Resources For Filter Bags for the Waste-to-Energy Industry
Overview
Waste-to-energy plants provide a sustainable solution to the global problem of waste disposal, efficiently producing heat and electricity. But with incineration comes a handful of harmful particulates and pollutants — including dioxins, NOx, SO2, CO and mercury — and plants must follow strict regulations for emissions control.
At the same time, plants need to control costs.
GORE Filter Bags help waste-to-energy plants reliably control air emissions and improve their bottom line with solutions to control particulate emissions and pollution. Our PTFE membrane-based filter bags
reliably capture particulates to ensure near-zero emissions
deliver long bag life and stability, resulting in a lower cost of ownership
minimize resistance to airflow, allowing for efficient waste processing and steam production
As the original inventor of membrane-based industrial filtration solutions, we continually push the envelope of innovation in the waste-to-energy industry. As a result, we've developed a suite of high-performance filter bags that address the industry's and our customers' needs. Across our solutions, reliability is the Gore standard — as is the long product life our customers have come to expect.
Innovative Products for the waste-to-energy market
When analyzing Gore's products for use in your filtration systems, we encourage you to consider 3 important factors:
our truly innovative products which offer filtration performance that you will not find elsewhere
our proven product reliability and
our unique system approach to filtration process optimization, which includes our technical support for the lifetime of the filter bags
These three attributes enable Gore's solutions to deliver the lowest total cost of ownership available in a filtration system.
GORE® REMEDIA® Catalytic Filter Bags for Dioxin/Furan Destruction
The GORE REMEDIA Catalytic Filter Bags are installed in some of the world's largest incinerators to simultaneously provide dust control and destroy up to 99% of gaseous dioxins and furans. Here's how GORE REMEDIA Filter Bags work:
The unique GORE membrane captures fine particulate on the surface of the filter. As the filter bag is cleaned, solids are released from the surface and collected in the bottom of the baghouse hopper. The gaseous dioxins and furans pass through the GORE membrane into the catalytic felt, which converts them into insignificant amounts of CO2, H2O and HCl. This approach is maintenance-free and has been proven across hundreds of cases worldwide.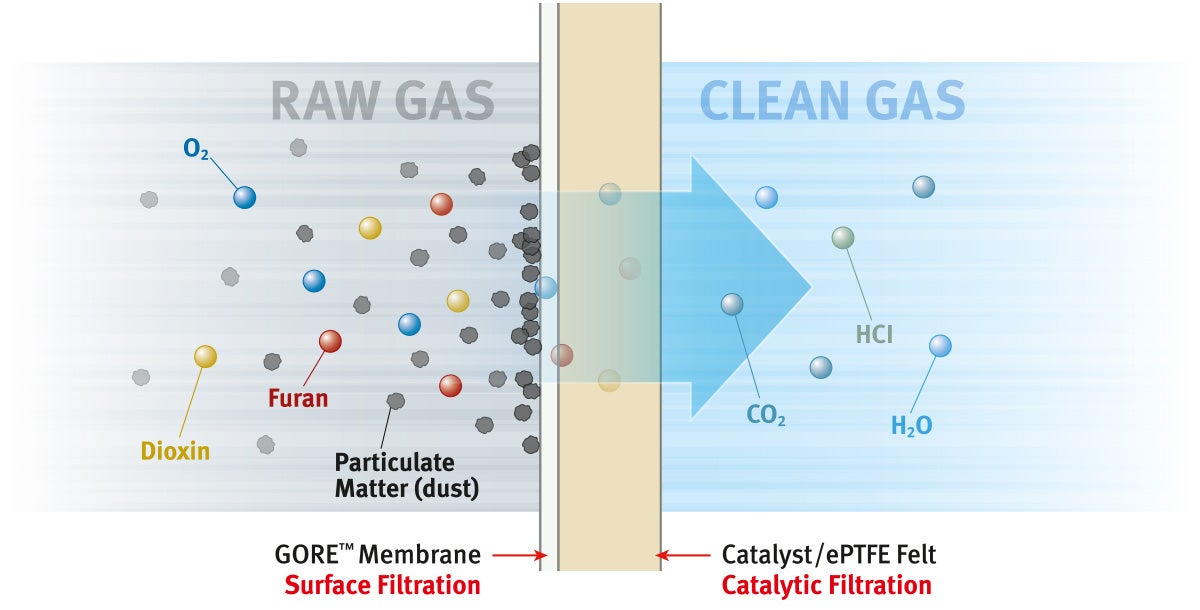 GORE® DeNOx Catalytic Filter Bags: for Reduction of NOx, NH3 and other Vapor Phase Pollutants
Our latest development in catalytic filtration is GORE DeNOx Catalytic Filter Bags, specifically designed to reduce NOx and NH3. This technology works in a similar way to GORE REMEDIA Filter Bags, but requires the presence of NH3 to react with NOx. Our filter bags contain a high efficiency catalyst and essentially perform the same function as an SCR tower — except GORE DeNOx Catalytic Filter Bags are installed inside your existing baghouse, requiring minimal process changes, additional equipment or worker training, at a significant cost savings to you.
This two-bag filter system includes an outer-layer ePTFE membrane filter bag for particulate removal, plus an inner layer catalyst filter bag, allowing maximum flexibility for catalyst regeneration and long product life.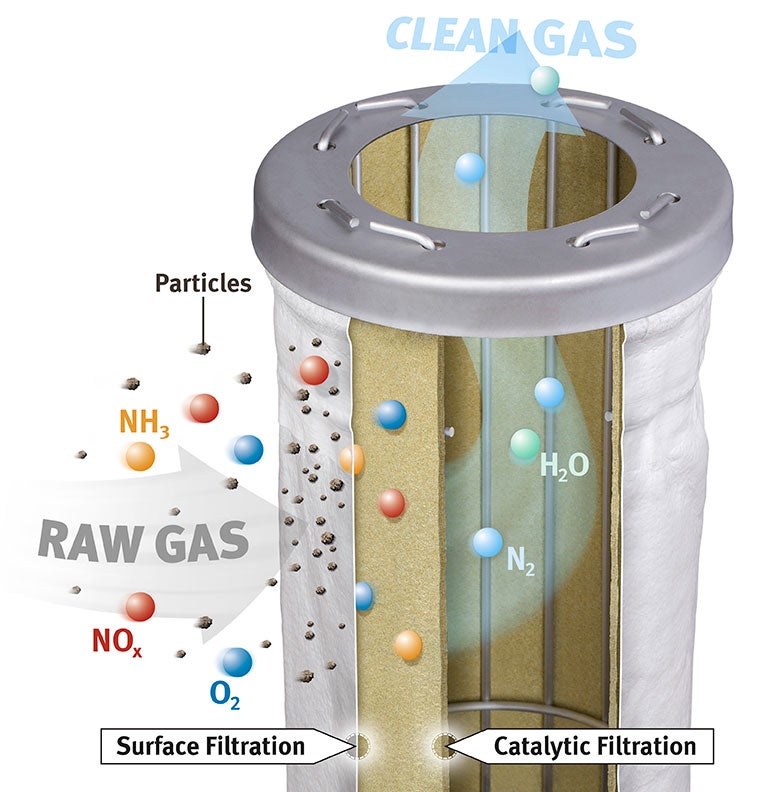 GORE® Low Emission Filter Bags for superior particulate emission control
The new GORE Low Emission Filter Bags are seam-taped to prevent any leaks through the stitch holes, allowing them to meet the strictest emission regulations while providing the same level of quality and reliability as our standard filter bags. The key to the bags is the patented PTFE seam tape, which is resistant to cracks despite high temperatures, mechanical stress and chemical exposure.

These filter bags are commonly used in:
flue gas cleaning of waste incineration
biomass-to-energy power plants in primary filters
dry and semidry sorption systems
end-of-pipe filters
Reliability
For more than 30 years, we've earned a reputation for reliability in waste-to-energy plants around the world. Our customers count on us in the most challenging applications where failure is not an option. Our products work as intended the first time, and consistently every time.
But our value doesn't stop there. We consistently develop innovative, high-performance filtration products that meet our high standards for reliability.
Why are our filters so reliably effective? It starts with the proprietary PTFE membrane in each of our filters. Gore was the original inventor of membrane-based filters for industrial filtration, which enabled an industry-wide change in filtration performance due to their superior cleanability and particulate capture. The PTFE membranes in our filters simultaneously capture the most miniscule particulates while allowing a high rate of airflow.


Our ePTFE membrane is a very thin, porous layer that prevents particulate matter from entering the body of the filter bag. Without the ePTFE membrane, particulate matter will penetrate the conventional filter, making it weaker and more resistant to airflow, especially over time.
Additionally, our proprietary PTFE membrane is:
chemically inert
resistant to extreme temperatures
hydrophobic
mechanically tough
These qualities, along with Gore's sewing design and construction, make our filters reliably durable, leading to long product life. Time and again, Gore filters are proven to last longer than our competitors' filters — and longer bag life leads to lower maintenance costs, increased yield and greater productivity.
Whether you use standard or low-grade coals, wood or tires in your furnace, or operate a municipal, hazardous or medical waste incinerator, longer bag life means lower overall cost of ownership for you. Our filters are proven to operate with less pressure drop, requiring less energy for manufacturers to power them — and this can also lower your cost of ownership.
Bottom line: Once your GORE Filter Bags are installed, you can rely on them to work as intended — during the first production cycle and long after installation.
Unique System Approach
When you buy filters from Gore, you're buying a partnership with one of the world's most trusted, time-honored manufacturers and a system approach tailored to your specific needs.
As part of our system approach, we:
determine, design and manufacture the filter bags or systems that fit your specific application and process
analyze and optimize your total system performance
provide technical support and troubleshooting for the lifetime of the filters
This means you'll receive expert support not just on filter design and installation, but also on how to optimize the flow parameters of your system to get the absolute best productivity. This process-specific product design and applications engineering approach has proven to be the lowest risk way to optimize your system's performance.
We understand that you don't always have filtration experts on staff. As your partner, we'll be on call to get you back up and running if you experience any problems related to your filters.
What Do Filter Bags Cost?
Our filter bags deliver the filtration industry's lowest available total cost of ownership, which goes beyond the price of filter bags to consider what your filtration system will cost you over time. Several factors impact the total cost of ownership for a baghouse, including:
duration of product life
costs of maintenance and cleaning
energy cost of fans that move air through a baghouse
purchase price of filter bags
labor cost to install filter bags
GORE Filter Bags deliver exceptional value. With your bags, you get a cutting-edge membrane laminate, robust filter bag design and construction, a system approach optimized for your baghouse and technical support for the life of your filter bags — along with the reliability our customers come to expect from Gore. With these factors combined, we provide the lowest total cost of ownership available in a filtration system.
Determine Your Total Cost
We design our filter bags for each customer's specific application. The following basic information will help us to help you quickly:
filter bag size, current material and quantity
baghouse operating parameters (eg: airflow rate, temperature, differential pressure)
particulate description (ideally including concentration, particle size, bulk density)
cleaning cycle parameters (eg: pulse jet pressure, cycle time)
We'd like to help you get a sense of what your filter bags will initially cost and the overall cost of ownership you can expect. To begin our conversation, please contact us.
Product Comparison
Gore produces a wide range of filter bags that vary by material and resistance to temperatures, moisture, oxygen, acid and alkali. Beyond our standard bags, we offer catalytic filtration solutions that destroy pollutants, as well as particulate-capturing filter bags with advanced qualities for controlling emissions.
Compare our range of filtering solutions, and contact us to discuss which solution is right for your industrial application.
---
GORE Baghouse Filter Products Most Commonly Used in the Incineration, Process Steam and Power Generation Industries
Resources
FOR INDUSTRIAL USE ONLY
Not for use in food, drug, cosmetic or medical device manufacturing, processing, or packaging operations.