Perseverance on Mars: Gore Facilitates Successful Mars Rover Landing
---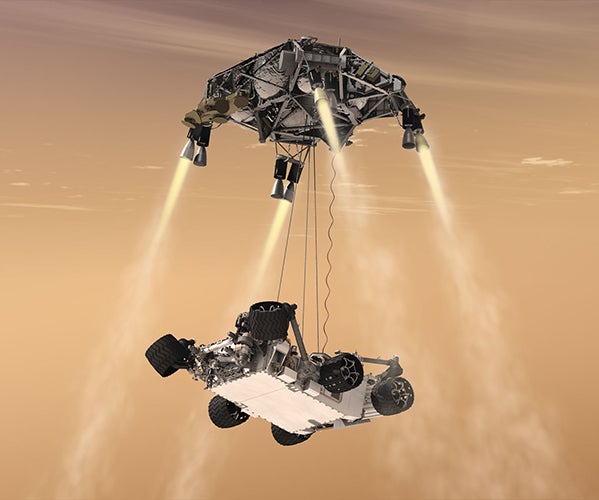 Dundee, Scotland (February 18, 2021) — W. L. Gore & Associates (Gore) joined countless scientists and space exploration enthusiasts in celebrating the successful landing of the Mars 2020 Mission's Perseverance Rover on the Red Planet. Today's development following a successful launch last July 30 from Cape Canaveral Air Force Station in Florida. This U.S. mission addresses high-priority scientific goals for exploration to help answer the questions of potential life on Mars and was directly enabled by Gore technology.
Unique Materials Technology
Gore's wire and cable products were critical components for successful data processing and communications between the Perseverance Rover and the descent stage of the mission. They assisted with the precise landing operation to the Martian surface until the Sky Crane enabling this operation departs. The intense entry, descent and landing (EDL) phase began when the spacecraft reached the top of the Martian atmosphere, travelling at about 12,100 mph (19,500 kph). EDL ended about seven minutes later with the rover stationary on the Martian surface.
Gore's reliable products were selected for the mission because of their durable constructions that have been proven and trusted over time to withstand the harshest environments encountered in space. The same cables are also used on the actual rover, which is about the size of a car, but at 2,260 pounds (1,025 kilograms) it weighs significantly less. The mission is expected to last at least one Mars year, roughly 687 Earth days.
Program Heritage
"The successful Martian landing of Perseverance continues Gore's 100% failure-free flight record and is a testament to our collaborative relationship with NASA and ESA," said Jeff Fyfe, Gore's space global business leader. "We look forward to future missions with them, as well as those from the dynamic New Space market." The company manufactures its space-related products in an ESA-qualified and ISO 9001:2000-certified facility.
GORE® Space Cables have been used in many missions over the decades — including the iconic Apollo 11 mission to the moon as well as the International Space Station, Envisat, Space Shuttle Program, Sentinel, Hubble Space Telescope and more.
About Gore
W. L. Gore & Associates is a global materials science company dedicated to transforming industries and improving lives. Since 1958, Gore has solved complex technical challenges in demanding environments — from outer space to the world's highest peaks to the inner workings of the human body. With more than 11,000 Associates and a strong, team-oriented culture, Gore generates annual revenues of $3.8 billion.
Media Contact