GORE PHARMBIO INTRODUCES 250ML, 500ML AND 1L PROTEIN CAPTURE DEVICES WITH PROTEIN A TO DELIVER CONSISTENT SCALABILITY AND INCREASED PRODUCTIVITY ACROSS SIZES
Larger Sizes Demonstrate Latest Innovations in Gore's Chromatography Device Portfolio for mAb Affinity Purification Solutions from Process Development to Commercial Scale
---
NEWARK, Del. (April 4, 2023) — W. L. Gore & Associates. ("Gore"), a global materials science company, continues to build on its growing portfolio of protein capture devices with the introduction of its 250mL, 500mL and 1L GORE® Protein Capture Devices with Protein A. The offerings follow commercial availability of its 116mL and 232mL sizes introduced in mid 2022.
With these new, larger capacity sizes, Gore continues to expand its GMP solutions, joining its current portfolio of 9mL, 58mL, 116mL, and 232mL devices. Additionally, Gore offers lab-scale sizes, 1.0mL and 3.5mL, for non-GMP applications. The three new larger offerings allow consistent scalability in pressure, elution width and binding capacity, making tech transfer efficient across sizes. All of the devices use a unique membrane composite that provides high dynamic binding capacity and short residence time, resulting in increased throughput and productivity.
"The introduction of our new 250mL, 500mL and 1L protein capture devices provides our biopharma customers with flexible and scalable solutions that are compatible with their existing capital," said William Barrett, Ph.D., Product Specialist for Gore PharmBIO Products. "With these new sizes, Gore continues to offer leading membrane expertise for rapid antibody purification and addresses their GMP application needs."
Key features of the 250mL, 500mL and 1L GORE® Protein Capture Devices with Protein A include:
High dynamic binding capacity (≥ 40 mg/mL) at short residence time (30 seconds)
 Demonstrated ability to cycle over 100 times with CIP
 Low delta column pressure over cycling
 Consistent scalability across sizes
 Low elution volumes
GMP-supported
Learn more about GORE® Protein Capture Devices with Protein A and get the latest information on upcoming events at www.gore.com/capturemoremAbs.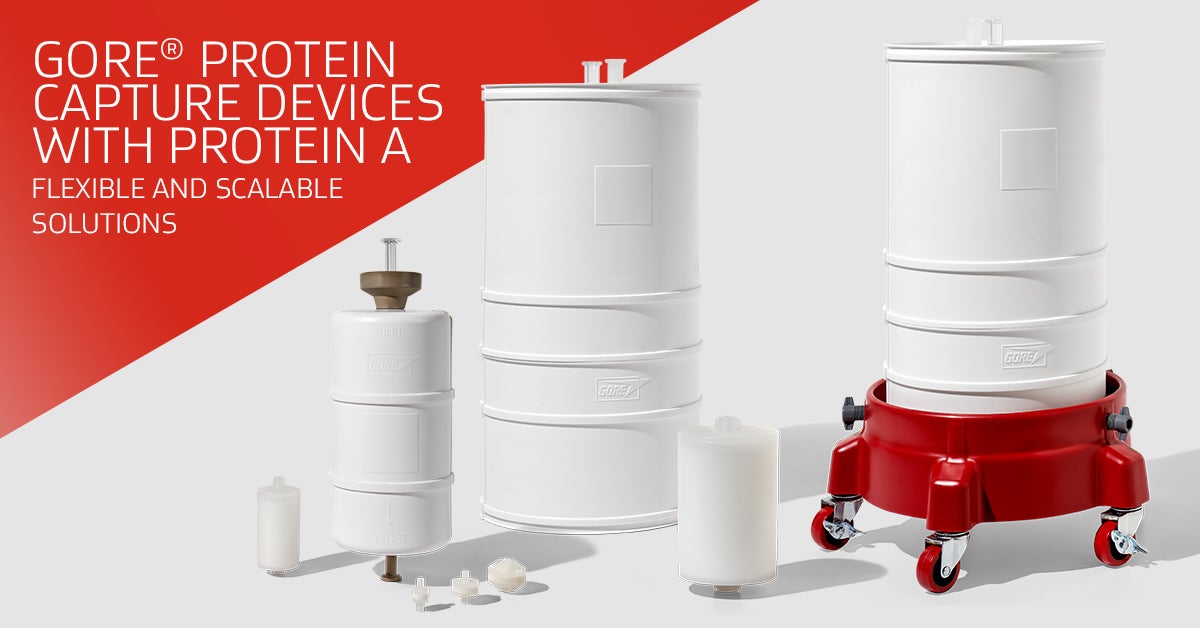 Media Contacts