W. L. GORE & ASSOCIATES WINS SUPPLIER OF THE YEAR AWARD FROM BAE SYSTEMS
---
NEWARK, Del. (April 11, 2023) — W. L. Gore & Associates (Gore) announced that last week it was one of 13 companies to win a "Partner 2 Win" Supplier of the Year award from BAE Systems for Gore's high-performance cabling supporting countermeasure and electromagnetic defense solutions. In addition, Gore also received a Silver Supplier Award for best-in-class performance and contributions to supply chain success.
"BAE Systems is one of our most important industry partners," said Lutz Biewer, Executive VP, Transformative Systems Solutions with Gore. "These awards are a testament to the quality of work we prioritize at Gore and the degree to which BAE values our partnership."
BAE Systems' Partner 2 Win program is designed to achieve operational excellence and eliminate defects in its supply chain by raising the bar of performance expectations to meet the demand of current and future customers.
Gore was one of 13 suppliers recognized for their best-in-class performance achieving on-time delivery and quality standards in 2022, as well as partnering with the company to advance and deliver breakthrough technology to its customers.
"The contributions of our top suppliers made an invaluable difference," said Kiran Dubey, vice president of Supply Chain for BAE Systems' Electronic Systems sector. "They enabled us to design, build, and deliver mission critical products and solutions for our customers around the globe."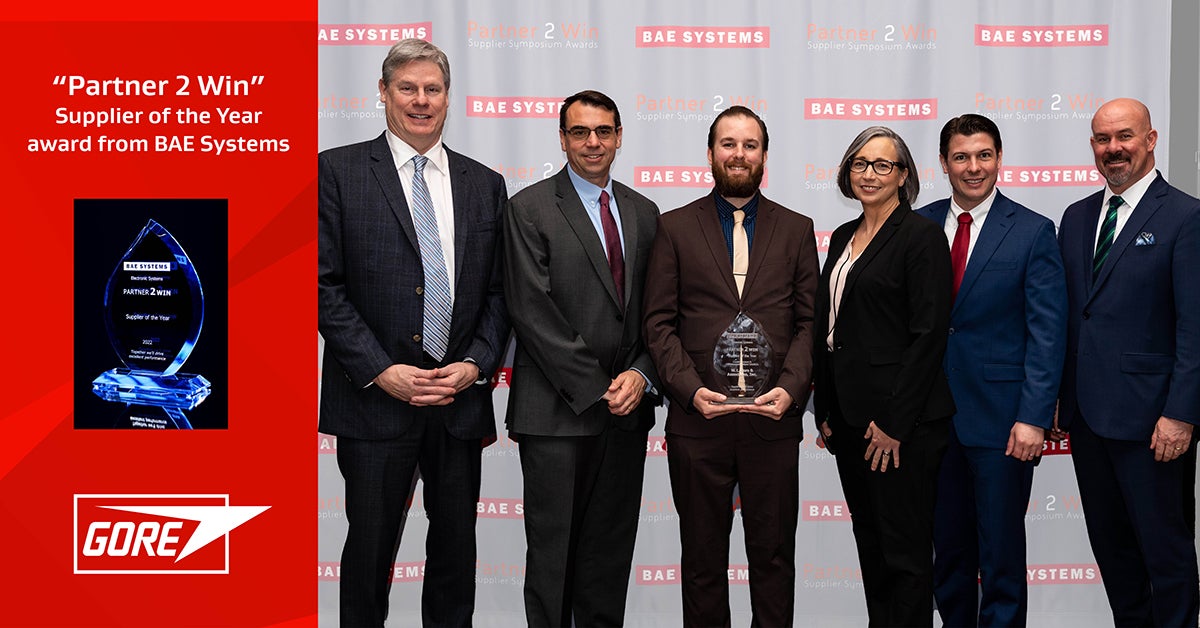 About Gore
W. L. Gore & Associates is a global materials science company dedicated to transforming industries and improving lives. Since 1958, Gore has solved complex technical challenges in demanding environments — from outer space to the world's highest peaks to the inner workings of the human body. With more than 12,000 Associates and a strong, team-oriented culture, Gore generates annual revenues of $4.5 billion. For more information, visit gore.com.
Media Contacts
Brian Grossman
Radancy
+1 704 609 5406
Contact by email
Jennifer C. Haupt
Marketing Communications Lead / Aerospace & Defense
W. L. Gore & Associates
+1 410 506 7935
Contact by email