Catalog: GORE® Aerospace High Speed Data Cables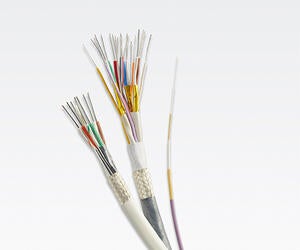 Brochures, Data Sheets, English
Aircraft systems require cables that can deliver high-quality signals, even in demanding conditions. W. L. Gore & Associates distributes aerospace wires and cables that can fill that need. Our products meet and even exceed industry requirements for avionics networks, cabin and flight management systems, in-flight entertainment and connectivity (IFEC), digital video systems and more.
---
Complete Line of Aerospace Wires and Cables
Our high-speed copper and fiber optic solutions also support open-source architectures and standardized protocols, including Ethernet, USB, HDMI and Fibre Channel. To meet the various types of high data rate cables that avionics system architects require, we offer an extensive catalog of aerospace wires and cables, including the following:
GORE® Ethernet Cables

4 Pairs (Cat5e/6/6a)
Quadrax (Cat5e)
2 Pairs (Cat5e)

GORE® Shielded Twisted Pair Cables
GORE® CAN Bus Cables
GORE® Quad Cables (Specialty Versions)
GORE® FireWire® Cables
GORE® Fibre Channel Cables
GORE® USB Cables
GORE® HDMI Cables
GORE® DVI Cables (Digital Only)
GORE® Fiber Optic Cables

1.8 mm Simplex
1.2 mm Simplex
900 micron
12-Fiber Ribbon

GORE® Cable Protection Systems
GORE® Abrasion Resistant Cable Jacket
Benefits of GORE Aerospace High Speed Data Cables
Our aerospace wires and cables are lighter weight and more durable to give systems engineers more flexibility during installations, as well as the peace of mind knowing they'll hold up in volatile flight conditions. Their thinner, lighter jacket is also more flexible and bends more tightly than other alternatives, making them easier to route and retrofit in crowded spaces. They also offer the following:
Unique, Lightweight Material
Constructed with a unique dielectric material (expanded PTFE), our wires and cables have a considerably lighter jacket weight than the alternatives. In fact, they're as much as 37% lighter than those made with ETFE material and as much as 50% lighter than cables comprised of FEP material. It all adds up to our products saving up to 5.9 kg/km (13 lb) of weight on aircraft. Not only do our materials save weight, but they also make cable diameters smaller and more flexible to help simplify installation.
Reliable Signals Over Long Distances
Designed with signal strength and integrity in mind, our aerospace wires and cables remain reliable over long distances without the need for additional signal amplification devices. They deliver high power, high data rates and high bandwidth over long distances with total reliability.
Unrivaled Durability
Thanks to their construction, GORE Aerospace High Speed Data Cables offer superior durability and a much longer lifespan than many alternatives. They resist the wide temperature ranges, crushing, abrasion and vibration that are common during installation and maintenance and at high elevations. What's more, they have a greater cut-through resistance – even at high temperatures – and are made of chemically inert materials that reduce reactions to harmful contaminants and fluids.
How to Order GORE Aerospace High Speed Data Cables
For fast, reliable data transfer in a compact but durable package, choose GORE Aerospace High Speed Data Cables. To confirm the quality of our aerospace wires and cables and their compatibility with your application, we offer prequalified, tested samples and small quantities, which are complimentary and can be shipped within 48 hours. To learn more, contact a Gore representative today.
FireWire is a registered trademark of Apple, Inc., in the U.S. and other countries.
---
FOR INDUSTRIAL USE ONLY
Not for use in food, drug, cosmetic or medical device manufacturing, processing, or packaging operations.