Overview
Today's military and commercial tethered drones use cable materials that create issues during operation. Traditional materials used for durability tend to be bulky and heavy often weighing drones down. Alternative designs use lighter weight materials that absorb a lot of moisture and don't protect enough against harsh operating conditions. These issues can considerably limit your payload options and reduce your drone's capabilities.
Don't Let Your Tether Hold You Down!
GORE Tethered Drone Cables are a game-changer for the commercial and military industries. We strike a balance by blending power and fiber optic cables with rugged materials in a small-scale hybrid design. Our tethered drone cables are 20% smaller than standard cables built with nylon, so they take up less space inside the Tether Management System (TMS), which means more design options and extra payload during operation.
We also tested our unique fiber braid cable against a standard nylon cable to see how both performed when immersed in harsh fluids. The nylon cable showed more than 7.5% weight pickup in salt water. But, our cable showed less than 1% weight pickup in salt water, which is more than 90% less weight pickup than the nylon cable! Testing proved that our tethered drone cable provided greater weight stability further increasing your design/payload options and operating height.
Better Protection For Longer Life
Conventional lightweight cables can be vulnerable to tough surroundings because they lack adequate protection, causing them to wear out long before the drone. Also, drones operating at high power can be susceptible to failure if materials are not compatible with high temperatures.
But not our low-weight tethered drone cables! They're built with proven high-strength and weather-proof materials that deliver continuous high-voltage power, secure signals, and unfailing data transmission in difficult environments. Our cables are designed specifically to withstand crushing, abrasion, repeated reeling, fluctuating temperatures, humidity, rain, snow, and tough terrain.
In fact, our single-mode fiber optic cable meets ARINC 802-2 requirements and is proven to provide a high level of crush resistance with low insertion loss — ensuring a secure data link from the drone to the ground support equipment (GSE).
Not only that, our patent-pending fiber braid cable jacket is low friction and resists abrasion induced during operation or by the TMS. This low-friction jacket also makes it easier to handle our cables compared to nylon cables.
Ultimately, GORE Tethered Drone Cables maximize TMS availability and drone capability, increase design options/payload, enable drones to fly higher, expand line of sight/coverage, and operate over the drone's lifetime.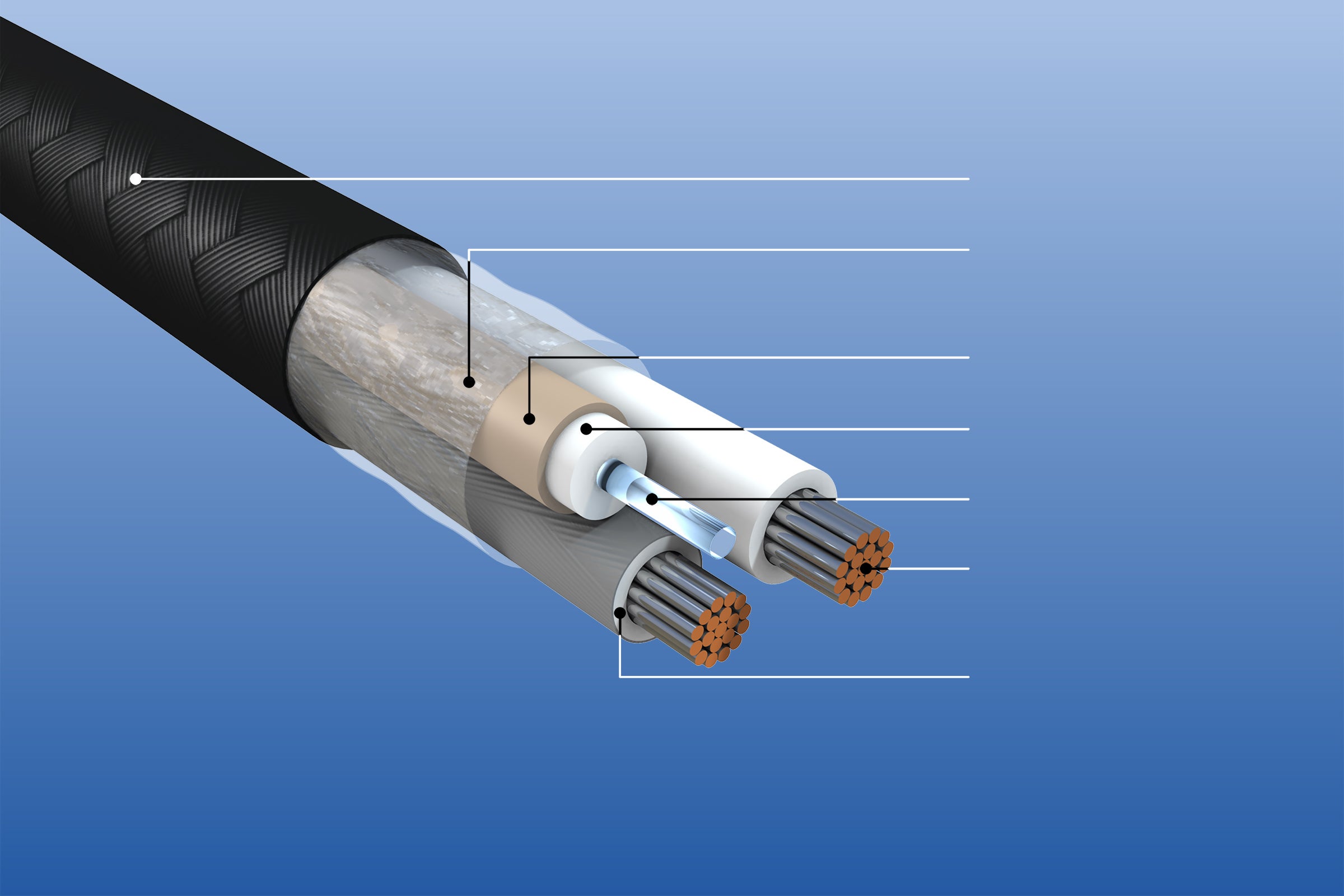 High-Strength Construction of GORE Tethered Drone Cables.
Applications
GORE Tethered Drone Cables are engineered to perform reliably in a variety of commercial and military applications, including:
video streaming
news, events, commercial photography, search and rescue
industrial / land inspections
telecommunications
intelligence, surveillance and reconnaissance (ISR)
electro-optical infrared (EO/IR) sensors
signals intelligence
If you have any questions or to discuss your specific application needs, please contact a Gore representative.
Benefits
GORE Tethered Drone Cables provide system engineers, designers and program managers with many benefits that improve electrical and mechanical performance such as:
More design / payload options with smaller, lighter weight constructions
Greater weight stability in harsh fluids for higher operating elevations / expanded line of site
High-strength materials withstand challenging conditions such as extreme temps / repeated reeling
Proven crush-resistant fiber optic cable that meets ARINC 802-2 requirements
Durable protection against abrasion / easier handling due to low-friction fiber braid cable jacket
Deliver continuous high-voltage power and secure, high-bandwidth data transfer
For more information about the benefits of our cables, please contact a Gore  representative.
Properties
These values demonstrate the electrical, mechanical and environmental performance of GORE Tethered Drone Cables.
Download the data sheet to view product specifications, like diameter, weight, minimum bend radius, and conductor DC resistance.
| Electrical Property | Power Pair | Fiber Optic |
| --- | --- | --- |
| Operating Voltage (Vrms)a | 600 | N/A |
| Maximum Optical Loss at 1310 nm (dB/km) | N/A | 0.35 |
| Maximum Optical Loss at 1550 nm (dB/km) | N/A | 0.20 |
a Based on a NEMA HP3 wire.
Mechanical / Electrical Properties
Power Pair
Fiber Optic
Jacket Material
Engineered Fluoropolymer Fiber Braid
Jacket Color
Black
Insulation Color
Gray / White
Brown
Insulation Wall Thickness (mm [in])
0.14 (0.006)
N/A
Conductor
Silver-Plated Copper
N/A
Mode Type (µm)
N/A
Single (900)
Core / Cladding / Coating
N/A
8 / 125 / 245
Coating Type
N/A
High Temperature Acrylate
Buffer
N/A
ePTFE
Dielectric Material
ePTFE / PTFE
Crush / Impact Resistanceb
(ARINC 802-2 / kgf/cm [lbs/in])
N/A
Pass
Tensile Strength (lbs)b
> 219
Scrape Abrasion Resistance (Cycles)b
(AS4373 / 500 g [1.1 lbs])
> 134,366
Fluid Immersion / Weight Stabilityb
(AS4373 / % Absorption)
Pass
< 1 (Salt Water, Diesel) / < 2.5 (Hydraulic)
Cold Bend Resistance (AS4373)b
Pass
Temperature Range (°C)
Fiber Optic: - 60 to +85c
Materials: -60 to +200
b Testing based on size 22 AWG.
c Attenuation may increase above 85°C.
Videos
Resources
Recent News