GORE™ Geophysical Seismic Cable - Bonded Telemetry Quads - Data Sheet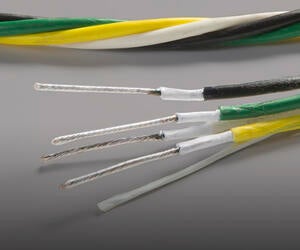 Data Sheets, United States
Data Sheet for GORE® Bonded Telemetry Quads; includes description, features, benefits, and technical data.
---
Highest Transmission Stability
Using innovative material technologies, GORE Bonded Telemetry Quad Cables provide the highest transmission stability for marine geophysical exploration applications.
Gore's low dielectric constant, expanded PTFE (ePTFE) and PTFE materials enable the bonding of the quads. This reduces the overall diameter and weight of the cables. The result is a smaller outer diameter, enhanced floatation characteristics, and the highest signal integrity under mechanical stress for streamer cables.
The specific location of each insulated, silver-plated conductor bonded throughout the entire length of the quad maximizes the electrical performance and reliability during flex. Gore uses only the highest quality, multi-layered, concentric, and pin-hole free insulations over each conductor. Each material is compatible with streamer fluids, other floatation media, and can operate in wide temperature ranges.
The data transmission performance of GORE Bonded Telemetry Quad Cables remains high, consistent, and reliable throughout its life cycle. GORE Bonded Telemetry Quad Cables have over 5 years of proven performance and unsurpassed reliability in marine streamer cables around the world.
Size optimized cables with highest reliability
Key Features
Gore's bonding technology
Pinhole-free insulation utilizing ePTFE and PTFE insulation material
No fluid penetration between components
Lightest weight
Smallest diameter
Key Benefits
Longer cable life (reduced overall costs)
Smaller streamer cable diameter
Highest signal stability under mechanical stress and movement
Reliable electrical performance in fluids
Low crosstalk
Lowest attenuation
Technical Data for 20 AWG GORE™ Bonded Telemetry Quad Cables
Operating Voltage
600 V DC
Breakdown Voltage
>1000 V AC @ 50 Hz
Impedance
• In air
• In streamer fluid

136 ±5 Ω
128 ±5 Ω
Attenuation @ 10 MHz
• In air
• In streamer fluid

≤6.7 dB/150 m
≤7.3 dB/150 m
Insulation Resistance
>200 MΩ*km @ 500 V DC
Temperature Range
–100°C up to +200°C
Outer Diameter
4.6 mm
Weight
38 kg/km
For technical information on other gauge sizes, please contact Gore.
The information given herein is based on data believed to be reliable. However, W. L. Gore & Associates makes no warranties, expressed or implied, as to its accuracy and assumes no liability arising out of its use by others. This publication is not to be taken as a license to operate or as a recommendation to infringe patents.

GORE and designs are trademarks of W. L. Gore & Associates, Inc. ©2008 W. L. Gore & Associates, Inc. JK080313-02 Rev. 3-27-08 PLFWI1294