Overview
The oil and gas industry faces many challenges when drilling into the Earth at unprecedented depths to explore and extract underground resources. Traditional workaround methods to extend tool life, like installing wires with thicker insulation have proven ineffective against high temperatures and aggressive chemicals. All of which results in unexpected tool failures that are expensive to replace, shorter tool run-times, more maintenance/downtime and lost production.
LONGER MOTOR LIFE, INCREASED TOOL RELIABILITY
GORE Magnet Wires are designed specifically to operate reliably in extreme oil and gas downhole environments, minimizing the risk of catastrophic failures for maximum tool-run times. Our mechanically robust wires have a unique engineered fluoropolymer insulation that's exceptionally resistant to difficult conditions like chemicals, hydrolysis, and up to high pressure, high temperature (HPHT) environments.
MAXIMUM VOLTAGE ENDURANCE
We compared our magnet wire to a polyimide enameled wire using ASTM/NEMA MW 1000 test method. For both wires, we used the same AWG size with comparable insulation thicknesses. We tested the dielectric voltage breakdown after 12 days exposure to hydrolysis in 0.3% H2O and synthetic oil at 280°C.
Results showed that our magnet wire maintained maximum voltage endurance after continuous exposure to hydrolysis and harsh fluids at elevated temperatures. But, the polyimide enameled wire became brittle and cracked right away under mechanical stress. This type of wire lost its insulation resistance and voltage breakdown performance, which is unacceptable when trying to avoid tool failures, keep on schedule, and stay on budget.
GORE Magnet Wires are proven to provide durable mechanical protection and superior electrical performance continuously in severe downhole environments — extending motor life and increasing tool reliability for less risk of unexpected catastrophic failures.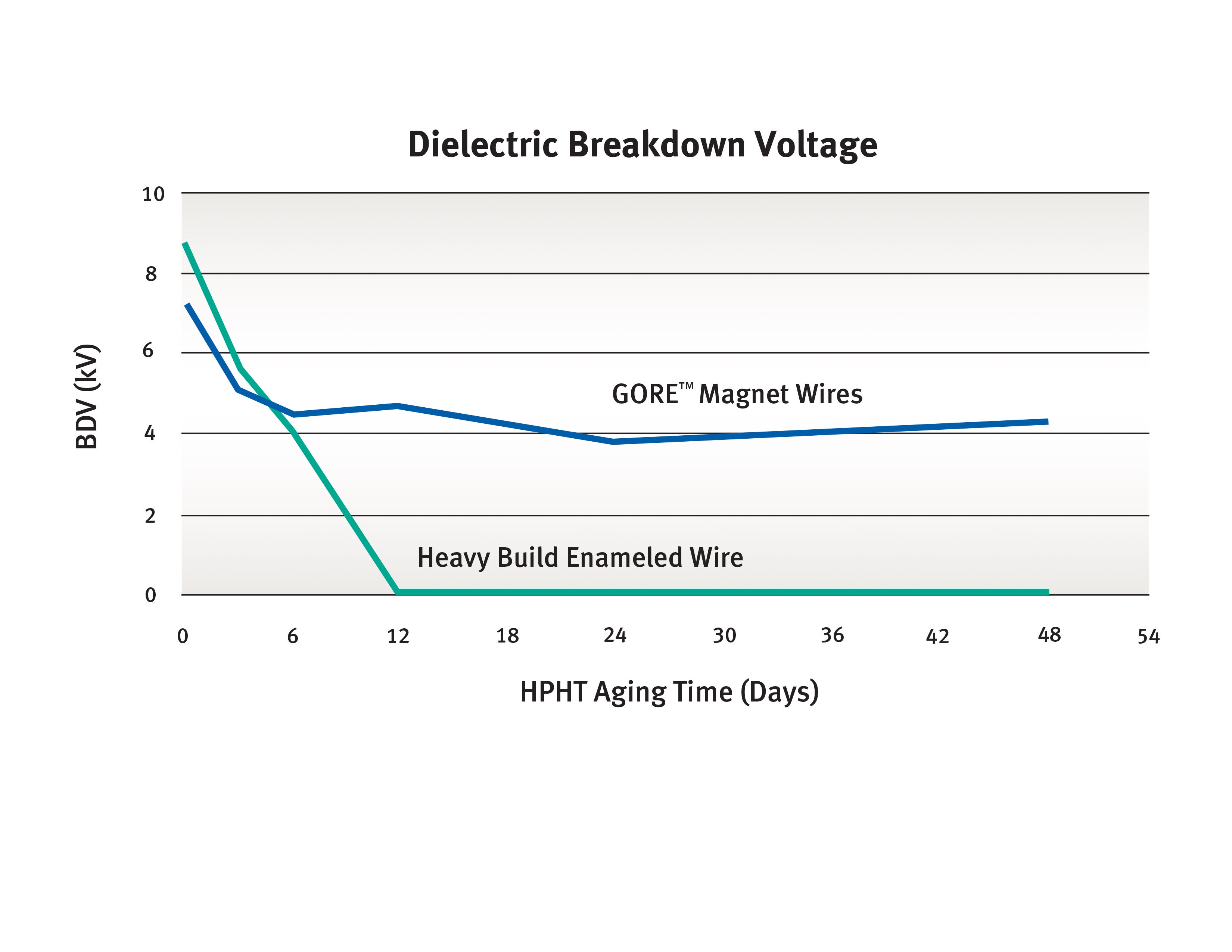 Benefits
GORE Magnet Wires provide manufacturers with many benefits that improve electrical and mechanical performance such as:
enhanced durability due to specialized insulation materials
exceptional resistance to aggressive chemicals and hydrolysis
superior electrical performance in wide-ranging temperatures up to 260°C
proven highest voltage endurance in harshest downhole environments
longer motor life and increased tool reliability
minimize the risk of unexpected catastrophic failures
For more information about the benefits of our wires, please contact a Gore representative.
Properties
These values demonstrate the electrical, mechanical and environmental performance of GORE Magnet Wires.
| Property | Value |
| --- | --- |
| Operating Voltage Range (V) AC | 300 — 600 |
| Spark Test Voltage (V) AC | 1500 |
| Dielectric Breakdown Voltage (kV) tested per ANSI/NEMA MW 1000a | 4.4 |
| Wire Insulation | Engineered Fluoropolymer |
| Conductor | Bare Copper |
| Operating Temperature Range (°C) | -55 to +260 |
| RoHS | Compliant |
a Testing based on size AWG 2801
Resources