Overview
Using GORE Trackless High Flex Cables allow automated equipment manufacturers to eliminate cable track substantially reducing costs in several ways. First, the flat construction eliminates the need for dividers and shelves in cable chains, which decreases the total weight of the cable system. Up to three cables can be stacked together reducing the overall footprint.
Second, the lightweight ePTFE used in jacket constructions is 1/2 to 1/3 the thickness of most round cable jackets and meets UL requirements for safety and flame resistance. A smaller cable chain can often be used — or even eliminated completely — further reducing the overall cost of the moving cable system. Gore's trackless cables also provide increased positioning accuracy, faster speeds, quieter motion, reliable installation and cleaner operation.
Reduce Particulation
Certified according to ISO Class 1, GORE Trackless High Flex Cables can be reliably used in cleanroom and vacuum environments that require low particulation. Using the calculations defined in VDI Guideline 2083 and ISO 14644-1, the Fraunhofer Institute in Germany determined our cables have less than 0.1 percent probability of emitting particulates. These cables maintain low particulation levels for repeated flexing in cable carriers. Outgassing is also eliminated because of the inert characteristics of the insulation materials.
Complete details on the Fraunhofer Institute's study are available at gore.com/particulation.
Proven Flex Life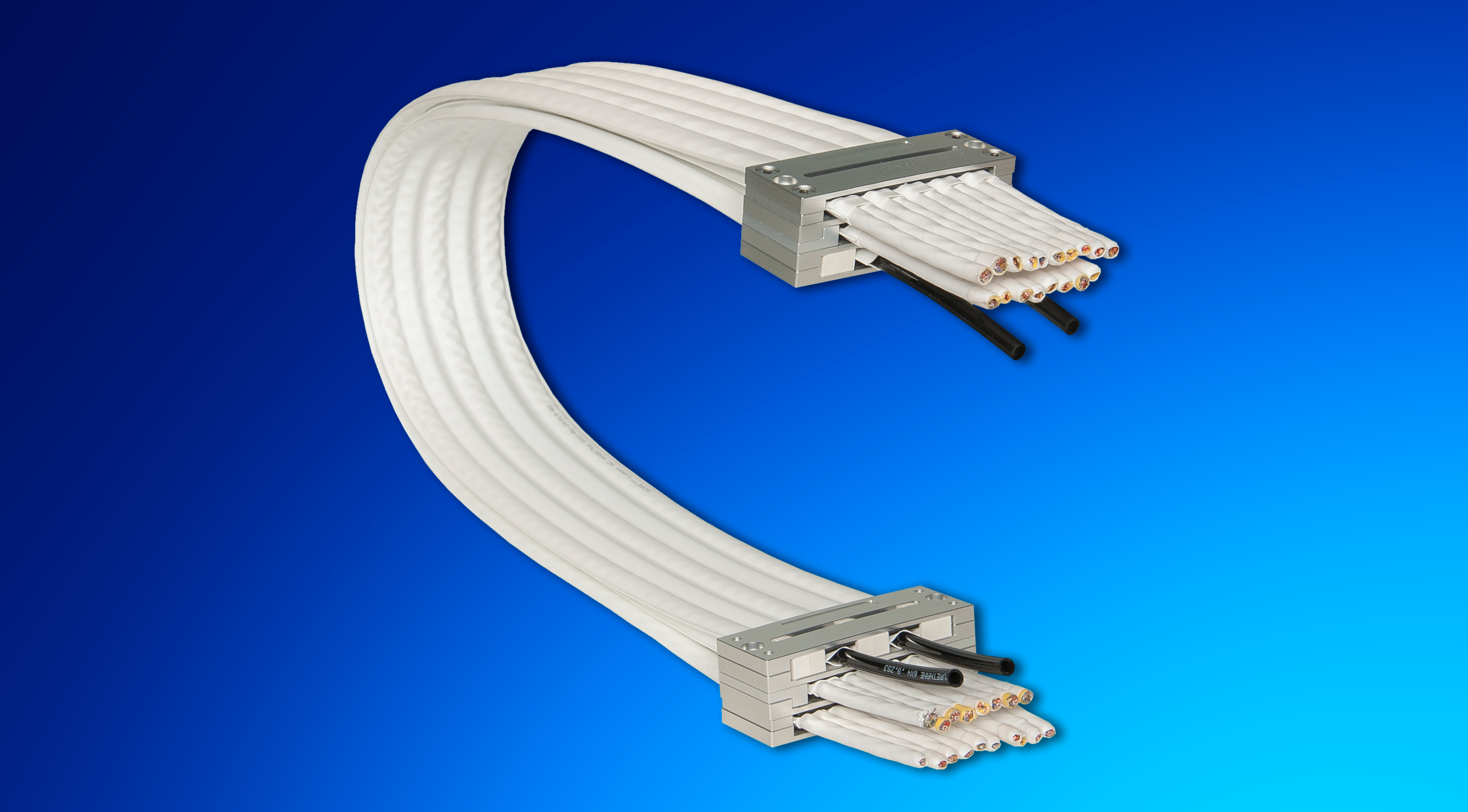 GORE® Trackless High Flex Cables eliminate many problems associate with cable track, like particulation and vibration.
GORE Trackless High Flex Cables provide a simple cable management system in applications where flex-life reliability and excellent signal integrity are critical, and other cables fail. With a proven flex life greater than 10 million cycles at a 50-millimeter bend radius, these cables are easy to install, improve reliability and decrease downtime.
Applications
GORE Trackless High Flex Cables are engineered to perform reliably in a variety of automation applications, including:
cable moves in machine visions system (Camera)
control network
digital video cameras
display interconnects
external wirings
high-speed data links
high-speed image scanning/processing
laptop screens
If you have any questions or to discuss your specific application needs, please contact a Gore representative.
Features & Benefits
We have engineered features for GORE® Trackless High Flex Cables that make them more durable in demanding environments. Features include:
flat construction that is self-supporting with no dividers and shelves
proven flex life greater than 10 million cycles at a minimum bend radius of 50 millimeters
low-friction, chemically inert and non-particulating insulation materials
certified for ISO Class 1 cleanroom and vacuum environments
standard and custom configurations available with mounting clamps
GORE Trackless High Flex Cables provide manufacturers with many benefits that improve electrical and mechanical performance such as:
reliable signal transmission in challenging environmental conditions
no particulation and outgassing due to unique jacketing and shielding materials
eliminates vibration caused by traditional cable chains and tracks
easy installation due to lightweight, flexible cables with a tight bend radius
reduced maintenance, downtime and total costs over equipment lifecycle from proven flex life
For more information about the features and benefits of our cables, please contact a Gore representative.
Properties
Electrical
| Property | Value |
| --- | --- |
| Maximum acceleration [G (m/sec2)] | 4 (39) |
| Speed [in/sec (m/sec)] | Up to 100 (2.5) |
Mechanical / Environmental
| Property | Value |
| --- | --- |
| Maximum self-supporting stroke length [in (mm)]1 | 60 (1500) |
| Minimum bend radius [in (mm)] | 1.0 to 4.0 (25.0 to 101.0) |
| Overall width [in (mm)] | 1.05 to 2.60 (26.7 to 66.0) |
| Core Types | Signal, power, fiber optic and Pneumatic |
| Temperature Range (°C) | -40 to 80 |
| Certifications | UL2, CSA and CE |
1 Base plate required
2 UL Style 21090: 80° C, pneumatic tubes are not UL recognized
Resources
Recent News
Event
August 4, 2020 - August 6, 2020
Due to the ongoing challenge of COVID-19, IMS2020 has been moved to virtual with live streaming. A key topic at the symposium is 5G connectivity, and Gore will present a portfolio of reliable microwave/RF test assemblies for 5G testing. We'll describe how our cable assemblies provide durable, stable, and consistent performance to ensuring accurate and reliable testing results.
Event
March 14, 2018 - March 16, 2018
Visit us in Booth E7239 at the 2018 SEMICON China to see our latest innovative solutions for the semiconductor and microelectronics industry.