GORE® Space Cables, SpaceWire for NewSpace
When vital systems demand constant data transmission, Gore's cables deliver unfailing bi-directional signals at high data rates in harsh launch and orbit environments. We combine high-strength, lightweight materials with LVDS technology and standard hardware protocols to meet the private sector's time-critical program schedules and tight budgets.
Contact Us
Germany
+49 9144 6010
+49 9144 6816 (fax)
UK
+44 1382 56 1511
+44 1382 56 1007 (fax)
Italy
+39 045 6209 209
+39 045 6209 165 (fax)
France
+33 1 5695 6565
+33 1 5695 6401 (fax)
Spain
+34 93 480 6900
+34 93 373 7850 (fax)
Sweden
+46 31 7067800
+46 31 864226 (fax)
China (Beijing)
+86 10 5707 4999
+86 10 5707 4900 (fax)
China (Shanghai)
+86 21 5172 8299
+86 21 6247 9199 (fax)
China (Shenzhen)
+86 755 8359 8262
+86 755 8359 1654 (fax)
South Korea
+82 2 393 3411
+82 2 393 1285 (fax)
Japan
+81 3 6746 2582
+81 3 6746 2571 (fax)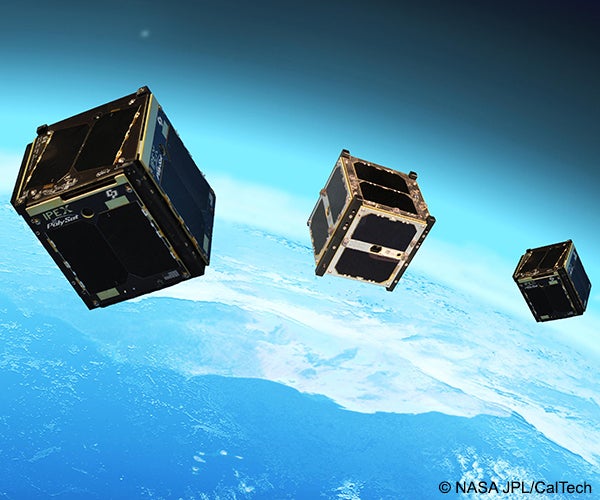 As the NewSpace industry moves towards smaller, low-cost satellites and vehicles with fast-paced designs and frequent, inexpensive launch capabilities, W. L. Gore & Associates is standing by with a technology path forward for system and harnessing engineers. Highlighting our extensive materials expertise and decades of proven spaceflight heritage, our high data rate cables are reliable, affordable and delivered quickly to meet demanding low Earth orbit (LEO) and medium Earth orbit (MEO) program schedules
English (U.S.)
All Resources For GORE® Space Cables, SpaceWire for NewSpace
Overview
Data transmission is essential to the success of every mission that launches satellites into orbit. If data can't be transmitted, we can't stay connected to access information online and effectively monitor the earth. The emerging NewSpace private sector also wants low-weight cables that fit in smaller launch vehicles and satellites, plus cost less for use in frequent missions.
Gore can meet these challenges. By combining our extensive materials expertise with decades of proven traditional spaceflight heritage, we offer a reliable, cost-effective high data rate solution for NewSpace applications.
CONSTANT HIGH DATA RATE TRANSFER
GORE Space Cables, SpaceWire are proven to maintain constant bi-directional, high data rate transmission up to 400 Mbps with minimal crosstalk, low insertion loss and low skew. They use a serial, point-to-point dataline with reliable LVDS (Low Voltage Differential Signals). We support LVDS by using uniquely engineered materials that allow data to pass through the cable without significant signal loss. By combining this LVDS technology with standard hardware protocols, our cables offer a simple cable management solution without the need for customized program designs.
Our unique materials are also high strength, so these cables can easily tolerate the most severe conditions. For instance, extreme temperatures, shock and vibration during launch sequences. Or radiation, outgassing and intense temperature changes during satellite missions. Plus, our materials have the added benefit of being lightweight, so they can be easily integrated into smaller launch vehicles and satellites where space is a premium.
Applications
GORE Space Cables, SpaceWire are engineered to perform reliably in a variety of applications, including:
command and data handling (C&DH)
high-resolution cameras
radar sensor equipment
sensor, mass memory unit and telemetry subsystem interconnections
If you have any questions or to discuss your specific application needs, please contact a Gore representative.
Benefits
GORE Space Cables for SpaceWire applications provide system architects and engineers with many benefits that improve electrical and mechanical performance such as:
constant bi-directional, high data rate transfer up to 400 Mbps
proven minimal crosstalk, low loss and low skew
serial, point-to-point dataline with reliable LVDS technology
high-strength build tolerates extreme temps, chemicals, radiation, shock, vibration, more
small, lightweight materials help meet challenging mass budgets
reduce costs with simple cable management solution over customized program designs
cost-effective solution ideal for NewSpace private sector companies
leverage proven performance with 100% failure-free flight record in hundreds of traditional spaceflight programs
For more information about the benefits of our cables, please contact a Gore representative.
Properties
These values demonstrate the electrical, mechanical and environmental performance of GORE Space Cables, SpaceWire.
Electrical Property
Value
Data Rate Mbps
Up to 400
Standard Impedance Ohms
100 + /- 6
Maximum Operating Voltage Vrms
200
Time Delay ns/m (ns/ft)
Pair
Conductor Difference (Pair)
Conductor Difference (Pair-to-Pair)

4.30 (1.31)
0.08 (0.24)
0.13 (0.04)
Capacitance pF/m (pF/ft)
Conductor-to-Conductor
Conductor-to-Shield

50.0 (15.2)
90.0 (27.4)
Skew Within Pair ps/m (ps/ft)
≤ 150.0 (46.0)
Dielectric Withstanding Voltage Vrms
Conductor-to-Conductor/Shield
1400
Mechanical / Environmental Property
Value
Jacket Material
PFA
Jacket Color
Yellow
Conductor
Silver-Plated Copper Alloy
Conductor Color-Coding
Blue/White, Brown/White, Green/White, Red/White
Dielectric Material
ePTFE/PTFE
Temperature Range °C
-200 to +180
Radiation Resistance MRad
10+
Vacuum Stability % (ASTM 595; ECSS-Q-70-02)
Volatile Condensable Mass (VCM)
Total Mass Loss (TML)

< 0.1
< 1.0
Resources
Recent News
FOR INDUSTRIAL USE ONLY
Not for use in food, drug, cosmetic or medical device manufacturing, processing, or packaging operations.