Brochure: GORE® High Speed Data Cables for NewSpace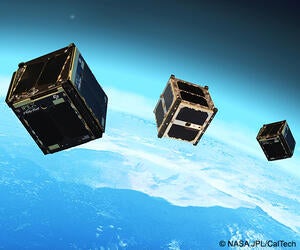 Brochures, English
As the NewSpace industry moves towards smaller, low-cost satellites and vehicles with fast-paced designs and frequent, inexpensive launch capabilities, W. L. Gore & Associates is standing by with a technology path forward for system and harnessing engineers. Highlighting our extensive materials expertise and decades of proven spaceflight heritage, our high data rate cables are reliable, affordable and delivered quickly to meet demanding low Earth orbit (LEO) and medium Earth orbit (MEO) program schedules.
---
Cable Performance and Specifications
Uniquely constructed with engineered fluoropolymers, Gore's solutions are proven to deliver reliable power, send high-quality signals and transmit high-speed data over mission duration. Their performance is demonstrated by their 100% failure-free flight record in hundreds of traditional spaceflight programs.
Our high data rate solutions for NewSpace applications include:
Hook-up wires
Ethernet Cat 6a cables
XAUI RapidIO™ cables
Shielded twisted pair cables
SpaceWire cables
They also offer the following advantages:
SMALL AND LIGHTWEIGHT
Gore's advanced cable technologies help minimize the problems associated with meeting challenging mass budgets and tight installation paths with small, lightweight constructions.
DURABLE PROTECTION
Reliably rugged throughout the mission, GORE High Speed Data Cables exhibit low outgassing and can handle even the most challenging launch and in-orbit conditions, including:
Wide temperatures
Chemicals
Shock
Vibration
Radiation
Atomic oxygen (ATOX)
Meeting Rigorous Standards Across Several Applications
With a thorough understanding of products operating in space, customers' needs and appropriately scoped NewSpace test procedures, Gore tests and qualifies all solutions in adherence to strict standards, including:
ESA, ECSS-Q-ST-60-13C, Annex G Class 2
NASA, EEE-INST-002 Level 2
Typical NewSpace applications for GORE High Speed Data Cables include:
HOOK-UP WIRES
DC power distribution
Electric power supplies
Microgravity experiments
Optical instruments
ETHERNET CAT 6A CABLES
Digital video systems
Ethernet backbone
Sensor data collection and processing
Telecommand remote systems
XAUI RAPIDIO™ CABLES
Data processing
Digital video systems
High-density applications
Low-mass applications
SHIELDED TWISTED PAIR CABLES
Digital signal processors
High-resolution cameras, sensors and detectors
High-speed subsystem interconnections
Onboarding computing
SPACEWIRE CABLES
Command and data handling (C&DH)
High-resolution cameras
Radar sensor equipment
Sensor, mass memory unit and telemetry subsystem interconnections
Ordering GORE High Speed Data Cables for NewSpace
We offer reliable, low-risk solutions that are affordable and can be delivered fast for NewSpace applications, ensuring mission readiness and success. You can also request tested, qualified samples, which are complimentary and shipped within 48 hours.
Our part numbers are as follows:
Hook-Up Wires:

GNSLF01200S
GNSLF01240S
GNSLF01260S
GNSLF02200S
GNSLF02240S
GNSLF02260S
GNSLF02201S
GNSLF02241S
GNSLF02261S

Ethernet Cat6a Cables:

GNSEN10024BF
GNSEN10026BF

XAUI RapidIO™ Cables (supplied exclusively by Gore and not available through distributor):

GNSPP10024BF
GNSPP10026BF

Shielded Twisted Pair Cables:

GNSTP100241S
GNSTP100261S
GNSTP100281S

SpaceWire Cables:
If you're ready to order our wires and cables, contact our distributor today in the U.S. or get in touch with a Gore representative to discuss your exact application requirements.
FOR INDUSTRIAL USE ONLY
Not for use in food, drug, cosmetic or medical device manufacturing, processing, or packaging operations.