Data Sheet: GORE™ High Flex Cable Assemblies For Nuclear Industry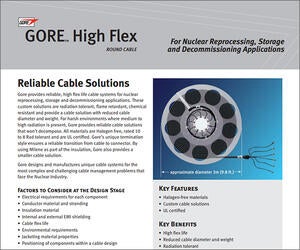 Data Sheets, United States
Includes description, key features and benefits, product specifications, and other technical information.
---
Reliable Cable Solutions
Gore provides reliable, high flex life cable systems for nuclear reprocessing, storage and decommissioning applications. These custom solutions are radiation tolerant, flame retardant, chemical resistant and provide a cable solution with reduced cable diameter and weight. For harsh environments where medium to high radiation is present, Gore provides reliable cable solutions that won't decompose. All materials are Halogen free, rated 10 to 8 Rad tolerant and are UL certified. Gore's unique termination style ensures a reliable transition from cable to connector. By using Milene as part of the insulation, Gore also provides a smaller cable solution.
Gore designs and manufactures unique cable systems for the most complex and challenging cable management problems that face the Nuclear Industry.
Factors to Consider at the Design Stage
Electrical requirements for each component
Conductor material and stranding
Insulation material
Internal and external EMI shielding
Cable flex life
Environmental requirements
Jacketing material properties
Positioning of components within a cable design
Cable Can Include Non-Electrical Components
Strain members
Hydraulic tubes
Fluid lines
Connector Systems
Experience has shown that the probable area of failure is at the connector to cable interface. Gore has developed a range of back-fittings and moldings to reduce stress points, there by increasing system reliability.
Strain Member Termination
Through experience and testing, methods have been developed for including strain members within cable designs for retrieval and lifting purposes. Unique termination methods have been designed by Gore for strain members of this type. Pull test certification can be provided.
Key Features
Halogen-free materials
Custom cable solutions
UL certified
Key Benefits
High flex life
Reduced cable diameter and weight
Radiation tolerant
Flame retardant
Chemical resistant
Product Specifications
| | |
| --- | --- |
| Radiation Tolerance | Total dose 5 x 106 grays (5 x 108 rad) |
| Wide Temperature Range | –20°C to +90°C |
| Flame Retardant | UL and European Standards |
| Bend Radius | Static 5 x cable diameter Dynamic 10 x cable diameter |
| Operating Voltage | Up to 1000 volts |
Proven Track Record
GORE Cables offer superior flex life performance and maximum resistance to severe mechanical and environmental stresses. With 50 years of experience in the wire and cable industry and extensive knowledge of unique materials, Gore provides reliable cable solutions for your most demanding cable and assembly needs.