High-Voltage Cables
Through our specially engineered Corona-Resistant PTFE insulation, GORE High-Voltage Cables provide a minimum of 10,000 hours of reliable performance at maximum voltage ratings, reducing the time needed for running cables in a spacecraft.
Contact Us
Germany
+49 9144 6010
+49 9144 6816 (fax)
UK
+44 1382 56 1511
+44 1382 56 1007 (fax)
Italy
+39 045 6209 209
+39 045 6209 165 (fax)
France
+33 1 5695 6565
+33 1 5695 6401 (fax)
Spain
+34 93 480 6900
+34 93 373 7850 (fax)
Sweden
+46 31 7067800
+46 31 864226 (fax)
China (Beijing)
+86 10 5707 4999
+86 10 5707 4900 (fax)
China (Shanghai)
+86 21 5172 8299
+86 21 6247 9199 (fax)
China (Shenzhen)
+86 755 8359 8262
+86 755 8359 1654 (fax)
South Korea
+82 2 393 3411
+82 2 393 1285 (fax)
Japan
+81 3 6746 2582
+81 3 6746 2571 (fax)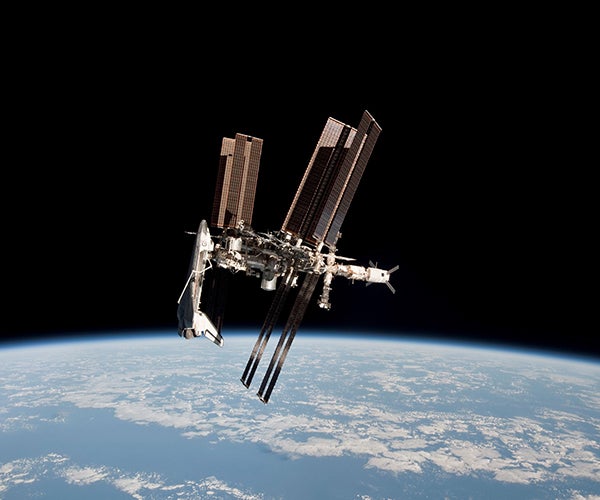 Space Traditional Space
Due to operating conditions in space that are the harshest imaginable, space programs must have complete confidence that the cables connected to critical systems will continue to perform under that stress. And because repairs are not easy to make outside of planet Earth, these cables must not only be rugged but also boast decades of proven success. That's where GORE® Space Cables for Traditional Space Applications from W. L. Gore & Associates come into play.
English (U.S.)
All Resources For High-Voltage Cables
Overview
Extend Product Life for High-Voltage Cables
Running cables in a spacecraft is time-consuming and difficult. GORE High-Voltage Cables reduce the frequency of this task by providing a minimum of 10,000 hours of reliable performance at maximum voltage ratings — ratings that are based on years of test data recorded under actual operating conditions.
Available as hook-up wire, ribbon cable or round cable, GORE High-Voltage Cables are specifically designed for applications that require high reliability for long periods of time, such as power supplies and amplifiers, traveling wave tubes, and high-voltage routing.
The Science Behind the Cables
The key to the outstanding performance of GORE High-Voltage Cables is the proprietary material used in the cable insulation: expanded polytetrafluoroethylene (ePTFE). Using this proprietary technology, we have developed a specialized Corona-Resistant PTFE. Gas molecules trapped inside the insulation can ionize and cause corona discharge when high voltages are applied, ultimately causing damage to the insulation, which in turn causes more gas molecules to ionize.
GORE® CR-PTFE allows the gas molecules to escape through the membrane without damaging the insulation. Because PTFE fibers are chemically inert and thermally stable, GORE® High-Voltage Cables can be used even at cryogenic temperatures or as high as 300°C for short periods of time.
To protect against the excess gases that occur during ascent into orbit, an additional jacket made of microporous GORE-TEX® fibers can be added to the cables. This jacket allows gas molecules and air to flow completely out of the cable, thereby eliminating the possibility of damage to the cable.  
Applications
GORE High-Voltage Cables are typically used in:
traveling wave tubes (TWTs)
power supplies and routers
high-voltage routing
Because of the cables' high performance — drawing from the benefits of their Corona-Resistant (CR) PTFE insulation — the cables have been used on many critical space missions, including:
European Communications Satellite (ECS)
European Remote-Sensing Satellite (ERS)
Hot Bird satellites
Intelsat satellite communications
RADARSAT satellites
For more than 25 years, we've provided highly reliable cable solutions for the space industry. The 100% success rate of our cables demonstrates our commitment to collaborating with customers when developing reliable and durable cables for these demanding applications.
Features & Benefits
GORE High-Voltage Cables feature a specially engineered Corona-Resistant (CR) PTFE insulation. CR-PTFE has many beneficial features — the material is:
chemically inert and non-flammable
highly resistant to electromechanical stress cracking
available in wide range of AWG sizes
These features benefit manufacturers and users by providing:
outstanding reliability in extreme environments
long-lasting life because of specialized insulation
reliable performance over a wide range of temperatures
valued reliability delivered from an ESA-qualified and a DIN EN ISO 9001:2000-certified manufacturing facility
 
Additionally, we provide superior sales and technical support from Gore's worldwide engineering team. If you have any questions about the features and benefits of GORE High-Voltage Cables, please contact us
Properties
All GORE High-Voltage Cables meet these technical specifications.
| Property | Value |
| --- | --- |
| Maximum Operating Voltage | 1.5 kV AC (3.0 kV DC) to 16 kV AC (36 kv DC) |
| Conductor | Silver-plated copper or copper alloy, true concentric |
| Insulation | Corona-resistant PTFE |
| Outer Jacket | Expanded PTFE and/or PTFE |
| Temperature Range | -200°C to +180°C |
Resources
Learn more about GORE High-Voltage Cables in a thorough data sheet and a white paper discussing the properties of cables that ensure peak electrical performance.
Recent News
FOR INDUSTRIAL USE ONLY
Not for use in food, drug, cosmetic or medical device manufacturing, processing, or packaging operations.