Overview
Improve Signal Transmission for Spacecraft Electronics
Signal speed and integrity are essential for effective communication among spacecraft components. Cables — the lifeline of data transmission — are often run through very tight spaces in the spacecraft. For cables to reliably maintain signal integrity, they need to be flexible, and they need to be tough.
GORE Symmetrical Interconnects offer the best combination available for spacecraft component connections: solid mechanical durability, and excellent signal integrity. Small, lightweight and extremely flexible, these balanced, single-twinax cables deliver data transmission rates as high as 1 Gbit/s to maintain outstanding signal integrity.
The cables meet the stringent requirements of ESCC-3902/002, and are listed on the ESA QPL (Qualified Parts List) — providing the quality assurance critical to mission success in outer space.
The Science Behind the Cables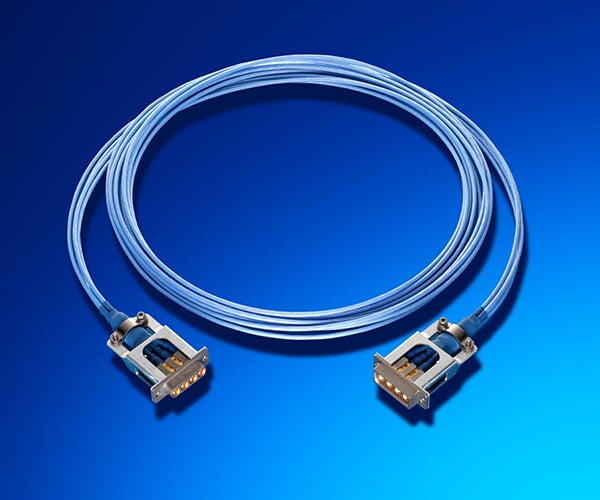 ePTFE in our cables helps to reduce interference between electrical systems.
The key to the outstanding performance of Gore symmetrical interconnects is the proprietary material used in the cable insulation: expanded polytetrafluoroethylene (ePTFE).
By incorporating ePTFE into the cables, Gore is able to provide tight impedance control to reduce interference, with balanced transmission between separate lines within the cable. The microstructure of the ePTFE material makes Gore symmetrical interconnects lighter than other cables with comparable performance and minimizes the problems associated with balancing difficult mass budgets.
Features & Benefits
GORE Symmetrical Interconnects dependably feature:
high signal speed up to 1 Gbit/s
high density/reduced mass
balanced, shielded lines
high-speed link among units
By pairing these features with the material benefits of PTFE, our cables deliver:
excellent compatibility among system components
reduced costs for system integration and maintenance
design flexibility of a modular system
improved reliability from rugged materials used in construction
valued reliability delivered from an ESA-qualified and a DIN EN ISO 9001:2000-certified manufacturing facility
Additionally, Gore's worldwide engineering team provides sales and technical support. If you have any questions about GORE® Symmetrical Interconnects, please contact us.
Applications
Aboard spacecrafts, GORE Symmetrical Interconnects are typically used in:
digital signal processors
high-resolution cameras and sensors
high-speed subsystem interconnects
To date, many critical missions have incorporated our symmetrical interconnects, including:
European Remote Sensing Satellite (ERS1/ERS2)
Polar Platform
ENVISAT satellite
XMM space observatory
International Space Station (ISS)
INMARSAT
Specifications
All Gore symmetrical interconnects meet these technical specifications according to ESCC 3902/002 and are listed on the ESA QPL.
| Property | Value |
| --- | --- |
| Operating temperature range | -200°C to +180°C |
| Maximum temperature for short periods | 260°C |
| Dielectric material | Expanded PTFE |
| Outer jacket | PFA |
| Conductor construction | Concentric silver-plated copper |
| Operating voltage | 100 V RMS |
| Maximum weight | 36 g/m |
| Maximum diameter | 5.2 mm |
| Bending radius | 10 x outer diameter (repeated) or 6 x outer diameter (once) |
| Transmission Rate | Up to 1 Gbit/s |
| Maximum capacitance: conductor to conductor | 68 pF/m |
Ordering Information
GORE Symmetrical Interconnects vary by gauge size and impedance. Refer to your application to determine the appropriate part number, and please contact us with any questions.
| Part Number | Gauge Size (AWG) | Impedance (ohm) |
| --- | --- | --- |
| GBL-075-24 | 24 | 75 |
| GBL-100-22 | 22 | 100 (with drain wire) |
| GBL-120-30 | 30 | 120 |
| GBL-120-28 | 28 | 120 |
| GBL-120-26 | 26 | 120 |
| GBL-120-24 | 24 | 120 |
Resources
Learn more about GORE Symmetrical Interconnects in a data sheet and a white paper discussing the properties of cables that ensure peak electrical performance.
Recent News