Overview
Increase Data Integrity Among Electrical Systems
Data integrity is key to maintaining communication among spacecraft systems during a mission. The cables that connect the systems have a direct impact on the quality of the data and the speed of transmission. GORE® Low Voltage Differential Signaling (LVDS) Interconnects offer excellent signal integrity due to the combination of their robust design and their outstanding electrical performance, and are listed on the ESA QPL (Qualified Parts List).
GORE LVDS Interconnects reduce time delay and skew of signal transmission, while consuming less power and minimizing electromagnetic interference. Their small size and minimum bending radius allow for easy installation in tight spaces. Their light weight decreases mass, thereby reducing the amount of energy needed to launch the vehicle into space. The high number of individual lines available in each bundle increases the cable's flexibility and makes it easier to route the cable.
The Science Behind the Cables
The key to the outstanding performance of GORE LVDS Interconnects is the proprietary material used in the cable insulation — expanded polytetrafluoroethylene (ePTFE). This high-performance insulation provides excellent signal control for applications where tight impedance control is necessary. Expanded PTFE is both chemically inert and thermally stable, which allows GORE LVDS Interconnects to be used in tight spaces without compromising the strength and quality of signal transmission.
Features & Benefits
GORE LVDS Interconnects dependably feature:
tightest-available 100 ohm impedance of individual signal pairs
low signal attenuation and crosstalk
good EMC performance
Twinax design based on ESA 3902/002
multiple connector options
frequencies up to 3 Gbit/s range
vibration and shock resistance through QTP performance
By pairing these features with the material benefits of PTFE, our cables deliver:
excellent signal integrity, minimum noise, tight impedance control and outstanding EMC performance
high transmission speed from synchronously matched interfaces
outstanding clock synchronization between individual lines that distribute time-sensitive signals
easier installation resulting from small size and tighter bending radius
valued reliability delivered from an ESA-qualified and a DIN EN ISO 9001:2008-certified manufacturing facility
Additionally, Gore's worldwide engineering team provides sales and technical support. If you have any questions about GORE LVDS Interconnects, please contact us.
Applications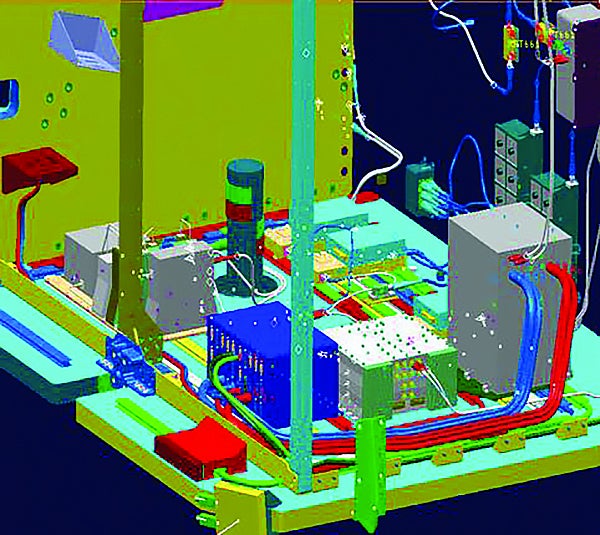 Our LVDS interconnects are frequently used in interbox connections. (Image: ESA)
Aboard spacecrafts, GORE LVDS Interconnects are typically used in:
narrow-band interconnections
interbox connections
wideband interconnections
To date, many critical missions have incorporated our LVDS interconnects, including:
INMARSAT4
SKYNET5
China Satellite
For more than 25 years, we've provided highly reliable cable solutions for the space industry. The 100% success rate of our cables demonstrates our commitment to collaborating with customers when developing reliable and durable cables for these demanding applications.
Specifications
All GORE LVDS Interconnects meet these technical specifications according to ESCC 3902/002, and are listed on the ESA QPL.
| Property | Value |
| --- | --- |
| Operating temperature range | -200°C to +180°C |
| Maximum temperature for short periods | 260°C |
| Outer jacket | PFA |
| Conductor construction | Concentric silver-plated copper |
| Operating voltage | 200 V RMS |
| Impedance | 100 ohms ± 4 ohms |
| Bending radius | 10 x outer diameter (repeated) or 6 x outer diameter (once) |
| Transmission Rate | Up to 3 Gbit/s |
| Maximum time delay (pair) | 4.30 nsec/m |
| Maximum conductor time delay difference | 0.1 nsec/m |
| Maximum capacitance: conductor to conductor | 47 pF/m |
| Maximum capacitance: conductor to shield | 79 pF/m |
Ordering Information
GORE LVDS Interconnects vary by gauge size, outer diameter weight, and typical loss–attenuation. Refer to your application to determine the appropriate part number, and please contact us with any questions.
Part Number
Guage Size (AWG)
Outer Diameter (mm)
Weight (g/m)
Typical Loss – Attenuation at 100 Meters (in dB)
20 MHz
100 MHz
400 MHz
600 MHz
1,000 MHz
GSC-05-82561-00
22
5.2
37.0
9
20
39
48
63
GSC-05-82559-00
24
4.3
26.0
11
25
49
61
79
GSC-05-81973-00
26
3.1
18.0
17
36
68
83
108
GSC-05-82560-00
28
2.8
17.0
20
43
85
104
135
GSC-05-82292-00
30
2.2
13.5
25
54
107
131
169
Resources
Learn more about GORE LVDS Interconnects in a data sheet and a white paper discussing the properties of cables that ensure peak electrical performance.
Recent News