GORE® Hook-Up Wires for Oil & Gas Downhole Equipment
In harsh oil and gas environments, downhole tools need to handle mechanical stress — and, above all, not fail. The small size and robustness of GORE Hook-Up Wires make them tough and dependable, while providing design freedom to manufacturers.
Contact Us
United States
+1 800 311 3060
Germany
+49 9144 6010
+49 9144 6816 (fax)
UK
+44 1382 56 1511
+44 1382 56 1007 (fax)
Italy
+39 045 6209 209
+39 045 6209 165 (fax)
France
+33 1 5695 6565
+33 1 5695 6401 (fax)
Spain
+34 93 480 6900
+34 93 373 7850 (fax)
Sweden
+46 31 7067800
+46 31 864226 (fax)
China (Beijing)
+86 10 5707 4999
+86 10 5707 4900 (fax)
China (Shanghai)
+86 21 5172 8299
+86 21 6247 9199 (fax)
China (Shenzhen)
+86 755 8359 8262
+86 755 8359 1654 (fax)
South Korea
+82 2 393 3411
+82 2 393 1285 (fax)
Japan
+81 3 6746 2582
+81 3 6746 2571 (fax)
Harsh Environments & Industrial Automation Harsh Environments
Includes description, features, benefits, and technical data.
English (U.S.)
All Resources For GORE® Hook-Up Wires for Oil & Gas Downhole Equipment
Overview
In today's oil and gas industry, downhole tools need to be smaller while maintaining excellent signal integrity. At the same time, these tools are exposed to increasingly challenging environments that can cause frequent cable failure — from sharp edges and burrs in small spaces during installation to high pressures, extreme temperatures and vibration during drilling.
The costs and consequences due to cable failure can be substantial across the entire supply chain — including downtime costs, lost production and expensive tool replacements. It's all about tool reliability and durability, and this is where the expertise of Gore makes a difference.
GORE Hook-Up Wires for downhole equipment are thinner than alternatives and more robust to stand up to harsh environments. We engineer our wires specifically to withstand extremely harsh conditions without compromising the mechanical and electrical performance of the tools. Their small size and enhanced mechanical performance simplify the complex design challenges that can affect equipment life and reliability in extreme temperatures.
GORE Hook-Up Wires maintain the same signal integrity and power performance in less space and reduce rework, re-testing and downtime due to tool failure — resulting in longer tool life that reduces your total cost of ownership.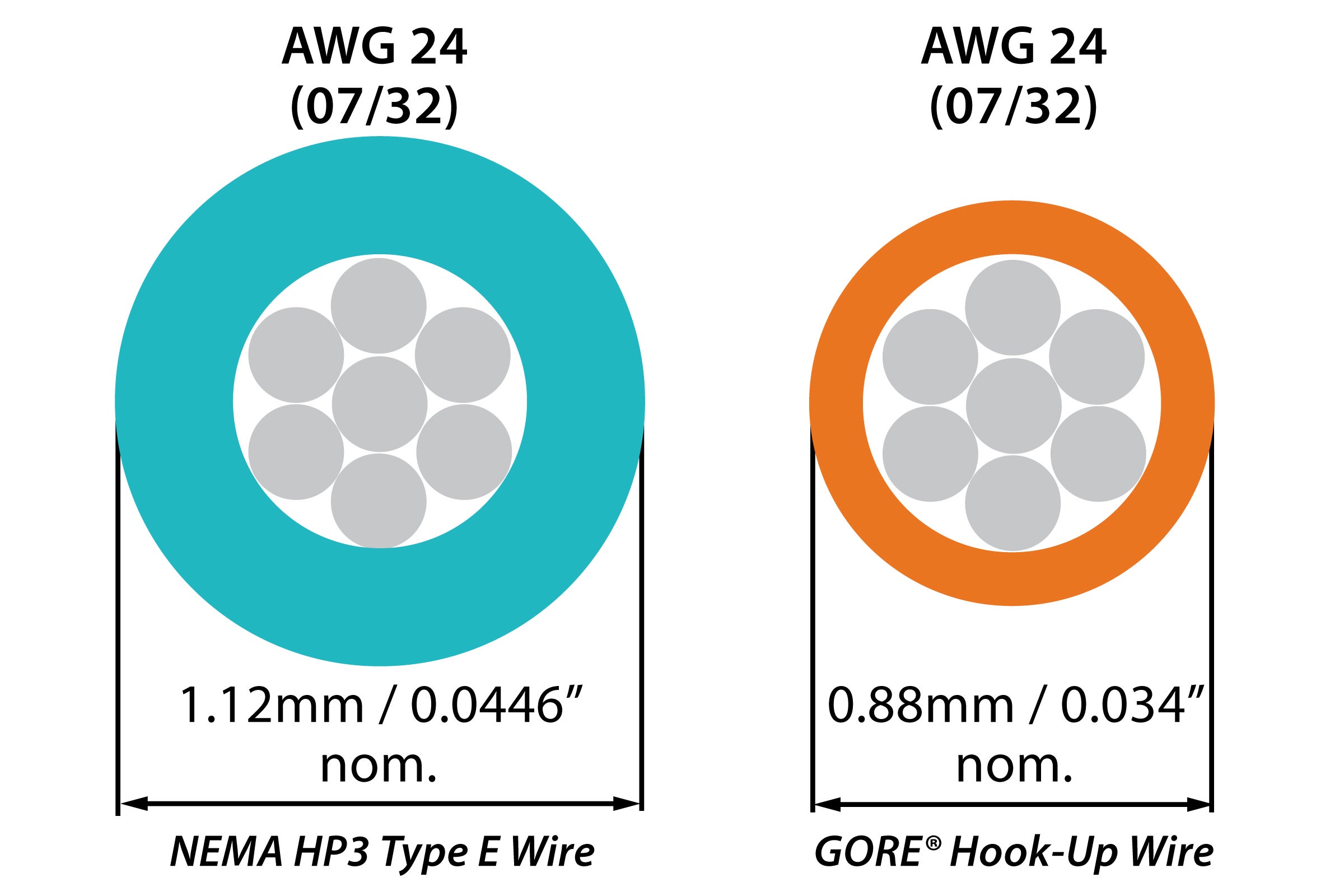 Size comparison of NEMA HP3 Type E Wires (blue) and GORE® Hook-Up Wires (orange).
Increased Design Freedom with Smaller Wires
GORE Hook-Up Wires require less space — more than 30% less — than a NEMA HP3 Type E AWG 24 wire. The wires' smaller diameter and improved dielectrics enable you to increase the number of conductors in a given space or reduce the amount of space required for the wires — all of which translates to more design freedom.
Added Durability for Easy Installation and Longer Tool Life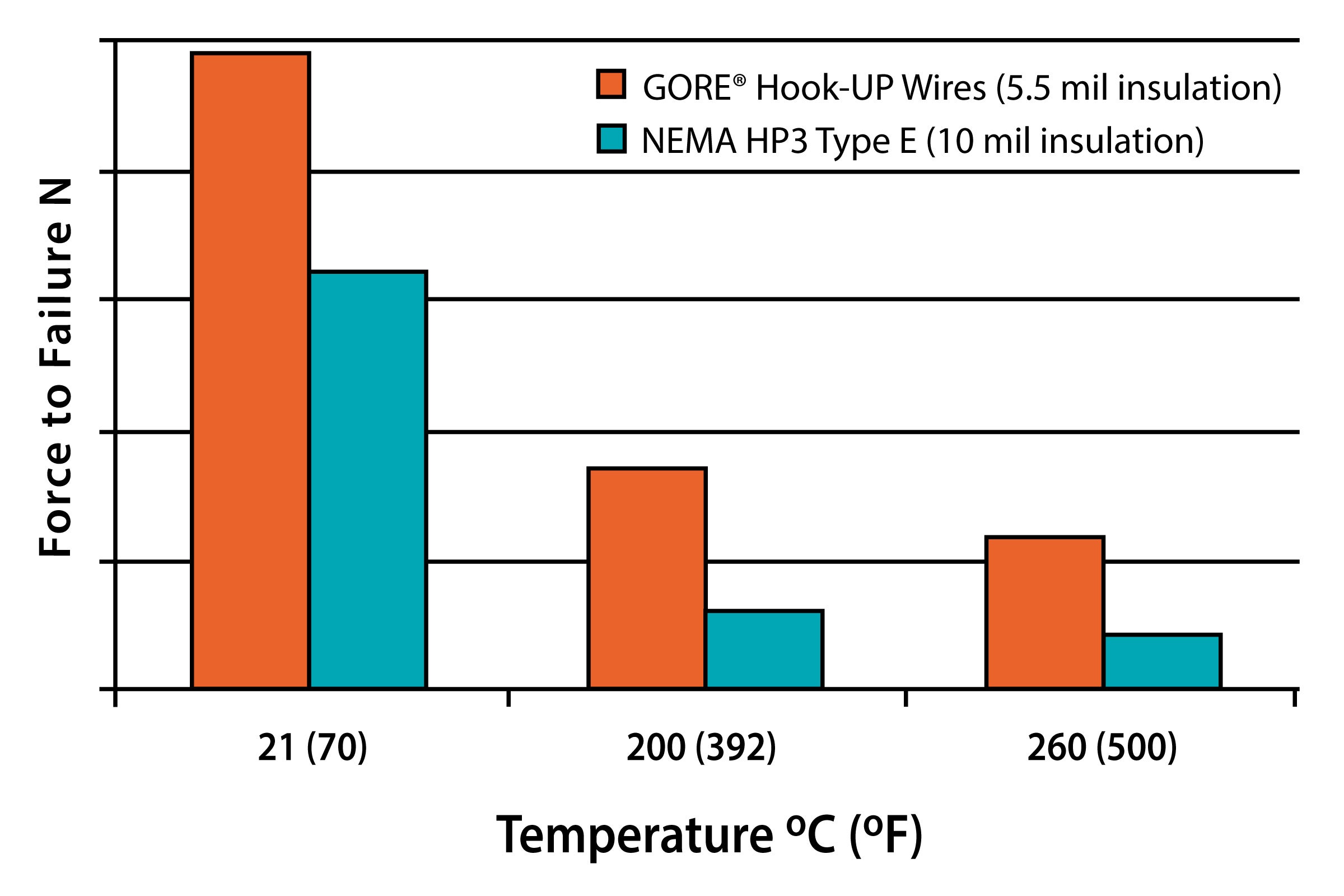 Dynamic cut-through resistance at high temperatures.
GORE Hook-Up Wires are more durable with thinner insulation than typical hook-up wires, providing greater cut-through resistance at higher temperatures. Our wires' durable construction increases first-pass yields and reduces the risk of tool failures due to insulation damage. They're more flexible with a tighter bend radius for easier routing in smaller spaces. In comparison, the NEMA HP3 wires will short circuit at lower temperatures.
Benefits
GORE Hook-Up Wires are equally beneficial for manufacturers and end users. Manufacturers can take advantage of the wire's small size and durable material to manipulate them to fit their designs, while end users in downhole environments will see the benefits of the wire's long service life, flexibility and superior performance the first time and every time.
Benefits of GORE Hook-Up Wires include:
Increased design options with smaller diameters and more durable construction
Superior electrical and mechanical performance in extreme environments with temperatures up to 260°C
Longer tool life with abrasion-resistant and low-creep wire insulation
Reliable installation due to cut-through resistance that eliminates damage from sharp edges or burrs
Easy routing with smaller, more flexible wire
If you have any further questions about the features and benefits of GORE Hook-Up Wires, please contact us.
Properties
The electrical, mechanical and environmental properties of GORE Hook-Up Wires yield superior results for our customers.
Electrical
| Property | Value |
| --- | --- |
| Voltage Rating (RMS) | 600 V |
| Wrapback Test (AC) | 3 kV |
Mechanical
Property
Value
Wire Insulation
Engineered fluoropolymer
Insulation Wall Thickness mm (inch)
0.140 (0.0055)
Conductor
SPC / NPC
Color Coding
White, grey, red, yellow, green, orange, blue, brown, black, purple
Dynamic Cut-Through Resistance
(ASTM D 3032 / 22)
at 21°C (70°F)
at 200°C (392°F)
at 260°C (500°F)


> 48 N
> 17 N
> 12 N
Abrasion Resistance
(ASTM D 1676 / 850 g [1.87 lbs])
Abrasion Resistance
( MIL-DTL-17 / 335 g [0.74 lbs])
> 148 cycles

> 30 cycles
Tensile strength (insulated wire)
> 100 N
Environmental
Property
Value
Temperature Range °C (°F)
SPC: -65 to 200 (-85 to 392)
NPC: -65 to 260 (-85 to 500)
Thermoplastic Flow °C (°F)
24 AWG (07/32) SPC tested per ANSI/NEMA MW 1000-2012
> 300 (> 572)
RoHS
Compliant
Resources
FOR INDUSTRIAL USE ONLY
Not for use in food, drug, cosmetic or medical device manufacturing, processing, or packaging operations.