Overview
Two-way radios are mission-critical to military and first-responder operations, and to many industrial applications. Leading OEMs worldwide trust proven Gore vents and Gore custom engineering support to meet the most rigorous performance criteria – including Military Standard, IP64, IP 65, IP67 and IP68 standards – with superior acoustic performance.
GORE® Vents Provide Superior Protection with Superior Acoustic Performance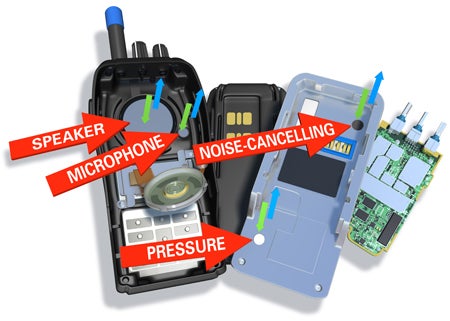 Acoustic Vents
Acoustically-transparent performance with IP64 (dust and splash-level) and IP67 (immersion-level) protection.
Microphone
Noise-Cancelling Microphone
Speaker
Pressure Vents
Rapidly equalize pressure to protect housing seals from premature failure.
New GORE® Pressure Vents product model PE13
Resources
Recent News
FOR INDUSTRIAL USE ONLY
Not for use in food, drug, cosmetic or medical device manufacturing, processing, or packaging operations.