Overview
The more valuable and functional cell phones and smartphones become, the more they are used – and likely exposed to damaging environmental hazards. The world's leading phone manufacturers rely on Gore expertise and products to achieve new levels of device protection from dust, liquids or immersion in combination with acoustic transparency.
Gore, the world leader in engineering venting materials technology for acoustics, can partner in designing and developing custom phone venting solutions around your geometries. And Gore's extensive R&D and testing capabilities can help you optimize both venting products and vented device housings for IP54, IP64, IP 65, IP67 or IP68 standards.
Enhance Cell Phone Acoustic Performance and Environmental Protection with Vents from Gore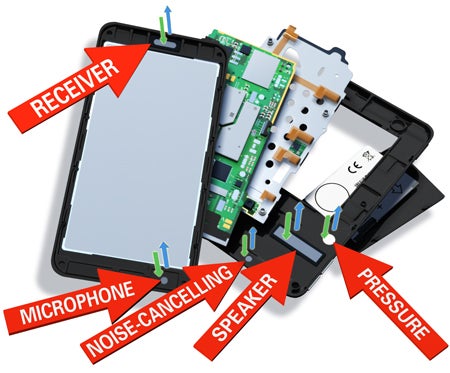 Acoustic Vents
Acoustically-transparent performance with IP54 (dust and splash-level) and IP67 (immersion-level) protection.
Receivers
Microphones
Noise-Cancelling Microphones
Speakers
Pressure Vents
Rapidly equalize pressure to protect housing seals from premature failure.
New GORE® Pressure Vents product model PE13
Resources
Recent News
FOR INDUSTRIAL USE ONLY
Not for use in food, drug, cosmetic or medical device manufacturing, processing, or packaging operations.