Gore Exhibiting at 2021 Global Defense Helicopter
November 2, 2021 - November 4, 2021
Warsaw, Poland
Visit our booth during Europe's largest military helicopter event to see our extensive portfolio of proven solutions that the military has relied on and trusted for decades. On Thursday, November 4th, don't miss the presentation from our experts about Gore's aerospace interconnection solutions and materials for existing and next-gen rotorcraft.
---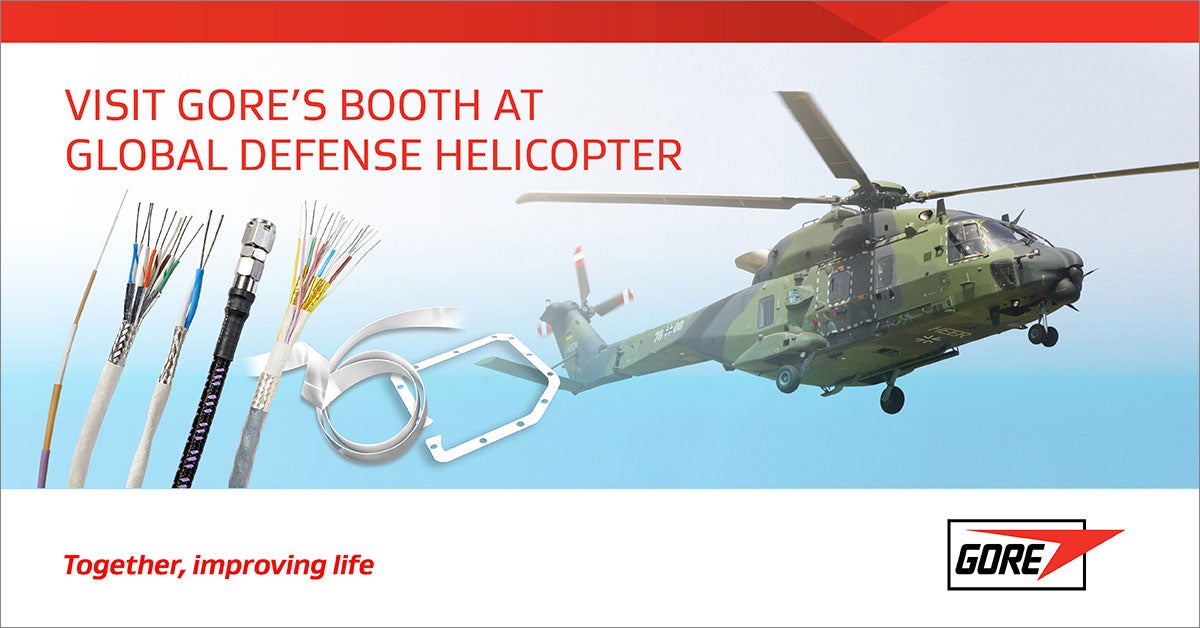 GORE® Aerospace High Speed Data Cables deliver secure, reliable signal transmission in modern avionics while saving valuable weight in helicopters. We also offer rugged cable jackets with higher levels of protection for packaging copper wires and fiber optics that OEMs and system suppliers want and need.
For future helicopter electrification needs, GORE® High Performance Aerospace Wires offer the best combination of superior mechanical strength and electrical reliability in the industry. They deliver long-term stability without increasing size and weight, increase helicopter availability, improve safety and reduce total costs.
Award-wining GORE-FLIGHT® Microwave Assemblies are a fit-and-forget solution proven to deliver the lowest insertion loss and more reliable VSWR after installation, during use and over time. They're lightweight and flexible yet rugged, easy to install, improve fuel efficiency and increase payload.
For decades, OEMs have been specifying GORE® SKYFLEX® Aerospace Materials in many helicopters, like the Apache, Black Hawk, Chinook and Seahawk because they solve many sealing and surface protection challenges. Our dry, lightweight tapes and gaskets are easier and faster to install with no mess or downtime while saving significant weight.
For more information on how we can help meet your specific application needs and requirements, please email Petra Tillmanns to schedule a one-on-one meeting with one of our experts.
For more information about the event, visit the website.